2 Minute Read:
Many people who look up body contouring plastic surgery procedures get the impression that plastic surgery is primarily for the midsection, specifically the abdomen. While it is true that abdominal contouring procedures—such as a tummy tuck—are common and popular, they are not the only procedures available.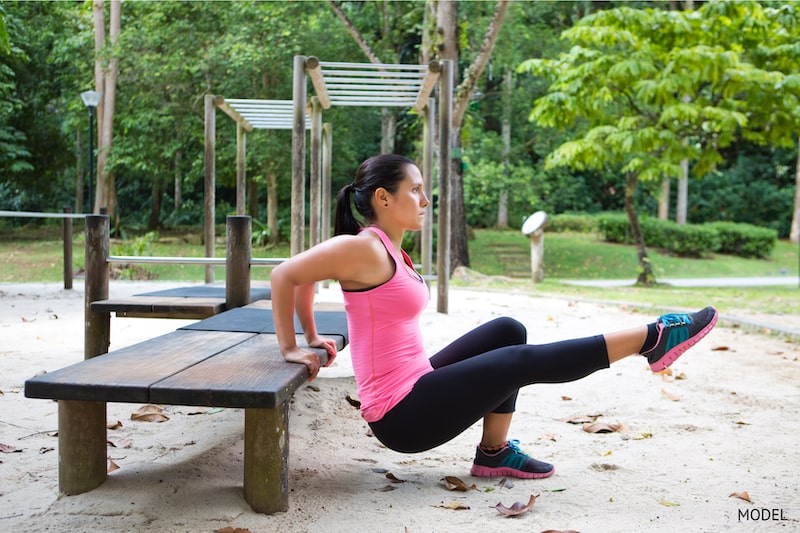 Many people are dissatisfied with the appearance of their arms and legs. Some are displeased with excess fat deposits; others by sagging or excess skin. This physical unhappiness can induce significant amounts of stress, reducing their self-confidence and quality-of-life.
Fortunately, these conditions are treatable.
You do not have to go through life refusing to wear shorts, skirts, or short-sleeve shirts. Dr. Hochstein can help you achieve your desired physical appearance with an arm lift or a thigh lift.
What Are My Plastic Surgery Options for Limb Improvement?
For addressing your extremities, Dr. Hochstein offers an arm lift and a thigh lift. Each of these surgical procedures corrects sagging skin and excess fat in the targeted area. An arm lift or a thigh lift provides patients with slimmer, tighter, and younger-looking limbs.
These procedures are especially beneficial for patients who have recently lost weight, are recovering from pregnancy, or whose skin has become lax with age.
Others interested in these procedures may be trying hard to get in shape but having difficulty getting rid of those extra fat pockets or loose skin. This is common among those who have gained and lost muscle mass over time.
These procedures are not purely cosmetic. You can read more about the health benefits of arm lift surgery and the health benefits of a thigh lift on our blog. If you wonder if a thigh lift is right for you, consider our blog post Why Do You Need a Thigh Lift?
Why Should I Get Surgical Improvement?
Improving the appearance of your arms or legs can help you look and feel younger, stronger, and more vibrant. If diet and exercise have not helped you, you don't need to suffer embarrassment or loss of confidence.
The surgical procedures Dr. Hochstein offers can improve your appearance. Plastic surgery can give you the confidence to return to social activities like going to the beaches of Miami or dancing—activities that many people who are self-conscious about their appearance often choose to avoid. 
By adjusting your appearance and improving your self-confidence, you can reclaim the social life you want and participate fully in all activities without fear.
Interested in Learning More?
Dr. Hochstein performs cosmetic surgery with precision and skill and would love to help you achieve your cosmetic goals. If you are interested in learning more about a thigh lift or an arm lift surgery, contact us at 305-931-3338 or fill our online form to schedule a consultation.