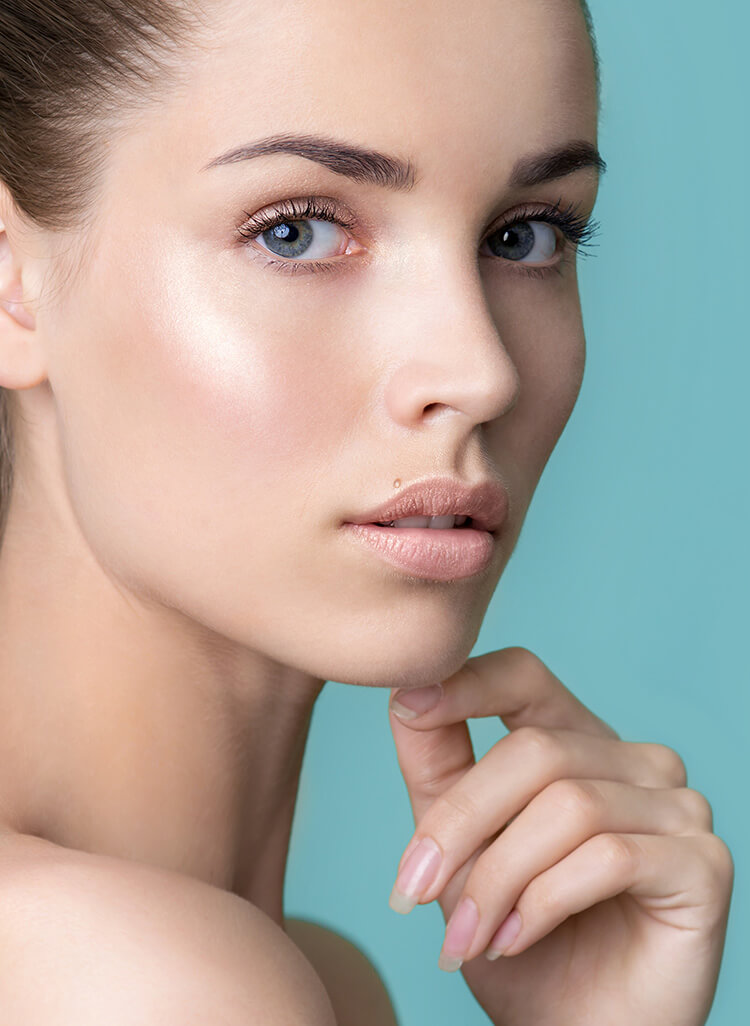 Model
What Are the Benefits of

a Rhinoplasty?
Balanced Facial Features
Having a disproportionately sized nose can affect the balance of your facial appearance. While some individuals have a nose that is too small for their face, many people seek a rhinoplasty to correct an overly large or misshapen nasal structure. Those with larger noses sometimes find that it affects the quality of their jawline, which often causes the appearance of a weak or undefined chin. By improving the size of the nose, you can achieve a more balanced facial appearance.
A Defined Profile
A pronounced nasal hump or a wide bridge can occur naturally or can be the result of nasal trauma—such as a sports injury, a fall, or a car accident—that healed poorly. These injuries can result in a crooked nose that detracts from your natural, alluring appearance. A rhinoplasty smooths and streamlines the nasal bridge, improves the facial profile, and creates a more attractive appearance.
Noticeable Tip Projection
The nasal tip can have many irregularities and variations. Some patients experience a drooping nasal tip, which creates an elongated nose. Others have an upturned nasal tip, which can make their nose appear too small or pinched. By adding graphs or an implant to the nose, a rhinoplasty can rotate the nasal tip to provide the right amount of projection.
Improved Breathing
Those who snore or have difficulties breathing may suffer from a deviated septum, which occurs when the cartilage that separates the nasal passages is crooked. A deviated septum obstructs the airflow, which causes breathing irregularities and difficulties. A septoplasty is a variation of rhinoplasty that repairs a poorly shaped septum. This technique can be performed in combination with a rhinoplasty or as a standalone procedure.
---
Dr. Hochstein

is committed to providing his patients with

the safest, most comfortable care possible
What Happens at a

Rhinoplasty Consultation?

Your rhinoplasty consultation with Dr. Hochstein is used to evaluate whether you are the right candidate. A rhinoplasty is an individualized procedure that will be tailored to your needs. During your one-on-one consultation with Dr. Hochstein at his Miami office, you will:
Discuss your goals and expectations
Review your surgical options
Develop a surgical plan
Review your medical history, including facial trauma
Receive instructions on how to prepare for your procedure

Before your rhinoplasty:

Stop smoking
Stop taking aspirin, NSAIDs, and herbal supplements that thin the blood
The VECTRA® 3D Imaging system may be used during this consultation to provide you and Dr. Hochstein with a clearer understanding of how your expectations match up against your potential results.
What Are Virtual Consultations?
Dr. Leonard Hochstein has the unique opportunity to see and help patients from all over the country. Because he understands that visiting Miami for a consultation is not always possible, he offers virtual consultations for his out-of-town patients.
Get In Touch
How Is a Rhinoplasty Performed?
Rhinoplasty is performed as an outpatient procedure under general anesthesia.
The techniques used during a rhinoplasty will depend on what type of nasal alteration you desire.
Nasal reductions are performed by gently shaving down excess cartilage and bone. This is performed when there are humps or bumps on the bridge of the nose.
Nasal augmentations require an augmenting material, such as a cartilage graft or an implant. Cartilage grafts may be taken from the septum, ear, or ribcage. These grafts/implants can increase the size or projection of the nose.
What Is a Closed Rhinoplasty?
A closed rhinoplasty makes minor to moderate adjustments to the nose without requiring external incisions. The incisions for a closed rhinoplasty are made within the nostrils so that they will be hidden to you and everyone else.
This is Dr. Hochstein's preferred rhinoplasty method.
What Is an Open Rhinoplasty?
An open rhinoplasty is sometimes required for patients who need more extensive correction to the nose or nasal passage. An open rhinoplasty requires an external incision across the columella (the strip of skin between the nostrils) so that the skin can be lifted to reveal the full internal structure of the nose.
While this technique requires an external incision, the incision usually heals well and is inconspicuous.
---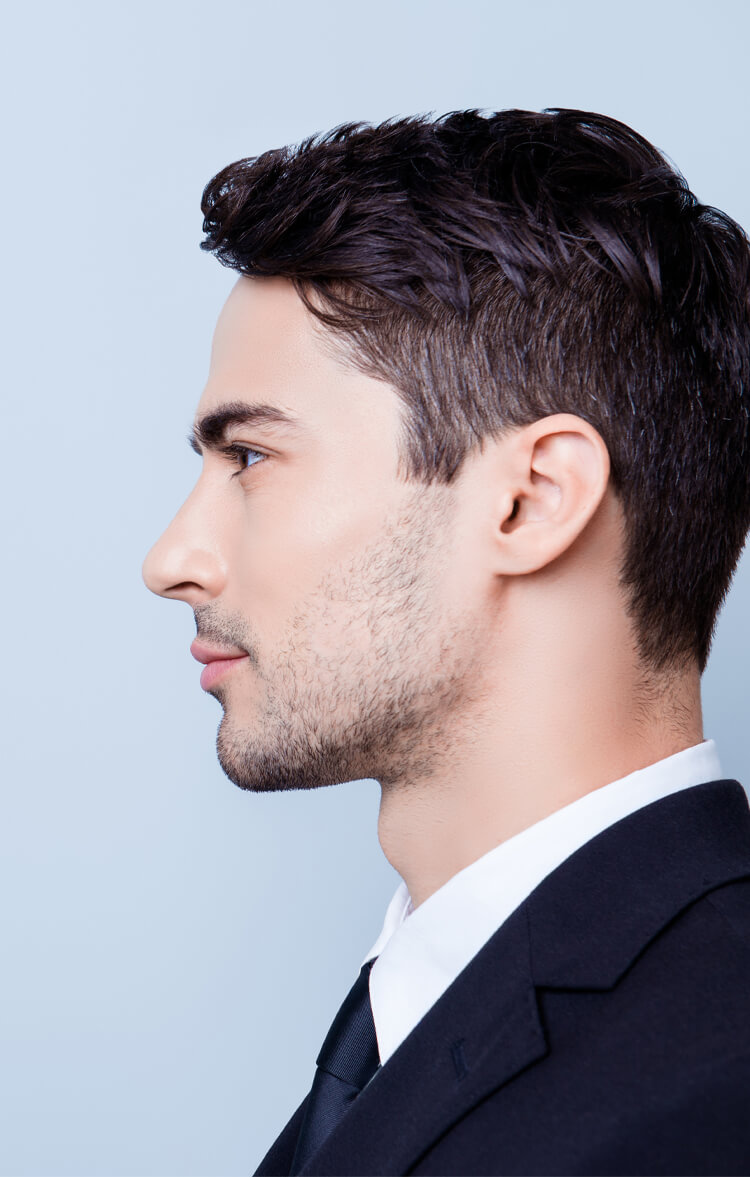 Model
Do You Have Concerns About

Your Rhinoplasty?
Rhinoplasty Recovery
Following your rhinoplasty surgery, you will develop swelling and bruising on the nose and under the eyes. This may be accompanied by a mild aching of the midface.
Week 1: Nasal packing, splints, and stents are worn for several days to provide internal and external support for your healing nasal structures. You will want to avoid blowing your nose or applying pressure to the area for several days. We recommend that you do not wear makeup until your tissues have begun to heal.
Weeks 2-3: Patients can return to work or school within one to two weeks; however, strenuous activity and exercise should be avoided for two to three weeks.
Weeks 6-8: Most major swelling and bruising will subside within six to eight weeks, and you can resume all of your regular activities.
Residual swelling may last anywhere from six months to two years.
Rhinoplasty Cost
The cost of a rhinoplasty will vary between patients depending on the extent of correction required to achieve their results. Anesthesia fees, surgical fees, and hospital fees will also affect the cost of a rhinoplasty. However, some patients require a more detailed surgery that may result in a higher fee. After your rhinoplasty consultation, Dr. Hochstein will be able to provide you with a precise cost of your procedure.
Rhinoplasty Pain
Rhinoplasty is performed under general anesthesia to ensure that you feel no pain during or immediately after your surgery. It is common to develop some pain and discomfort in the hours and days following your surgery once the anesthesia exits your system and the swelling develops. Prescribed oral medication can alleviate any of this discomfort. Alternatively, some patients decide to rely on over-the-counter pain medication, like TYLENOL®.
Rhinoplasty Scars
Modern rhinoplasty techniques make very few (if any) external incisions. Therefore, there will be minimal to no visible scarring after a rhinoplasty. The absence of visible scarring is one of the many reasons that Dr. Hochstein prefers the closed rhinoplasty technique; however, should you require an open rhinoplasty, you may take comfort in knowing that only a small scar will develop at the base of the nose.
Frequently Asked Questions

About Rhinoplasty
Am I a candidate for a rhinoplasty?
Men and women who are seeking a rhinoplasty are dissatisfied with the shape and size of their nose. To be a candidate for a rhinoplasty surgery, men and women need to be in good overall health and have realistic expectations of their results.
Should I combine any other procedures with my rhinoplasty?
A rhinoplasty can be performed alone to correct a nasal irregularity, or it can be combined with an additional facial procedure such as a facelift surgery (to address visible aging on the middle and lower regions of the face), eyelid lift surgery (to minimize under-eye bags or upper eyelid hooding), or brow lift surgery (to eradicate signs of aging on the forehead and brow).
Can I undergo a rhinoplasty as a teenager?
Rhinoplasty is one of the few cosmetic surgeries that can safely be performed on teenagers who are suffering physical, emotional, and social discomfort due to their nasal irregularity. Teenagers who are considering this procedure should have fully developed facial features, which usually occurs at 15 for girls and 17 for boys.
Teenagers who are interested in undergoing a rhinoplasty should have the consent of a parent or guardian and should be mature and emotionally adjusted enough to handle this type of physical change.
What are the potential risks and complications after a rhinoplasty?
A rhinoplasty is a nuanced and intricate facial procedure. These complexities pose some possibility of risks and complications; however, the risk is lessened when a rhinoplasty is performed by a qualified surgeon such as Dr. Hochstein.
Complications to be aware of that are out of your surgeon's control include:
Negative interactions with the anesthesia
Infection
Nosebleeds
Prolonged swelling
Healing irregularities
Why do I need to stop smoking before my rhinoplasty?
Smoking and other forms of tobacco inhibit blood flow, which increases your risk of complications during and after the surgery. Proper blood circulation is essential to your overall health, and its importance increases when the body is working in overdrive to heal itself. Pausing your smoking habits for at least six weeks before and two weeks after the surgery will reduce your risk of complications like heart attack and stroke, and smoking cessation can also contribute to more desirable cosmetic results.
Should I consider a rhinoplasty if I break my nose?
Many candidates for this procedure are those who have undergone a facial trauma that resulted in a broken nose. While some breaks heal well and are undetectable to the naked eye, others are quite noticeable. Not only will a rhinoplasty repair a nose that has healed poorly, but it will also strengthen the internal structure and reduce the risk of infection or a collapsed nasal septum.
Will insurance cover the cost of my rhinoplasty?
Plastic surgery—such as a rhinoplasty—is elective, and insurance will not cover elective procedures. Dr. Hochstein understands that the choice to undergo a rhinoplasty can become a financial burden. This is why he offers plastic surgery financing options through CareCredit®, ALPHAEON CREDIT®, United Medical Finance, EFinancing Solutions, and Prosper Healthcare Lending.
Our attentive office staff will be happy to discuss your financing options with you during your consultation.
Is there a non-surgical alternative to a rhinoplasty?
There are many out there championing what has been coined as a non-surgical rhinoplasty. This treatment uses dermal fillers to add temporary volume to the nose, which can be beneficial for patients looking for more definition of the bridge or tip. This non-surgical treatment cannot reduce the size of the nose, and, therefore, cannot correct nasal humps, flared nostrils, or difficulties with the nasal septum.
Will my rhinoplasty results be permanent?
The look and shape of your nose are not expected to change following a rhinoplasty. Because of this, rhinoplasty results are considered to be permanent. Any additional corrections can be made with a secondary surgery.
What happens if my nose does not heal right?
It is very challenging to predict how a patient's nose will heal following their rhinoplasty. Because of this, there is no way to guarantee that you will not experience a complication during the healing process. If your nose does heal incorrectly or if there was not adequate adjustment made to the nose, a revision rhinoplasty may be performed.
Patients must wait at least one year before undergoing a revision rhinoplasty.
Dr. Hochstein's Top Surgical Procedures In Miami, Florida