What Is a Breast Augmentation?
Breast augmentation enhances breast shape and size with saline or silicone implants. This surgical procedure can highlight your physique and boost your self-confidence.
Is a Breast Augmentation Right for Me?
Women turn to this procedure to increase the fullness of naturally small breasts or breasts that have deflated after pregnancy, breastfeeding, weight loss, or the aging process.
Ideal candidates for breast augmentation are in good overall health, do not smoke, and have realistic expectations about their results. During your consultation, Dr. Hochstein will examine the condition of your breasts to determine the best technique for your needs.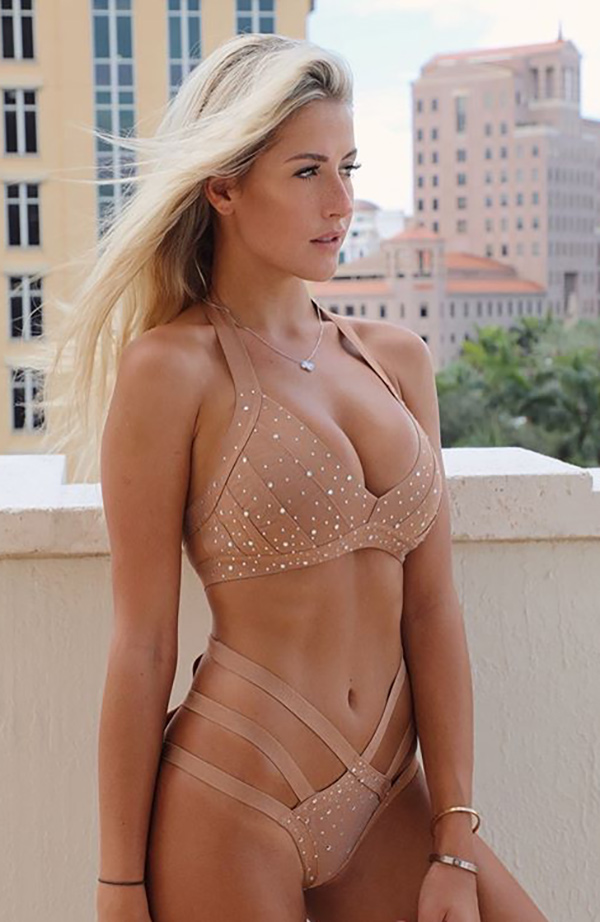 Actual Patient Model
What Are the Benefits
of a Breast Augmentation?
Creates a Curvier Figure
Breast augmentation enhances breast volume, shape, and definition for women who have always been unhappy with the small size or shape of their breasts. This surgery can be incorporated into a more significant body contouring process, including liposuction, a tummy tuck, and a Brazilian Butt Lift to create the coveted hourglass silhouette.
Restores Breast Volume
Pregnancy and breastfeeding cause many women to develop a deflated breast appearance. A breast augmentation procedure allows women to restore lost fullness and eliminate post-pregnancy shrinking.
Improves Symmetry
Most women have breast asymmetry that is not noticeable to the naked eye. Unfortunately, some women's asymmetry is visible. Natural-looking breast augmentation allows women to insert different-sized implants into their breasts to even out the bustline.
Enhances Body Proportions
Women can create balanced body proportions by enlarging their breasts. This balance allows women to fit better into clothing and creates a beautiful, eye-catching silhouette.
---
Dr. Hochstein

is committed to providing his patients with

the safest, most comfortable care possible
What Are My
Breast Augmentation Options?
What Are My Breast Implant Options?
Dr. Hochstein offers many breast augmentation sizes and different types of breast implants, from small breast implants to big breast implants.
Vectra™ 3D Imaging is used so that patients can understand how their implant selection will impact their surgery.
Implant Material
Silicone implants consist of a silicone shell filled with silicone gel. This is Dr. Hochstein's preferred implant.

FDA approved for women 22 years or older
Provides a more natural look and feel
Modern silicone implants are more cohesive than older models, making them more natural and safer
MRIs or ultrasounds are recommended every other year to check the health of the implant
Saline implants consist of a silicone shell filled with sterile saline.

FDA approved for women 18 years or older
Provides a more augmented look
Implant Shape
Round implants are spherical with smooth edges. These implants create equal fullness on the top and bottom of the breasts. Round implants can be filled with saline or silicone and will not distort the breasts if they rotate in the pocket.
Anatomical implants  are shaped like a teardrop and contribute to a more natural breast appearance. These implants are made of a thicker silicone gel that holds its shape. Unfortunately, anatomical implants may distort the breast appearance if they rotate in the pocket. While Dr. Hochstein offers anatomical implants, he doesn't often recommend them.
Implant Profile
The implant profile determines the projection of the implant. Implants of the same volume (CCs) will be shaped differently — and project differently — depending on their profile.
Low-profile implants have a wide base but do not project much. These implants are ideal for women with a broader chest wall.
Moderate-profile implants have a narrower base and project more than low-profile implants do. These implants are commonly used for women with average-width chest walls.
High-profile implants have a small base and project further from the chest. These implants are best for petite women with thin chest walls.
Ultra high-profile implants have an even narrower base than high-profile implants and project the furthest from the chest.
---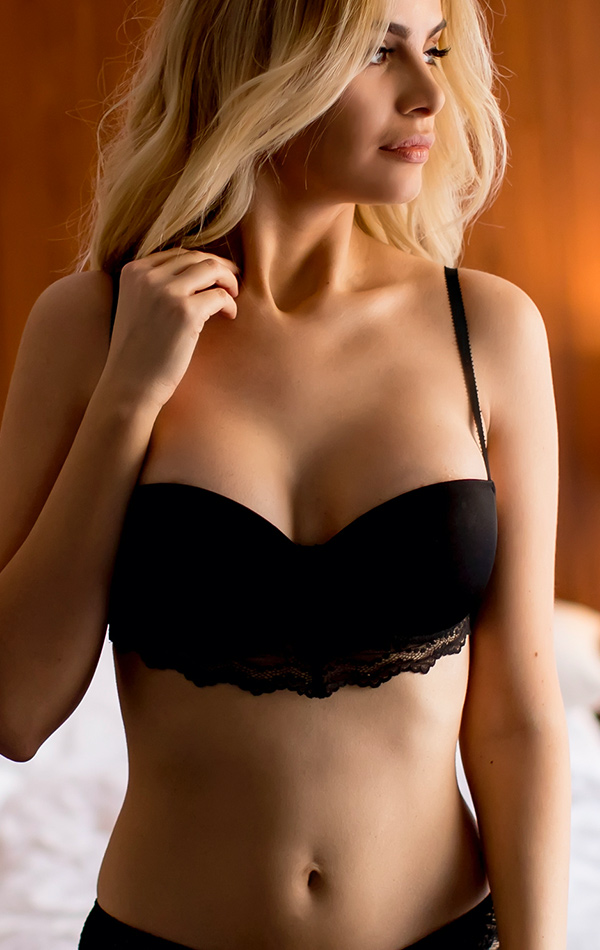 Model
Where Are My Breast Implants Placed?
Your implant placement will affect the final shape of your breasts and can impact your recovery time.
Submuscular implants are placed under the breast tissue and the pectoral muscles. This placement offers some of the most natural-looking results and is Dr. Hochstein's preferred method.
Subglandular implants are inserted beneath the breast tissue but above the pectoral muscles. Dr. Hochstein disagrees with this method and believes that this placement will result in complications.
Partial submuscular implants are placed beneath the breast tissue and partially under the pectoral and chest muscles.
Where Will My Breast Augmentation Incisions Be?
Your incision will depend on the type and placement of the implant. Incisions are located in discreet locations to minimize visible scarring.
The periareolar incision runs along the lower half of the areolas. Dr. Hochstein usually recommends the periareolar incision.
The inframammary incision runs along the breast crease, where the underside of the breast meets the skin of the upper abdominal area.
The transaxillary incision is made within the underarm.
How Is a Breast Augmentation Performed?
Your Miami breast augmentation with Dr. Hochstein is performed as an outpatient procedure under general anesthesia.
How Long Does Breast Augmentation Take?
Breast augmentation usually takes between 30 minutes and an hour to perform. This length may increase if additional plastic surgery procedures are being performed simultaneously.
Breast Augmentation
Please Contact Us Today for a Free Consultation
Book A Consultation
Actual Patient Model
Combination Breast Augmentation Combinations
Breast Lift and Augmentation Combination
Breast augmentation creates or restores breast volume, but it will not elevate the breasts or tighten loose breast skin. If you are experiencing sagging breasts, a breast lift can be combined with your breast augmentation. Breast lift surgery restores a youthful position and perkiness to the breasts.
Tummy Tuck and Breast Augmentation Combination
Women looking to revamp their breasts and abdomen can combine their breast augmentation with a tummy tuck or incorporate both into a Mommy Makeover, including liposuction and a breast lift or other body contouring treatment.
How Much Does a Breast Augmentation Cost in Miami, FL?
Your breast augmentation cost depends on your procedure's specifics, particularly your implant selection. Breast implant prices vary, with saline implants being more cost-effective; however, it is important to choose the implant that will provide the aesthetic results you want, not the ones with the cheapest price tag.
Breast augmentation price will also depend on anesthesia fees, facility fees, surgeon's fees, geographical location, pre-surgical tests, and post-surgical dressings. Dr. Hochstein will provide you with an accurate cost estimate during your consultation once your surgical plan has been established.
Is Breast Augmentation Covered by Insurance?
Breast augmentation is an elective cosmetic procedure and, therefore, not covered by insurance. Breast augmentation financing options are available through CareCredit® — a credit card exclusively designed for healthcare services.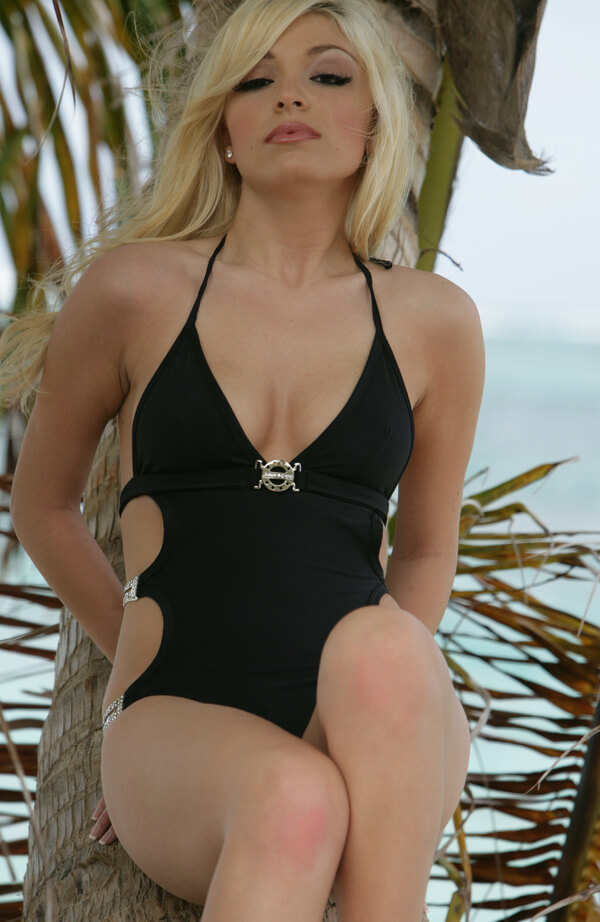 How to Prepare for Breast Augmentation
What Is Discussed During My Breast Augmentation Consultation?
Your consultation with Miami breast surgeon Dr. Hochstein is essential. During this meeting, Dr. Hochstein will:
Discuss your aesthetic desires and expectations
Evaluate your current breasts, skin condition, and overall health
Talk about any previous health conditions that can affect your recovery or the quality of your results
Take measurements and photos
Explain your implant options
Develop a surgical plan
Provide you with instructions on how to prepare for your procedure

Before surgery, patients should:

Stop smoking
Stop taking aspirin, NSAIDs, and herbal supplements that thin the blood
This consultation also gives you a chance to ask any questions you may have about the surgery. It is important to go into this process knowing as much as possible. For more information on what your consultation will entail and for a list of potential questions to ask, you can learn more here.
---
Why Do I Need to Stop Smoking Before My Breast Augmentation?
Tobacco use inhibits blood flow. The lack of proper circulation puts you at a higher risk of experiencing significant complications such as heart attack or stroke during your surgery. This is why you must stop smoking for at least two weeks before your procedure.
What to Expect After a Breast Augmentation
How Long Is a Breast Augmentation Recovery?
Most patients find their breast augmentation recovery time is easily manageable. You should expect to experience bruising, swelling, and discomfort after your procedure. Your breasts will be wrapped in a support bra that will help to reduce swelling, promote circulation, ensure that your implants settle correctly, and facilitate healing.
Breast augmentation recovery week by week:
Week 1: Patients will be bruised, swollen, and uncomfortable. Lifting, pushing, or pulling anything over 15 pounds is prohibited. Patients should rest comfortably and avoid raising their arms above their heads.
Weeks 2-3: Most of the discomfort will have resolved by the second week, and most patients will feel comfortable enough to return to work and their regular activities.
Weeks 4-5: Patients should still wear their support bra, but they can start applying creams for scar treatment and can start incorporating more activities into their routines.
Week 6: Patients are cleared to resume most activities except for chest workouts. These should be avoided until you have been cleared by Dr. Hochstein.
For a complete list of breast augmentation recovery tips and things to avoid after breast augmentation, you can visit our full description of post-operative instructions.
How Painful Is Breast Augmentation Recovery?
Breast augmentation is performed under general anesthesia to minimize pain during and immediately after your procedure. Any residual soreness or pain can be alleviated with oral pain medication. Most discomfort dissipates within a few days.
If you experience persistent breast implant pain, inform Dr. Hochstein immediately.
What Are Breast Augmentation Risks and Side Effects?
While rare, post-surgical complications are possible, including:
Negative reactions to the anesthesia
Bleeding
Infection
Changes to skin or nipple sensation, which may be temporary or permanent
Hematoma
Prolonged wound healing
Unfavorable scarring
Side effects of breast implants also exist, including:
Implant rupture
Capsular contracture/concerns with the breast implant capsule
Double bubble deformity
Implant displacement
Implant rippling
You can reduce your risk by following Dr. Hochstein's pre- and post-surgical advice.
Will I Have Breast Augmentation Scars?
Breast augmentation scars will develop at the incision sites, which will be hidden in the natural creases and folds or camouflaged by the darker skin around the areola.
Patients can help minimize the visibility of scars by keeping them out of the sun, avoiding bras and clothing that can rub against the incisions, and applying silicone strips, gel, or topical scar cream. All scars will fade with time.
Learn more about preventing and minimizing plastic surgery scars.
When Can I Start Smoking After My Breast Augmentation?
If you plan to resume smoking after your procedure, you should avoid doing so for at least two weeks. Failure to do this may increase your risk of complications or poor wound healing.
How to Speed Up Breast Augmentation Recovery?
Most women find that their breast augmentation recovery is much shorter than anticipated. The best way to ensure a speedy healing process is to listen to Dr. Hochstein's instructions and allow your body the rest it needs.
How Long After Breast Augmentation Can I Drive?
You will be cleared to drive once you have finished any narcotics and have regained full upper-body movement.
How Should I Sleep After My Breast Augmentation?
It is suggested that you sleep on your back while recovering from breast augmentation to prevent pressure on the chest. Many patients benefit from propping their bodies up with pillows so that they rest in a more reclined position.
When Can I Shower After a Breast Augmentation?
It is important to keep your incisions clean and dry after your procedure. Most patients can shower the day after (while avoiding the incisions as much as possible). Still water, including hot tubs, pools, oceans, saunas, and steam rooms, should be avoided for at least six weeks.
When Can I Return to an Underwire Bra?
Support is your number one concern following your breast augmentation. Once you are cleared to stop wearing the support bra, you should begin wearing a sports bra or a supportive non-wire bra. Underwire bras should be avoided because the wires can irritate the incisions, causing them to open. Patients should wait several weeks or months before wearing an underwire bra. As your breasts will continue to shift slightly over the initial few months, you may only want to invest in a small number of bras until you are sure that your implants have settled and the swelling has subsided.
Will My Breast Augmentation Results Be Permanent?
Breast augmentation with implants is designed to create long-lasting enhancement, and most women remain pleased with their augmented breasts for decades.
While breast implants are reliable and complications are rare, they are not expected to last forever. Implant complications can occur at any time after your procedure. Breast revision is a secondary procedure performed to repair or adjust the results of your initial breast augmentation.
Additional aesthetic changes can occur to augmented breasts if you experience pregnancy or significant weight fluctuations.
Frequently Asked Questions
About Breast Augmentation
Dr. Hochstein's Top Surgical Procedures In Miami, Florida