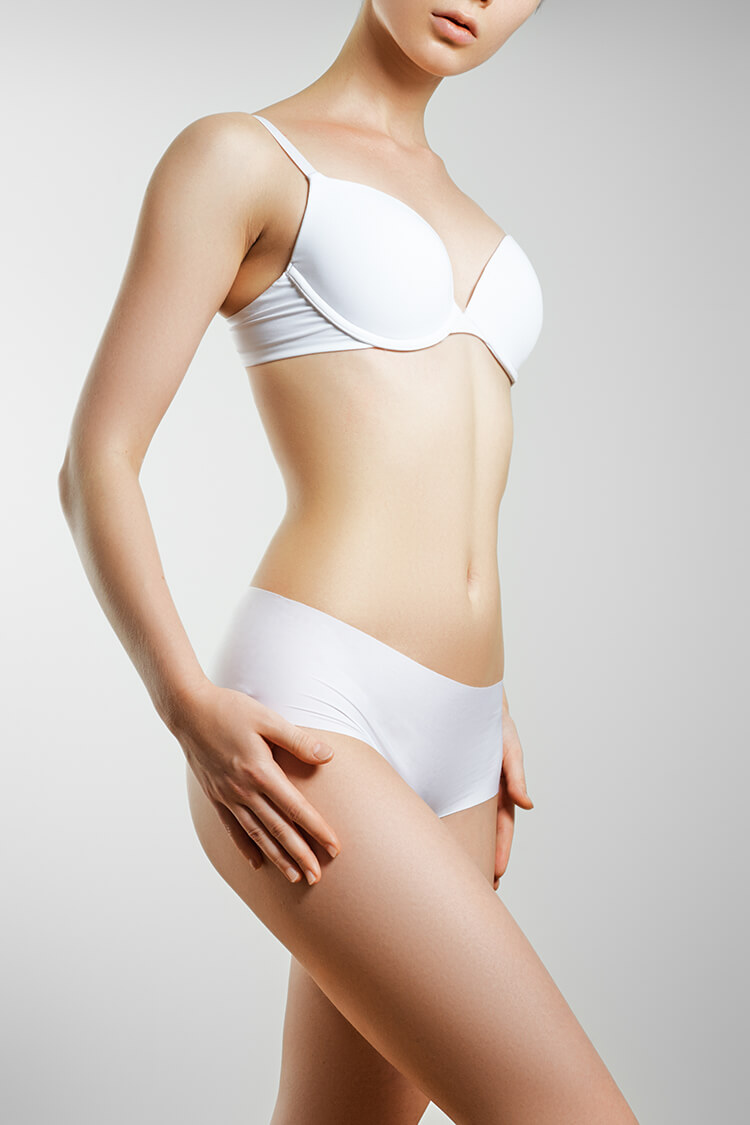 Model
Your
Thigh Lift Procedure
A thigh lift typically takes about two hours and is performed while the patient is under general anesthesia. Incisions are placed around the thighs, and excess skin or fat is removed.
Incisions
An inner thigh lift places incisions in the groin area. Excess skin and fat are removed, and the inner thigh is contoured. This technique helps relieve painful irritation caused by chafing of the excess skin.
An outer thigh lift uses an incision along the outer thigh. The buttocks may be minorly recontoured to make a smoother transition from the thighs to the backside. This technique helps eliminate unsightly saddlebags.
Combine With Liposuction
Patients considering a thigh lift may also have unwanted, excess fat around the thighs, hips, and buttocks that prevents you from achieving the body shape you want. You can combine liposuction with most thigh lift procedures to better shape and enhance the appearance of your lower body.
Combine With Tummy Tuck
After weight loss, you may find that you have excess skin throughout your entire lower body. Patients will typically combine body contouring procedures to address multiple problem areas, and improve their overall body shape. A tummy tuck can create a flatter belly, while the thigh lift provides you with slimmer legs.
---
Dr. Hochstein

is committed to providing his patients with

the safest, most comfortable care possible
Recovery
You will experience bruising and swelling along your thighs. You may be required to wear specialty compression garments to help facilitate the healing process. You will be required to limit your physical activities, and most patients can return to work within two weeks of their procedure and resume their regular exercise routine after six weeks. Most of the swelling should subside within six weeks. However, it takes six months to see the final results and for all swelling to completely diminish.
Cost
Each patient is unique; therefore, the cost of your thigh lift will depend on the extent of correction required. The exact price of your thigh lift will be determined during your initial consultation.
Pain
You are likely to feel sore and experience some mild aches following your thigh lift. Oral pain medication will be prescribed by your physician to manage postoperative discomfort.
Frequently Asked Questions About

Thigh Lift
Who is a good thigh lift candidate?
Any man or woman who is in good health and who has excess skin along their thighs may be a good candidate. You should have realistic expectations about your results. Patients who have lost a significant amount of weight should be close to their ideal weight and have maintained their weight loss for about six months to a year.
Can I drive myself to and from my surgery?
No. Patients placed under general anesthesia must have a licensed adult drive them home.
Will insurance pay for my thigh lift?
Insurance does not cover cosmetic procedures. Financing options are available.
How long will my results last?
Your results can be long-lasting if you maintain a stable body weight. Any weight fluctuations after your thigh lift surgery may alter their improved appearance.
Dr. Hochstein's Top Surgical Procedures In Miami, Florida