Microneedling is among the most talked about procedures available today for improving one's facial appearance. Indeed, there are several good reasons for the widespread popularity of microneedling. The method has been used effectively to enhance the appearance of many high-profile celebrities and shows excellent promise for rejuvenating damaged skin.
Ideal Candidates
Nearly anyone in good health can reap the benefits of microneedling. The first step anyone should take in determining if they are a good candidate for microneedling is to schedule a consultation with a cosmetic expert such as the professionals at the Hochstein Medspa. Ideal candidates often share several concerns and goals in common, including:
Having mild to moderate skin laxity
A desire for the general improvement of the skin
The need to treat acne scars and fine lines
Have wishes to reduce the appearance of wrinkles
The correction of other cosmetic skin conditions such as stretch marks, sun-damaged skin, or uneven skin tone
Procedure
During the treatment, tiny needles are used to create micro-injures to encourage the production of collagen and elastin. The length of the process can vary depending on the size of the treated area and the severity of the necessary corrections. Several office visits may be needed to achieve the most optimal look. As the skin heals, it can take on a more even toned and aesthetically pleasing appearance.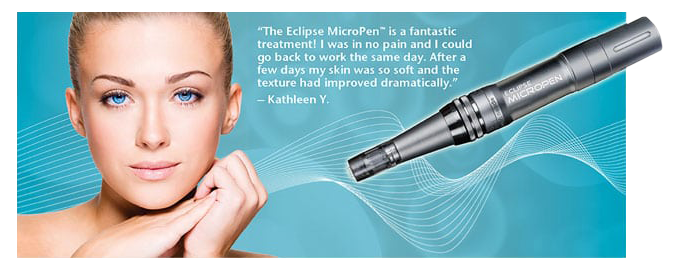 ---
The unique protocol offered at Hochstein Medspa includes a combined use of automated microneedling and topical formulas for regenerative support. The Eclipse MicroPen® is used to create superficial micro-channels that help the skin to absorb topical serums better. The process can likewise involve the use of platelet-rich plasma (PRP) to accelerate healing even faster. Microneedling is excellent because it is minimally invasive. No incisions are required, and the procedure involves only topical anesthesia.
Recovery
Experiencing redness and mild soreness is common after microneedling. Most patients will see a reduction in side effects after a few days. The special serums and PRP treatments that we use at Hochstein Medspa can make the recovery time even better when used in conjunction with microneedling. The Medspa suggests that patients use Neocutis Bio-Cream, which is a post-procedure cream that helps with the healing and recovery process. It is also essential to apply sunscreen after the treatment as the skin will be vulnerable to UV sun damage.
Results
In some instances, several treatments are required for the best outcomes. Individual benefits last for varying times based on each patient. Periodic touch-up treatments are commonly needed to maintain the best appearance of the treated area. When performed by a skilled team, such as our clinicians, microneedling can produce incredibly dramatic effects. In cases of maximum results, the skin looks more even, has better tone, and has improved texture. Many patients obtain a more youthful, beautiful appearance in just a few visits to the office. Additionally, scars can blend in or fade due to the increased production of collagen and elastin.