In today's day and age, when looking your best is important for your professional image, more and more people are turning to plastic surgery. So how should someone who is considering plastic surgery go about choosing the right cosmetic surgeon for their needs?
The most important thing to keep in mind when selecting your plastic surgeon is to make sure the doctor is board certified in plastic surgery. Many doctors are board certified but do not advertise their exact plastic surgery specialty. You should only trust plastic surgeons who have received certification from The American Board of Plastic Surgery and are recognized by The American Board of Medical Specialties (ABMS). The AMBS is the only board recognized by the American Medical Association to certify people in over 24 medical specialties, one of which is plastic surgery.
The easiest way to check any doctor's credentials and learn which area of plastic surgery they are certified in is to go to the ABMS website: www.abms.org. You can also call 1-866-ASK-ABMS (1-866-275-2267) to check his or her credentials.
Office Surgery
Should a person be concerned about where the surgery is performed, such as in a "private setting" versus a hospital?
Many people prefer to have their plastic surgery procedure performed in a surgeon's private office for the same reason you might prefer flying on a private jet versus flying commercial. If you have your operation in the doctor's private facility, you don't have to worry if you are running a few minutes late or if you need to spend a little more time recuperating. However, you should always ask the doctor if he or she has privileges to perform procedures in a hospital as this will ensure that the doctor has undergone peer review, and is eligible to perform surgeries in a hospital's operating room.
Appropriate office surgery carried out by a qualified surgeon in an accredited, well-run, and maintained office surgical facility can be:
A positive, non-threatening experience for the patient
An effective surgical environment
Private
Economical for the patient
Convenient for patient and surgeon alike
…SAFE!
Surgery, which was once restricted to the hospital operating room, is now being done more and more frequently in the physicians' offices. This is particularly true of cosmetic surgery, with self-pay.
---
But does it really matter where the surgery is performed?
Just as there is no regulation of who can call themselves cosmetic or plastic surgeons, there is little regulation as to what surgery can and cannot be done in an office. Unfortunately, there is an alarming indication that the public's safety is being compromised by this lack of regulation. The State of Florida Board of Medicine recently placed a moratorium on office surgery performed under general anesthesia and heavy sedation due to a high incidence of hospital admissions from complications of office procedures. Along with numerous other states, Florida has passed legislation regulating office surgery.
The Importance of Credentials
Board certification means that a surgeon has…
Completed at least five years of residency in which two to three years is plastic surgery-specific.
Successfully completed rigorous comprehensive written and oral exams.
Promises
One should expect that a physician has the proper training, credentials, and experience to provide the service you are seeking. One would expect a board certified plastic surgeon to have gone through a broad and rigorous training program in order to have adequate surgical experience and to have passed both written and oral objective testing. Furthermore, one would expect that the surgeon has met certain ethical standards as required by the particular specialty.
Pitfalls
Any physician may call himself/herself a plastic surgeon or cosmetic surgeon without training.
A physician may perform any procedure in his/her office without peer scrutiny. There are no training requirements. And, in fact, there is no requirement that the physician is a trained surgeon.
A physician may claim to be board certified simply by joining a sound-a-like organization.
Overview: Board Certification Explained
The one medical board-certifying agency that you can rely upon is the ABMS, including its sub-boards. This is the board that oversees the certification of physicians in all specialties.
"The intent of the certification of physicians is to provide assurance to the public that a physician specialist certified by a member board of the American Board of Medical Specialties (ABMS) has successfully completed an approved educational program and an evaluation process which includes an examination designed to assess the knowledge, skills, and experience required to provide quality patient care in that specialty." – the ABMS Assembly
The ABPS is the specialty board accredited by The ABMS that certifies plastic surgeons. The ABPS is the only one of the 24 boards approved by the ABMS that certifies surgeons in plastic surgery of the face and all areas of the body. The ASPS requires ABPS-certification for membership, as it oversees continuing medical education, practice standards, and ethics.
Medical specialty certification must be differentiated from a physician's ability to designate a special area of interest. This practice, used by the AMA and many local medical societies, is known as a "self-designated specialty."
---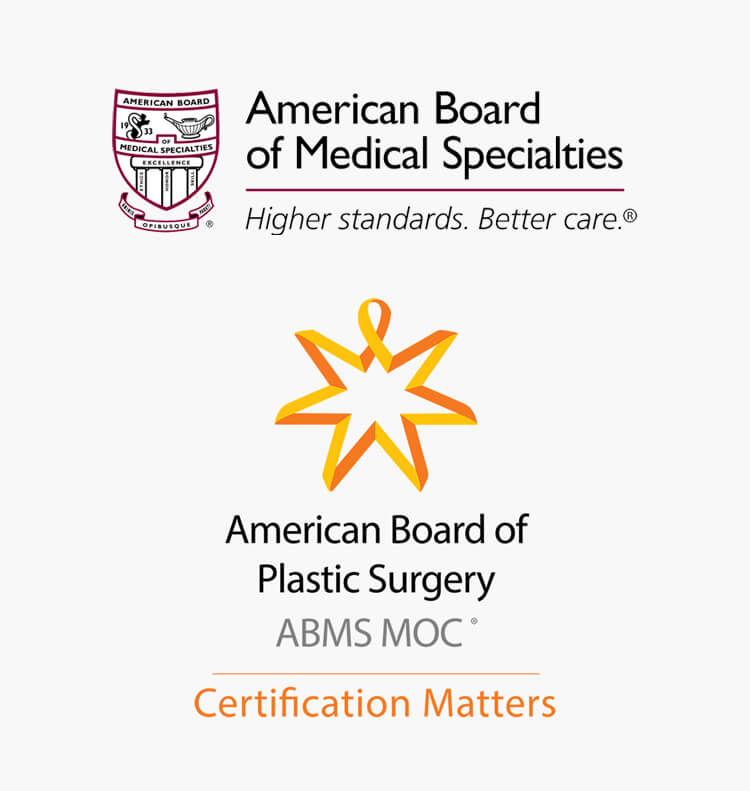 How do you find out which doctor is board certified?
You can check on specific physicians through The ABMS website at www.abms.org/ and then click on "Is Your Doctor Certified?"
Verbal verification is available through the ABMS toll-free telephone service by calling 1-866-ASK-ABMS (1-866-275-2267).
Verification is available in The Official ABMS Directory of Board Certified Medical Specialists, published annually. The directory can be found in many medical and public libraries.
Written verification is available by contacting the individual specialty board in the physician's field of practice.
Hospital Privileges
Major hospitals are very diligent in credentialing surgeons for privileges to perform specific procedures. Furthermore, in a hospital setting, surgeons are subject to peer review (case reviews), which enforces acceptable standards. Any hospital medical staff office can provide this information.


Jackson North Medical Center
160 NW 170th Street
North Miami Beach, FL 33169