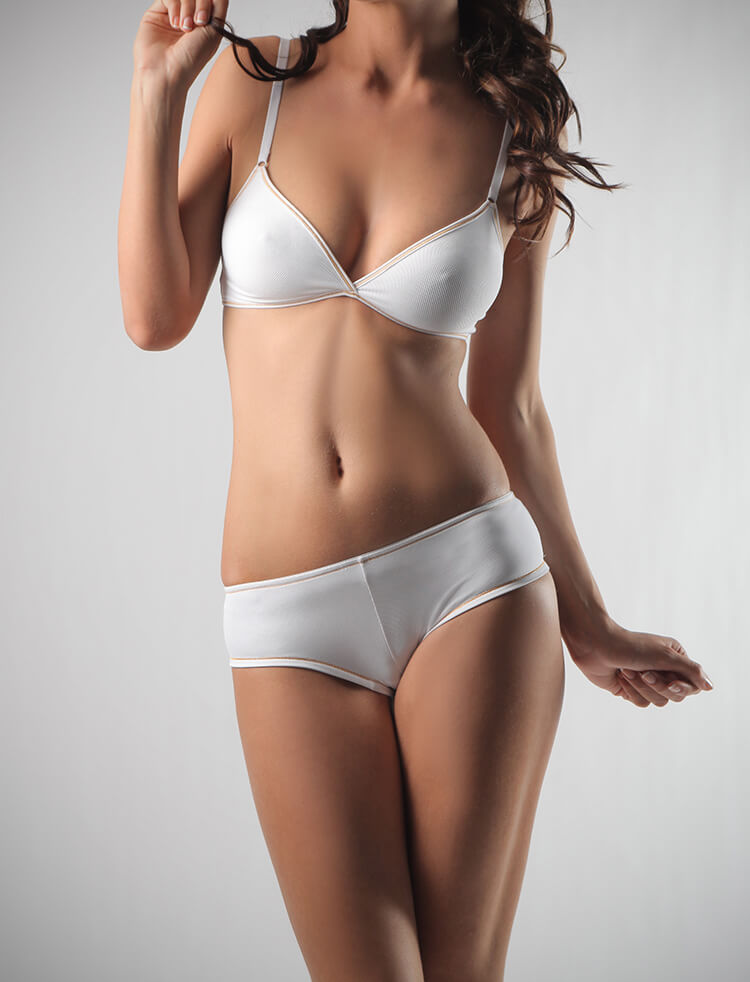 Model
What Are the Benefits of
a Breast Revision?
Correction of Implant Complications
While implants are durable, they are not foolproof. Implant shells can weaken with time and physical stress, resulting in implant ruptures or leaks, displacement, capsular contracture, double bubble deformity, or implant rippling. A breast revision restores implant health by removing the damaged implant and replacing it with a healthy one.
Better Implant Size
Choosing the specifications for your implants during your initial breast augmentation can be challenging. While many women are pleased with their implant choices, others wish that they had chosen larger or smaller implants. A breast revision allows women to swap out too-small or too-large implants for ones that best match their desires.
Natural Breast Aesthetics
While some women decide that they want to downsize their implants, others decide that the look of augmented breasts is not for them. A breast revision allows women to part ways with their implants permanently to return to a natural aesthetic, regardless of whether or not they experienced complications with their implants.
Increased Emotional Comfort
Some women choose to remove their implants over concern of breast implant illness (BII), breast implant-associated anaplastic large-cell lymphoma (BIA-ALCL), or another breast-health related fear. While these conditions are unproven (as is the case of BII) or rare (like BIA-ALCL), some women decide that implants are not worth the hassle.
---
Dr. Hochstein

is committed to providing his patients with

the safest, most comfortable care possible
What Happens at a Breast Revision Consultation?
Your consultation with Dr. Hochstein at his Miami office is an integral part of a successful surgery. During this meeting, Dr. Hochstein will:
Discuss your goals and expectations
Evaluate implant complications or the reasons for explantation
Explain your surgical options
Take measurements and photos
Establish a surgical plan
Inform you about all pre-surgical recommendations

Patients should:

Stop tobacco use
Avoid blood-thinning medications or herbal supplements
What Are Virtual Consultations?
Dr. Hochstein is fortunate to have many out-of-town patients. Because it is difficult for these patients to get to Miami for their consultation, Dr. Hochstein offers virtual consultations. These virtual consultations cover all of the same topics as an in-office consultation but allow the patient to have the meeting wherever they are.
Get In Touch
What Are My
Breast Revision Options?
Permanent Implant Removal
Women who are displeased by the look and/or feel of their augmented breasts can remove their implants permanently with breast revision. Once the incision is made and the implants are removed, the breast pockets are tightened, and the incisions are closed.
Implant Removal and Breast Lift
A breast lift surgery is commonly performed after implant removal for women who had larger implants or had their implants for several years and have developed significant breast sagging. A breast lift surgery tightens loose glandular tissue and skin to raise the breasts and restore a youthful breast contour.
Implant Removal & Replacement
Patients who undergo an implant revision due to complications or unhappiness with implant size often choose to remove and replace their implants. The new implants can be identical to the previous implant or can be a different size, profile, or filling material.
Implant Pocket Repair
Occasionally, the reason for complications like implant displacement, bottoming out, or symmastia is the loosening of the breast pocket. During a breast revision, the size of the breast pocket may be reduced to hold the implants better.
Tissue Reinforcement
Women with thin tissue and large implants may experience excessive sagging, rippling, or shifting of the implants. Women who have experienced these complications may benefit from using MesoMatrix® during their revision. MesoMatrix® is a mesh material that reinforces the breast tissue, corrects implant complications, and provides additional support. MesoMatrix® uses a biodegradable material that becomes a part of the body as collagen grows into it. This material is absorbed by the body over a one to two-year period, leaving behind breast tissue that is twice as strong and thick.
---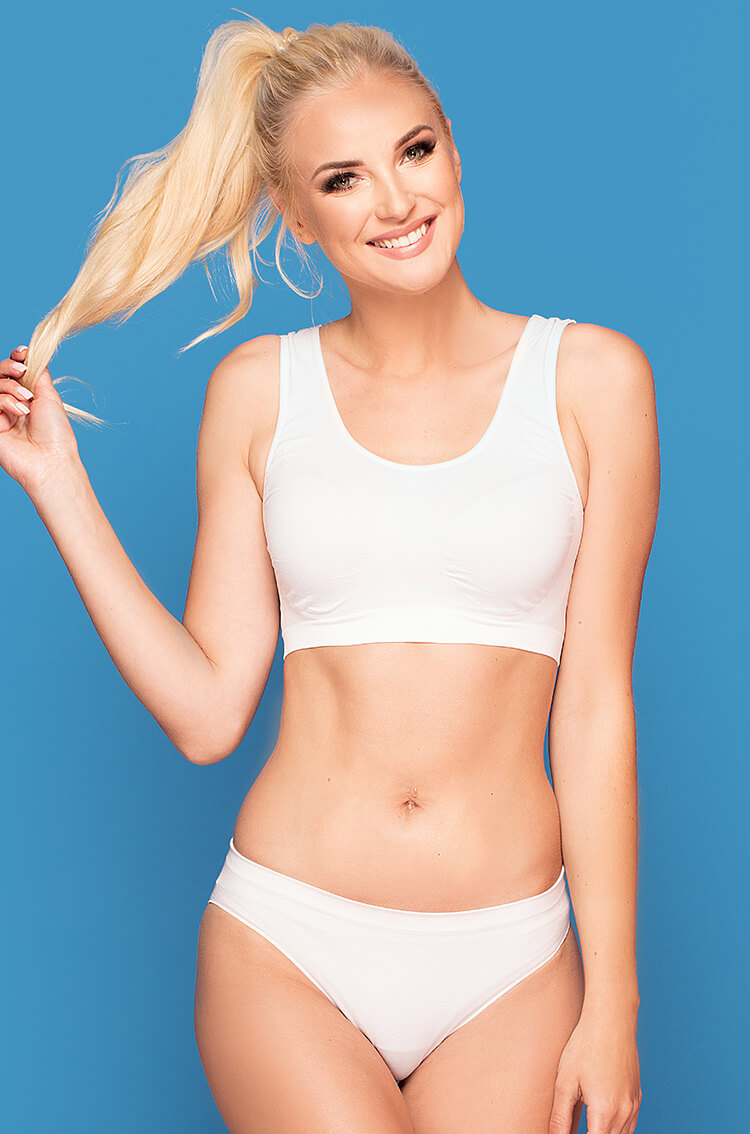 Model
Do You Have Concerns About
Breast Revision?
Breast Revision Recovery
Following your breast revision, you can expect to be sore, swollen, and bruised. A compression garment/support bra will be wrapped around your breasts to protect the incisions, promote blood circulation, reduce swelling, and ensure that the breasts heal with the correct shape and elevation.
Most patients find their breast revision recovery lasts longer than their initial breast augmentation recovery.
Week 1: Your bruising, swelling, and soreness will reach its peak. It is best to rest during this time, but it is also essential that you get on your feet and take light walks to ensure proper circulation.
Week 2-3: Your bruising and swelling will begin to subside, and you can return to work and your day-to-day activities.
Week 4-5: Most of the discoloration and a majority of the swelling should resolve within a month or so. However, every patient's recovery is completely different.
Breast Revision Cost
The cost of your breast revision varies depending on the specifications of your surgery, as discussed with Dr. Hochstein during your consultation.
The total cost of your breast revision is impacted by anesthesia fees, surgeon's fees, facility fees, geographical location, implant selection, and any additional surgical techniques. Dr. Hochstein will provide you with an accurate cost estimate during your consultation.
Breast Revision Pain
A breast revision is performed under general anesthesia to promote comfort during and after your procedure. Some discomfort will likely develop in the hours and days following the operation, and the bruising and swelling reaches its peak. Any discomfort can be alleviated by prescribed or over-the-counter pain medication.
Breast Revision Scars
Dr. Hochstein often uses your existing breast augmentation incisions for your breast revision to minimize post-revision scarring. These incisions may need to be lengthened, but can still be covered with bras and bathing suits. All visible scarring will fade with time, and scar creams, laser treatments, and oral medication can help reduce the visibility of the scars.
Frequently Asked Questions
Am I a candidate for a breast revision?
Candidates for a breast revision have already undergone a breast augmentation and are displeased by the results of that procedure. This unhappiness can stem from the aesthetics of the breasts or complications associated with the implants.
Women who are considering this procedure should:
Be in good overall health
Have realistic expectations of their results
Not smoke
What are the risks associated with a breast revision?
Like your initial augmentation, breast revision is a complicated surgical procedure that can result in complications. These potential complications include:
Negative reactions to the anesthesia
Bleeding
Infection
Prolonged bruising and swelling
Fluid accumulation
Changes to skin or nipple sensation, which can be temporary or permanent
Unfavorable scarring
How soon can I undergo a breast revision after my initial breast augmentation?
While most post-operative bruising and swelling subsides within a few weeks of your breast augmentation, some residual swelling can last up to 6 months. Therefore, you should wait at least 6 months before choosing a breast revision.
Why are implants not considered permanent?
Even though the shape of implants will not change over time, implants are not designed to last forever. Like most products, breast implants have the risk of complications and breakage, which requires removal of the implant. Some implants may last between five and 10 years, while others have been known to last decades. There is no way to predict the longevity of your implants.
What is capsular contracture?
Capsular contracture is the most common complication found with breast implants and is a complication that requires the removal of the implant and scar tissue. This condition occurs when the scar tissue hardens and contracts around the implant, causing aesthetic distortion and physical pain.
What is breast implant illness?
While there is no irrefutable evidence or scientific data to support it, some women have blamed their breast implants for a host of health problems like fatigue, joint pain, muscle weakness, and memory loss. These symptoms have become known as breast implant illness, and many women have claimed that their symptoms subsided after the removal of their implants.
Can breast implants cause breast cancer?
Studies are continually being conducted on this very subject, and as of now, there is no evidence of breast cancer-related complications.
What is BIA-ALCL?
BIA-ALCL is a very rare form of cancer that has been linked specifically to Allergan's BIOCELL® textured implants. This cancer of the lymphatic system develops in the scar tissue around the implant and not the implant itself. While it is a serious condition, it is very treatable when found early. It's important to know that Dr Hochstein has not used a textured implant in 10+ years.
Dr. Hochstein offers Sientra® implants and does not recommend textured implants for his patients.
Can I remove my implant now and replace it in a few years?
Yes. Even if you choose not to replace your implant at the time of your revision procedure, you can always add implants years later. There may be some additional scar tissue in the breast at that time, but complications are not anticipated.
Is breast revision covered by insurance?
Most insurance companies do not cover the cost of a breast revision since the surgery is generally elective. Dr. Hochstein offers financing options through CareCredit®—a credit card primarily for medical procedures.
How long will my breast revision results last?
The results of your breast revision will be long lasting if you maintain a stable weight and do not experience any implant complications (if the implants were replaced). A breast enhancement surgery does not stop the natural progression of aging, and women will eventually experience additional tissue weakness.
Dr. Hochstein's Top Surgical Procedures In Miami, Florida