Am I a Candidate for Morpheus8™?
If you are bothered by the following concerns, Morpheus8™ may be an excellent solution for you:
Sun and age-related skin damage
Poor skin texture
Discoloration
Fine lines and wrinkles
Deep creases
Large pores
Stretch marks
Acne scarring
Post-surgical scars
Morpheus8™ is safe for all skin types and versatile enough to use on several areas of the body and face, such as:
Lower face
Jowls
Neck
Arms
Chest
Abdomen
Thighs
Buttocks
Suitable candidates are non-smokers who are in good overall health with no active skin infections.
Those who use nicotine products have a higher risk of experiencing side effects and rare complications following treatment.
You must also stop using non-steroidal anti-inflammatory drugs (NSAIDs), like ibuprofen (Advil or Motrin), naproxen (Aleve), and aspirin, as these medications will interfere with the healing and collagen-building process.
By calling the Hochstein Medspa at (786) 802-6699 and scheduling your Miami, Florida Morpheus8™ consultation, our qualified professional can determine if this treatment can meet your needs.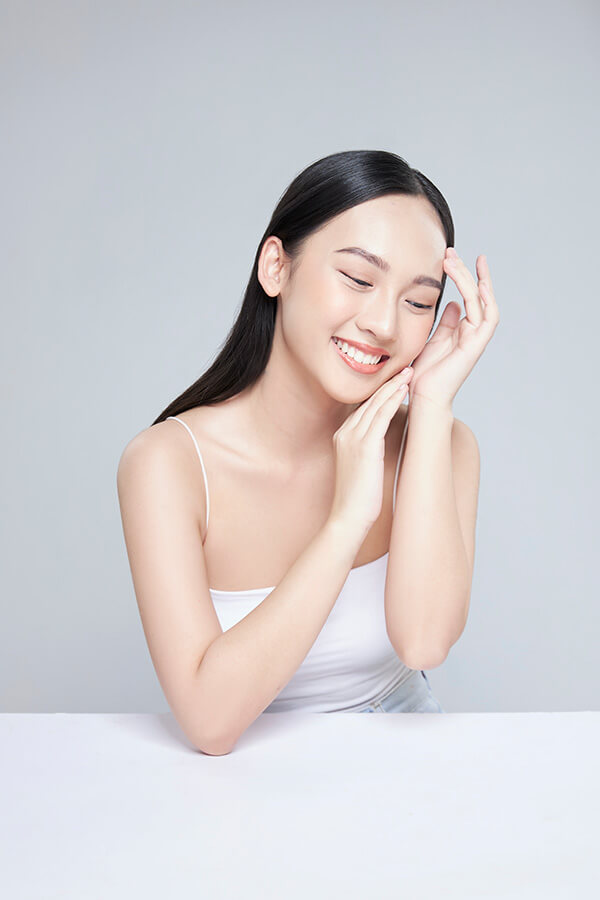 Model
How Is Morpheus8™ Treatment Performed?
After applying a topical local anesthetic, the Morpheus8™ device is placed on the treatment area. The precise amount of pressure is used to deliver RF energy at the appropriate skin depth to address your specific skin issue(s). Your provider will repeat the process for each treatment area, adjusting penetration levels as needed.
This advanced microneedling process promotes increased collagen production over time while the RF energy recontours underlying adipose tissue (fat) to lift and plump the areas being treated.
The Morpheus8™ treatment takes an average of 45 minutes to complete, depending on how many areas are being addressed. You may only need one session, but in some cases, up to four may be recommended for the best results.
How Long Is My Morpheus8™ Recovery?
Morpheus8™ is minimally invasive, requires no incisions, and is associated with very little downtime. You can expect some mild bleeding that will subside quickly, usually even before you leave our Medspa. Most patients return to their normal activities within 24 hours.
Mild swelling and redness are normal and should only last a few days, and you should not wear makeup for the first 48 hours after your treatment with Morpheus8™. However, wearing sunscreen and a gentle (fragrance-free) moisturizer after your procedure will help prevent dryness and irritation in the treated areas.
Do not use non-steroidal anti-inflammatory drugs (NSAIDs) to help with any tenderness you may feel, as this will reduce the effects of treatment.
---
Dr. Hochstein

is committed to providing his patients with

the safest, most comfortable care possible
What Kind of Results Can I Expect With Morpheus8™?
After redness and swelling have resolved, you may see some contour changes in the treated areas. However, significant improvements will begin appearing within three weeks and continue to progress as new collagen transforms your skin.
Your final results should be visible within three months and include tighter, smoother, plumper, and younger-looking skin. If treated for discoloration or scarring, you can expect considerable improvements in your complexion as well.
How Long Do Morpheus8™ Results Last?
You can expect your results to last about a year. We recommend annual treatments to maintain your results.
What Other Skin Treatments Does Hochstein Medspa Offer?
Dr. Hochstein's Medspa offers a wide range of advanced skin treatments in Miami, Florida. Some of these include the following:
Our Medspa also offers memberships that include valuable discounts and rewards.
How many Morpheus8™ treatments will I need?
Your provider will help you determine the number of sessions needed to deliver your desired results. Many of our patients need only one or two treatments.
What happens during treatment with Morpheus8™?
Your provider will apply a topical anesthetic to your skin to reduce or eliminate any discomfort. One area is treated at a time and adjustments are made to ensure the correct skin depth is reached to deliver RF energy to the targeted area and trigger new collagen growth.
When can I resume my regular routine after receiving treatment with Morpheus8™?
Avoid sun exposure and makeup for the first 24 hours after treatment, and use ice to ease swelling. Do not use NSAIDs until cleared by your provider. You can resume normal activities on the second day, but be prepared to experience some skin peeling.
When will I see my Morpheus8™ treatment results?
Collagen production begins immediately after treatment and will continue to improve over the next three months.
How long do Morpheus8™ treatment results last?
Expect your initial results to last about one year. Annual treatments will continue to delay common signs of aging.
Is Morpheus8™ FDA approved?
Morpheus8™ is FDA-approved for fractional subdermal adipose remodeling to re-contour the face and body.
What side effects are associated with Morpheus8™?
Treatment with Morpheus8™ causes intentional "micro-injuries" to the skin, initiating the body's healing response and accompanying skin rejuvenation. This process will cause some of the following side effects:
Swelling
Minor bruising
Peeling
Small scabs and mild oozing may also occur. Very rarely, infection and hyperpigmentation have been reported.