For patients traveling from out of town to see Dr. Hochstein, our staff will make every effort to accommodate you. Our office is conveniently located 20 minutes South of Fort Lauderdale International Airport and 20 minutes North of Miami International Airport.
Instructions for Out Of Town Patients
We recommend that you call our office to find out about the availability of specific dates for your consultation or procedure. You can email Dr. Hochstein at Info@lhochsteinmd.com or complete an online request detailing the changes you desire and include photographs of the areas of concern. It is most beneficial to send front and side views as well as a back view when necessary.
Please include whether or not you have any medical conditions, and also list any medications, vitamins, or supplements that you may be taking. Once these have been reviewed, our staff will set up a personal phone consultation to discuss your surgery.
Our office can also assist you with making local arrangements if needed. Dr. Hochstein has arrangements with several local hotels that are comfortable for recovery. For patients who may require post-operative care, our office can arrange for private assistance during the time of your recovery.
Dr. Hochstein prefers that patients arrive at least one day prior to surgery. This will allow Dr. Hochstein and our staff to meet with you in person and go over any questions or concerns that you may have.
You should allow sufficient time in South Florida for your recovery. Recovery time duration, of course, depends on the extent of surgery you have. In general, most patients can travel 3-7 days following surgery.
Our goal is to make your experience as comfortable and rewarding as possible.
---
Planning Guide
Here at Dr. Hochstein's Office, we have a dedicated staff used to dealing with out-of-town/country patients. Over the past twenty years, we have had patients from all over the globe that have come for different procedures with a successful outcome. We understand that there are different factors involved in traveling abroad for a plastic surgery procedure, so we are putting together this guide to help you in your planning.
Going About the Initial Consultation
There are two scenarios when it comes to our out-of-town patients. Those that are able to fly in for a face-to-face consultation and those who chose to have a phone/virtual consultation with the doctor. Either way, it can be done.
If you are one of those who can actually come in for a consultation, we will make you a priority and accommodate our schedule to fit your dates. On the consultation day, you will meet with the doctor, and go over your desired procedure. You will also meet with the patient coordinator who will go over your pre and post op requirements. You will leave our office with a package specially made for you with all important information including a price quote.  This package will also include a list of the necessary pre surgical testing that needs to be completed prior to your procedure. Should you need help with this step, do not hesitate to contact the office staff.
---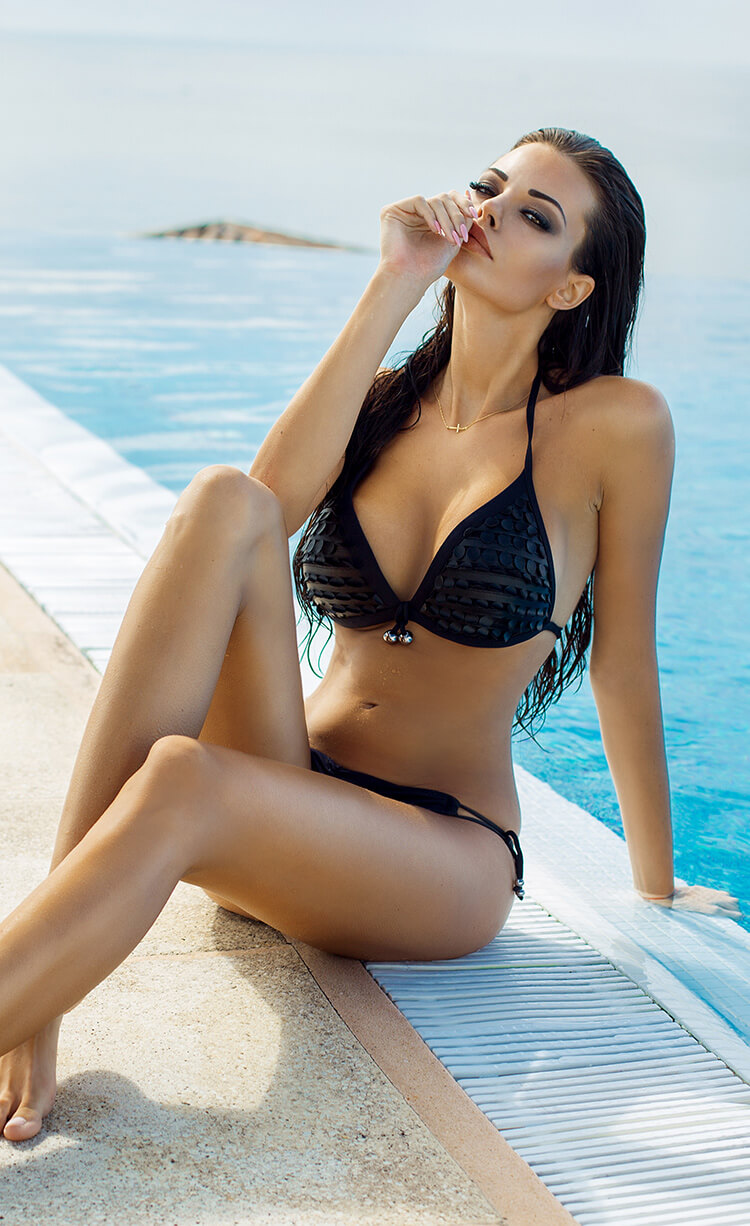 Model
In the event that flying in for your consultation is not an alternative, we do also offer phone/virtual consultations as well! In that case however, the doctor must have you submit photos of the areas of concern so he can better address your needs. Once we have received the photos and your information and you have spoken to the doctor, we can either email or fax you a package specially made for you with all important information including a price quote. The package will also include a list of the necessary pre op medical clearances, which can be done by your own doctor or lab in your area. The patient coordinator will be available to answer any questions that you may have via phone or email whichever is more convenient for you.
Once you have received the quote and all your information, the next step would be picking a date for your surgery. Locking in a date requires an initial deposit of 20% and that can be done over the phone with a credit card. We do not accept credit cards on the day of surgery, so you will need to make arrangements for your final payment before you arrive. This is due to the fact that we want you to focus on your surgery and not have any possible financial complications at the last minute. There are many different options such as financing and other forms of payments that can be discussed once you have finalized your decision.
We will need the blood work as well as medical clearance to arrive two weeks before the surgery date. Both Dr. Hochstein and the nurse will review the results to make sure you are ready for surgery. Depending on your age and procedure there may be different requirements. We will do everything to help you with this process. Safety is our highest priority!
When planning for your surgery, you also need to consider where you are going to stay and who will be taking care of you. On our website, you will find a list of hotels that are close to our facilities. If you do not have someone traveling with you for after care, please let us know so we can arrange for a caretaker. We have also listed the closest airports; each one of them is within a 20 minutes range from where we are located. It is a requirement that all patients be monitored for at least the first 24 hours following surgery. A caretaker can assist you in driving you from the surgery location to the recovering location, driving you to your follow up doctor visits, prepare meals and drinks, general shopping and grocery shopping, run errands such as prescription pick up, perform hygiene and personal care, including bathing, grooming and toileting, assist with wound care and apply cold packs as needed, assist with walking, dressing, communications with doctor's and nursing staff, provide companionship and emotional support.
Like many life experiences, your plastic surgery experience can be improved with a little advance planning. There is so much to consider at this exciting time but be sure to work closely with your doctor and consider your surgery from beginning to end. If you are planning plastic surgery be sure to plan for a complete positive successful experience. A well-planned recovery can increase your safety, comfort, peace of mind and speed of healing. Speak to your doctor about any unusual post surgery recovery conditions, any possible complications that might arise and the expected recovery period. As with any surgery, some swelling, discomfort and bruising is expected. Your specific procedure and individual circumstances will determine what you can expect from your successful recovery.
---
Here are some general timelines when figuring out your minimum stay with us, please keep in mind that these can change depending your own personal healing process:
| | | |
| --- | --- | --- |
| Procedure | Days | Detail |
| Breast Augmentation | 3-4 days | Dr. Hochstein likes to see all his patients 2-3 after the surgery for their post operative appointment |
| Facelift / Neck Lift | 7-10 days | The doctor will see you the next morning to check your healing process and to change any dressings. Within 4 – 5 days we will schedule an appointment for the Dr. to remove your initial sutures. Staples will be removed 8 days post operative. If day 8 falls on a Saturday, he will remove the staples that following Monday. |
| Tummy Tuck | 7-10 days | This procedure varies greatly depending of the size of the tummy tuck, whether it would be a mini or a full, so please discuss it with the doctor during your consultation. |
| Eyelid Surgery | 2-5 days | Typically most patients return back to work 2-5 days post op. |
| Liposuction | 3-4 days | |
| Rhinoplasty | 5-7 days | The doctor will need to see you the next day to remove your packing and then on day 7, the doctor will remove the splint from the bridge of your nose. |
| Breast Lift / Breast Reduction | 2-3 days | The doctor will advise the staff when to schedule the initial post op visit. Most of the times he will want to see you the next day. All sutures used on breast surgeries are dissolvable. The doctor will need to evaluate your individual healing progress before clearing you to travel. Breast size and conditions vary greatly. |
| Labiaplasty | 3 days | Although this is not an extensive procedure, it does require some special considerations. |
| Hip/Buttock Lift | 4-7 days | The doctor will need to see you within 1-3 days of your surgery date for your post op visit. Drains will be used during this procedure. All sutures are dissolvable. |
| Thigh Lift | 4-7 days | The doctor will need to see you within 1-3 days of your surgery date for your post op visit. Drains will be used during this procedure. All sutures are dissolvable. |
We also work directly with VITAPLUG. They offer complete management and arrangements of all appointments, airport pick up/drop off and hotel accommodations. For further information you can reach them directly at 1-888-494-PLUG. Make sure to mention you are a patient of Dr. Hochstein's so they can offer you special pricing and the VIP treatment you deserve!