Drink plenty of water after surgery
Reduces Bruising and Swelling
Bromelain – is an anti-inflammatory formula containing the proteolytic enzyme from the stems of pineapples. It is most often used after sports injuries, to relive edema and after surgical procedures to help with swelling. 800-1000mg Recommended: 2 capsules per day for 3 days before & 7 days after.
Arnica Montana – has been used in Europe for centuries to treat swelling, soreness and bruising. Arnica may significantly decrease healing time or the appearance of such (bruising, swelling, etc.).
Vitamin C – is essential for normal healing. It is recommended to take at least 1 gram per day a week prior to surgery and continuing for several weeks after surgery.
Vitamin A – is essential to wound healing and the immune system. It is recommended to take a dosage of 10,000 IU per day (women that are pregnant should not take Vitamin A).
Acidophilus – If you find yourself feeling tired after surgery you may want to get an ACIDOPHILUS supplement to prevent yeast infections and fatigue.
Protein – Also up your protein intake and watch your sodium.
Iron supplements – Take 2 /tablets once a day. Start taking this supplement at least 2 weeks prior to surgery to be as healthy as you can be for a faster recovery.
Stop taking two weeks before surgery
Vitamin E supplements over 500mg, Garlic, EPA, Hawthorn berry and selenium supplements prior to surgery. These supplements decrease the ability to clot normally.
---
Homeopathic medicines are not FDA approved, and they aren't because supplements and vitamins and such aren't. Only the dyes and preservatives are regulated by the FDA. Just use your best judgment and ask around to see what other patients found worked for them, perhaps Arnika Forte, SinEcch, Bromelain and other remedies may help you as well.
7 Day Bruising And Swelling Treatment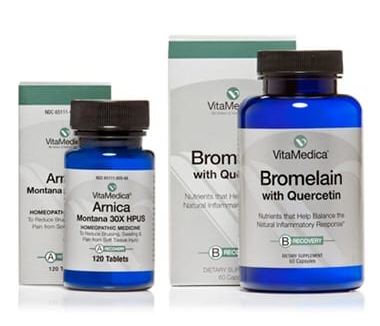 | | |
| --- | --- |
| Bromelian | 100 mg ( 2400 GDU). Bromelain is a proteolytic enzyme from extract of pineapple stem – Helps to dissolve the bruise by digesting the proteins in the bruise |
| Homeopathic Arnica Montana 30x | 1000 mg – Anti-inflammatory agent |
| Bioflavonoids | Grape Seed Extract – 240 mg and Rutin – 100 mg – Vasoprotectants to help strengthen capillary walls and reduce extent and duration of bruising |
| Vitamin C | 240 mg – Anti-oxidant |