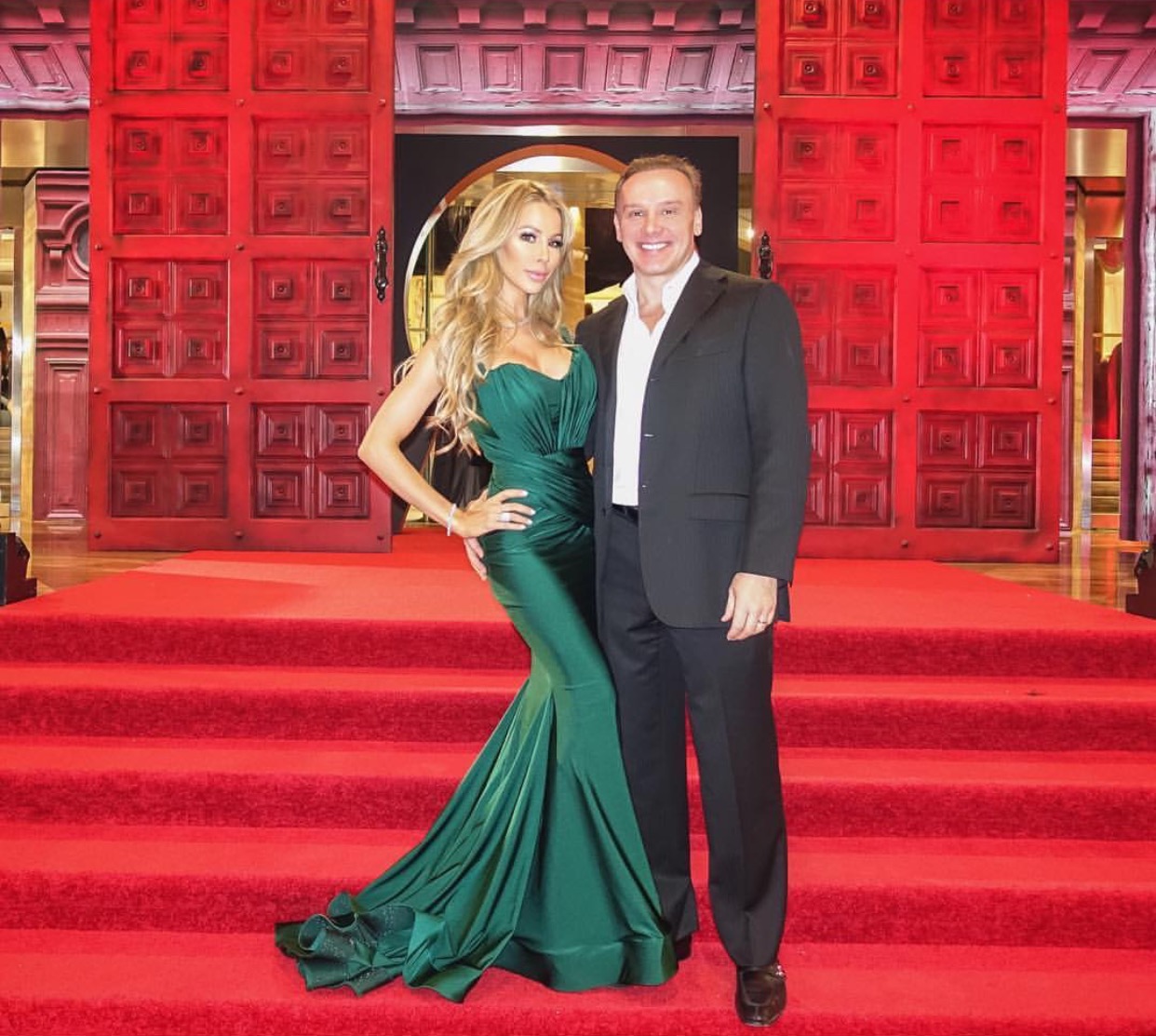 – Celebrity Boob God™
Dr. Leonard M. Hochstein is a board-certified plastic surgeon, and for over 20 years, he has focused his plastic surgery career on primary and revision breast augmentation surgeries. During his plastic surgery career, Dr. Hochstein has performed more than 27k breast surgeries, including breast augmentation, breast revision, breast lift, breast reduction, and gynecomastia (male breast reduction). Due to the number of breast procedures he has performed throughout the years, Dr. Hochstein has been affectionately named "The Boob God" by various media and print outlets.
---
Dr. Hochstein is regarded as a celebrity plastic surgeon and people from around the world seek his expertise,

including those from Australia, Brazil, Costa Rica, the Caribbean, Canada, Latin America, Mexico, India, and Europe.
Dr. Hochstein is a renowned Miami, Florida, Board-Certified Plastic Surgeon
1990
---
Dr. Leonard Hochstein's exemplary career started straight out of high school when he was able to apply directly to medical school as a merit scholar high school student. He attended Louisiana State University Medical Center, where he trained with the Department of Surgery and published his first scientific paper. In 1990, he graduated as valedictorian of his class and received his Doctor of Medicine degree.
Between 1990 and 1995, Dr. Hochstein trained in general and trauma surgery at Parkland Memorial Hospital in Dallas, Texas. During his time at Parkland Memorial, Dr. Hochstein decided that his passion was surgery, where he'd have the ability to directly—and somewhat instantly—impact the quality of a patient's life. It was this desire that fueled Dr. Hochstein's passion for plastic surgery.
1995
---
In 1995, Dr. Hochstein served as a chief surgical resident at Parkland Memorial. During this time, he published scientific papers, several of which were printed by the Annuals of Plastic Surgery. He received the Academic Award from the University of Miami for achieving the highest score on the Plastic Surgery In-Service Exam (an exam taken by every resident plastic surgeon worldwide).
1998
---
In 1998, Dr. Hochstein established a surgical center dedicated to the comprehensive care of his plastic surgery patients. Since then, the goal of his practice has always remained the same: to change the quality of a person's life through self-improvement.
---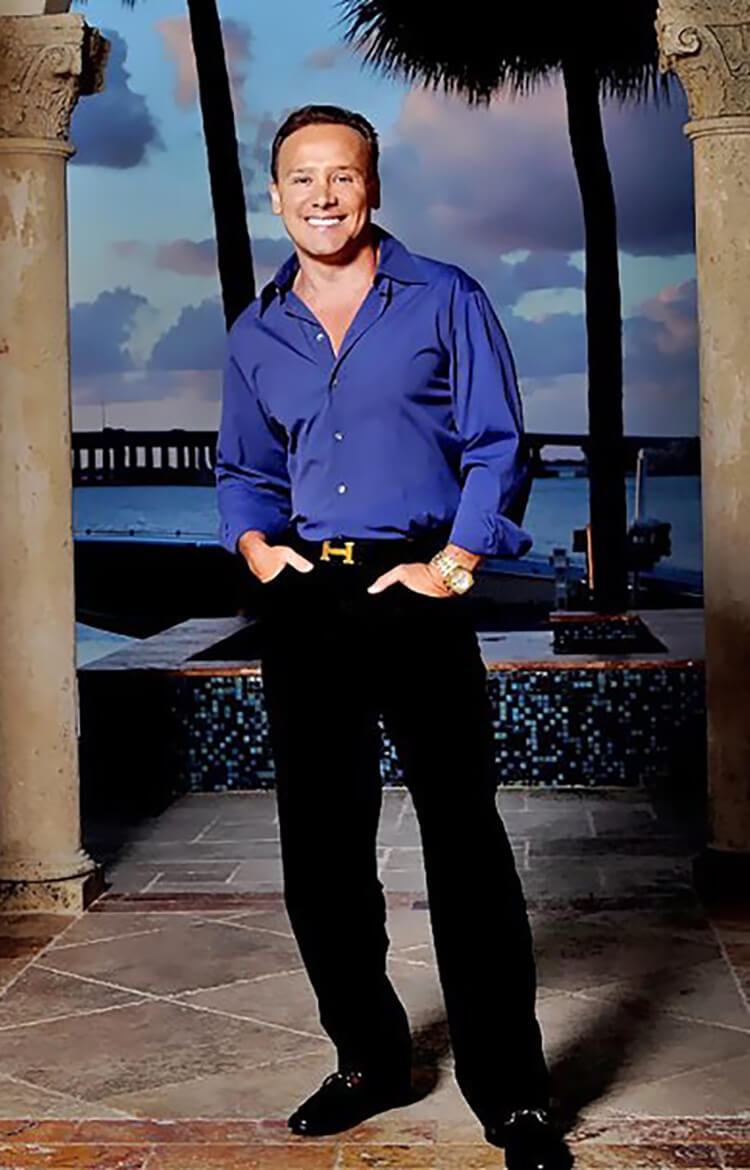 His natural, beautiful results and thriving practice are a testament to what he set out to achieve from the very beginning:

changing a person's quality of life, through self-improvement.
Over 20 years of training and experience

have provided Dr. Hochstein with the skills necessary to achieve countless

beautiful and natural results.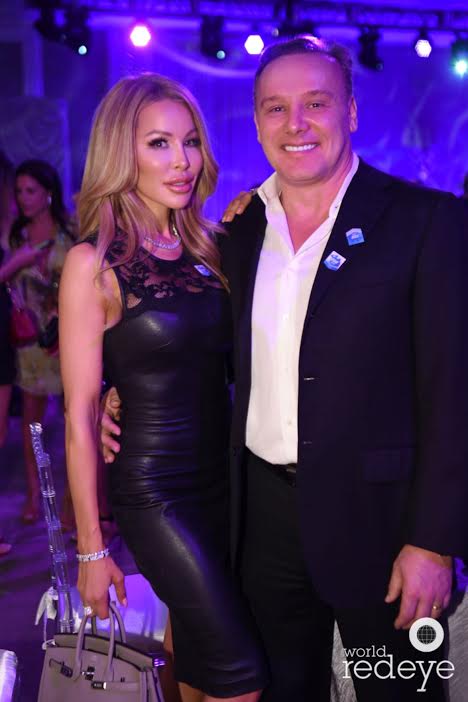 FIDF Miami International Gala: A Night Of Heroes
Miami, FL – February 5, 2019
Miami-based businessman Benny Shabtai served as chair at the annual Friends of the Israel Defense Forces gala at the Eden Roc Nobu Hotel. $1.8 million was raised for to benefit educational programs for soldiers of the Israeli Defense Forces (IDF). Guests also included co-chair Oren Alexander and Monica Crowley, who served as emcee.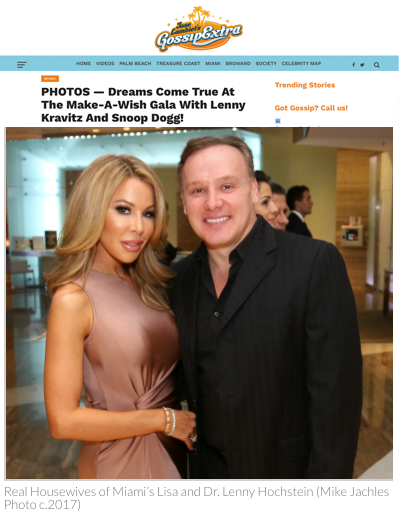 Make-A-Wish® Southern Florida
The 23rd annual Make-A-Wish® Southern Florida and InterContinental Miami Ball raised over $2.3 million to help children of all ages, who are struggling with a severe illness, make their wishes come true. The crowd of around 900 guests included such names as Dr. Hochstein's wife and "Real Housewives of Miami" star Lisa Hochstein, actress Gabrielle Anwar, and jewelry designer Orianne Collins.
Source: gossipextra.com/
Image Credit:gossipextra.com, Mike Jachles Photo c.2017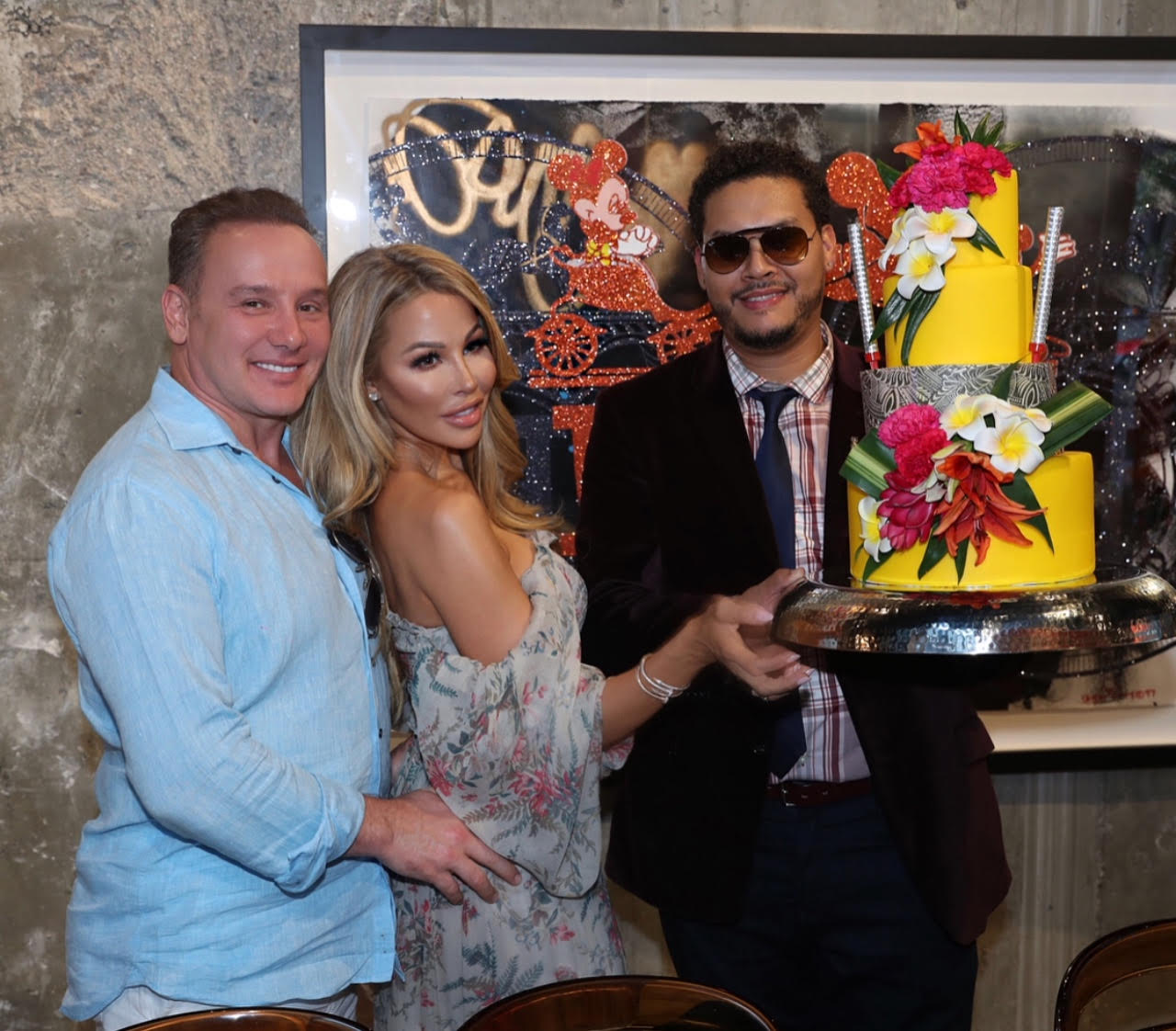 It Was All A Dream… A Midsummer's Daydream
July 28, 2018
The 2018 Whispering Angel Midsummer Daydream Brunch & Art Vernissage was highlighted by the birthday celebration of @LisaHochstein. Held at Avant Gallery and @LaMuseCafe's Miami flagship co-located venue at the EPIC, guests sipped on rosé and enjoyed artful treats while Lisa was serenaded by street artist @BNSwhat. @Dr.hochstein consulted with gallery owner Dmitry Prut and surprised his wife by presenting her with a painting from BNS's new series. Dr. Lenny and Lisa also treated guests to B12 shots from the @hochsteinmedspa pop-up station during the event.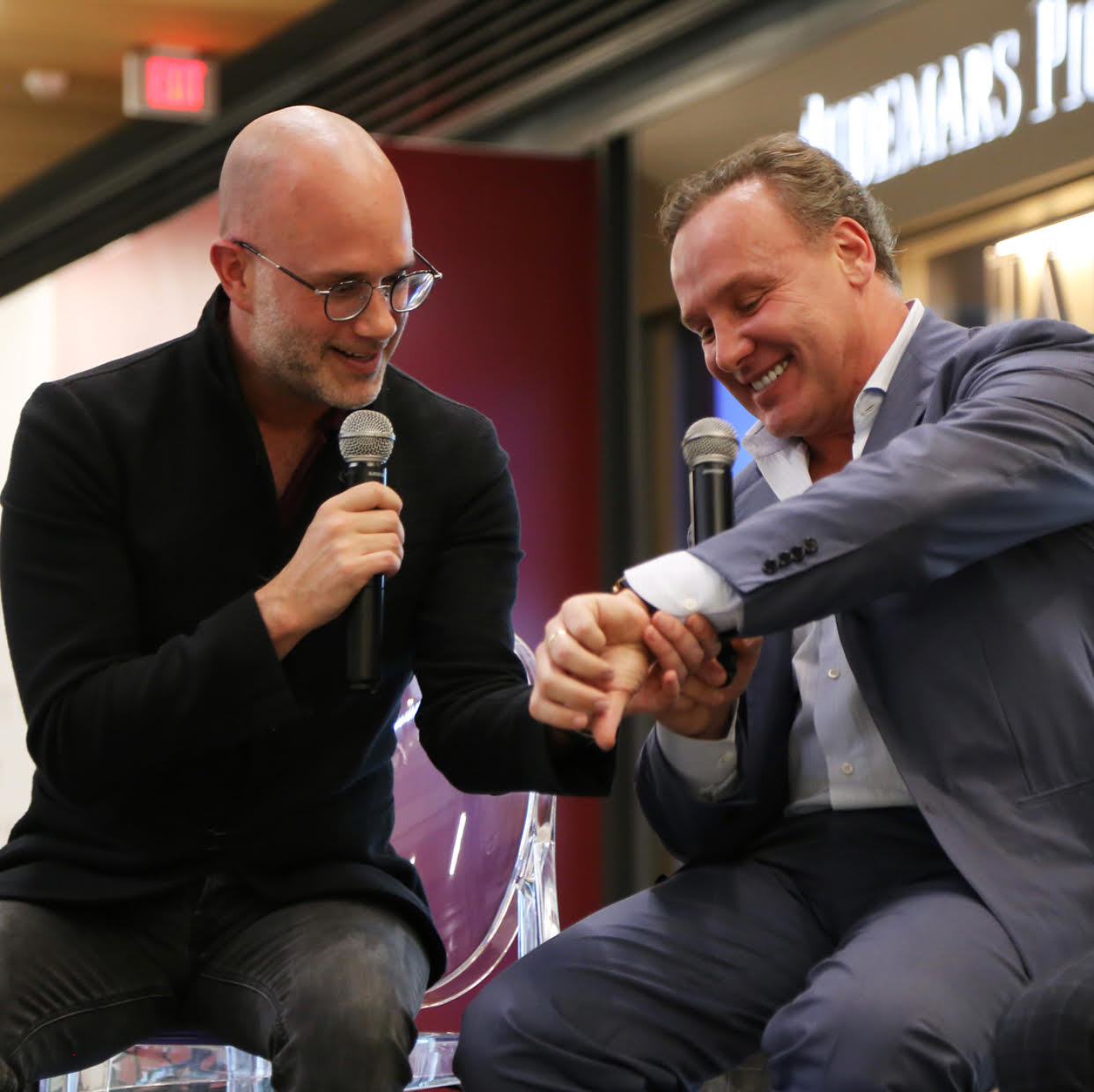 Brickell City Centre Event
Miami, FL – November 30, 2017
Over 200 guests attended this invitation-only event at the Brickell City Centre boutiques to partake in an exclusive sneak peek at the high-end watch brands they will sell in their stores. These brands include Audemars Piguet, Richard Mille, and Westime. Dr. Leonard Hochstein was a panelist for this event, along with other notables including Audemars Piguet's Historian Michael Friedman.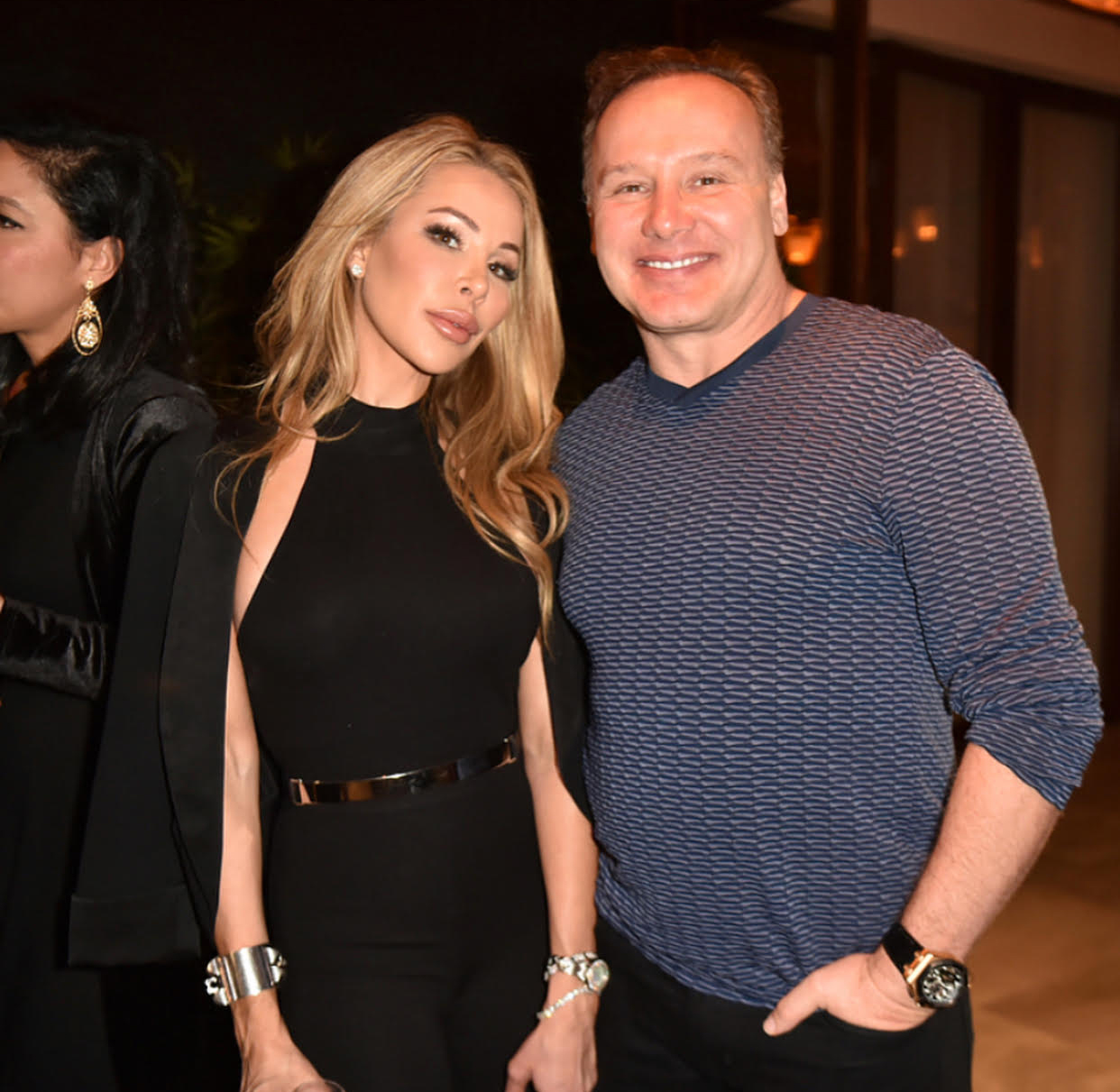 Nobu Matsuhisa: Haute Living Event
Nobu Matsuhisa made his cover debut with Haute Living magazine for its February/March 2018 issue. Dr. and Mrs. Leonard Hochstein and guests joined him in celebrating this achievement and were presented with a special gift from Hublot along with a signed copy of the magazine. Matsuhisa shared an exclusive first look of his new cookbook, noting that proceeds from this book will be donated to different charities around the world.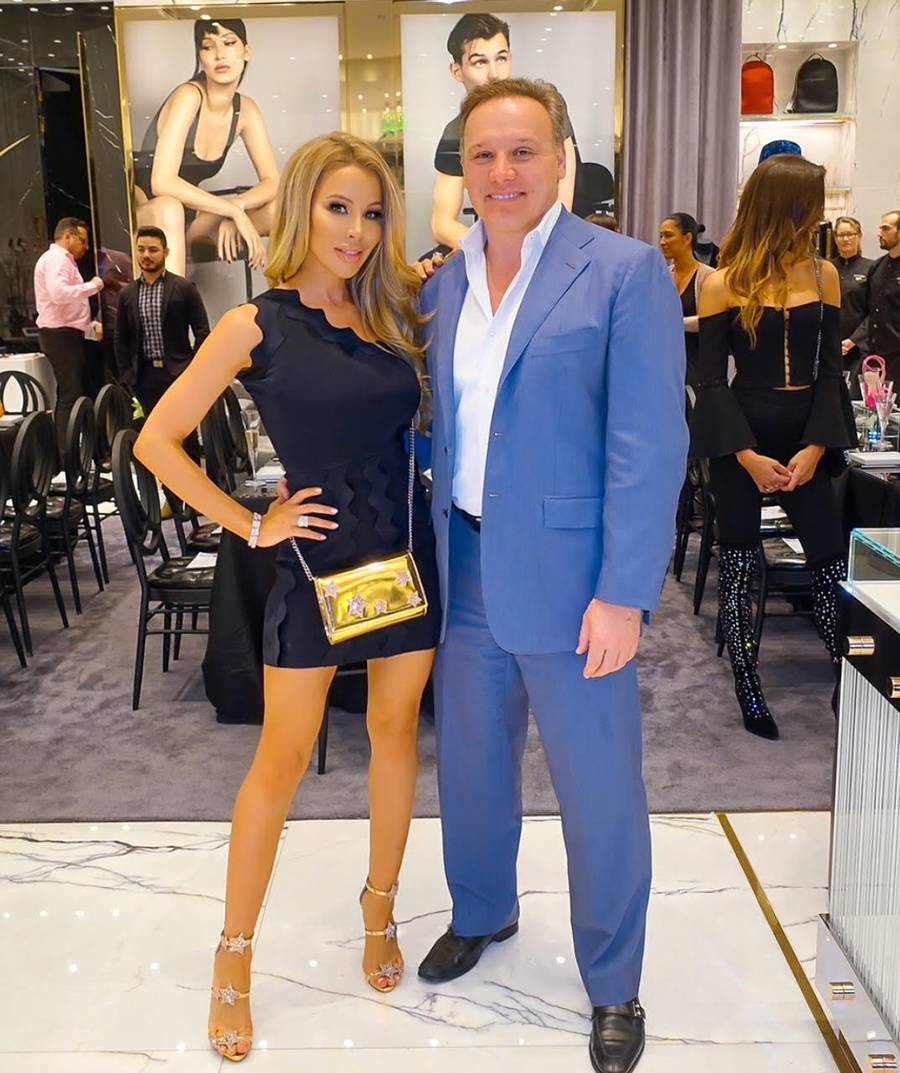 Guiseppe Zanotti Event – Miami, Florida
February 28 2018
Thank you Giuseppe Zanotti and Brickell City Centre Design for hosting such a beautiful dinner honoring my wife Lisa and our Hochstein Medspa while enjoying Giuseppe Zanotti newest collection. We were beyond humbled for this honor and thankful for such supportive friends who came out. Everyone loved the new collection and we donated a portion of the proceeds to one of our favorite charities, Make a Wish Foundation.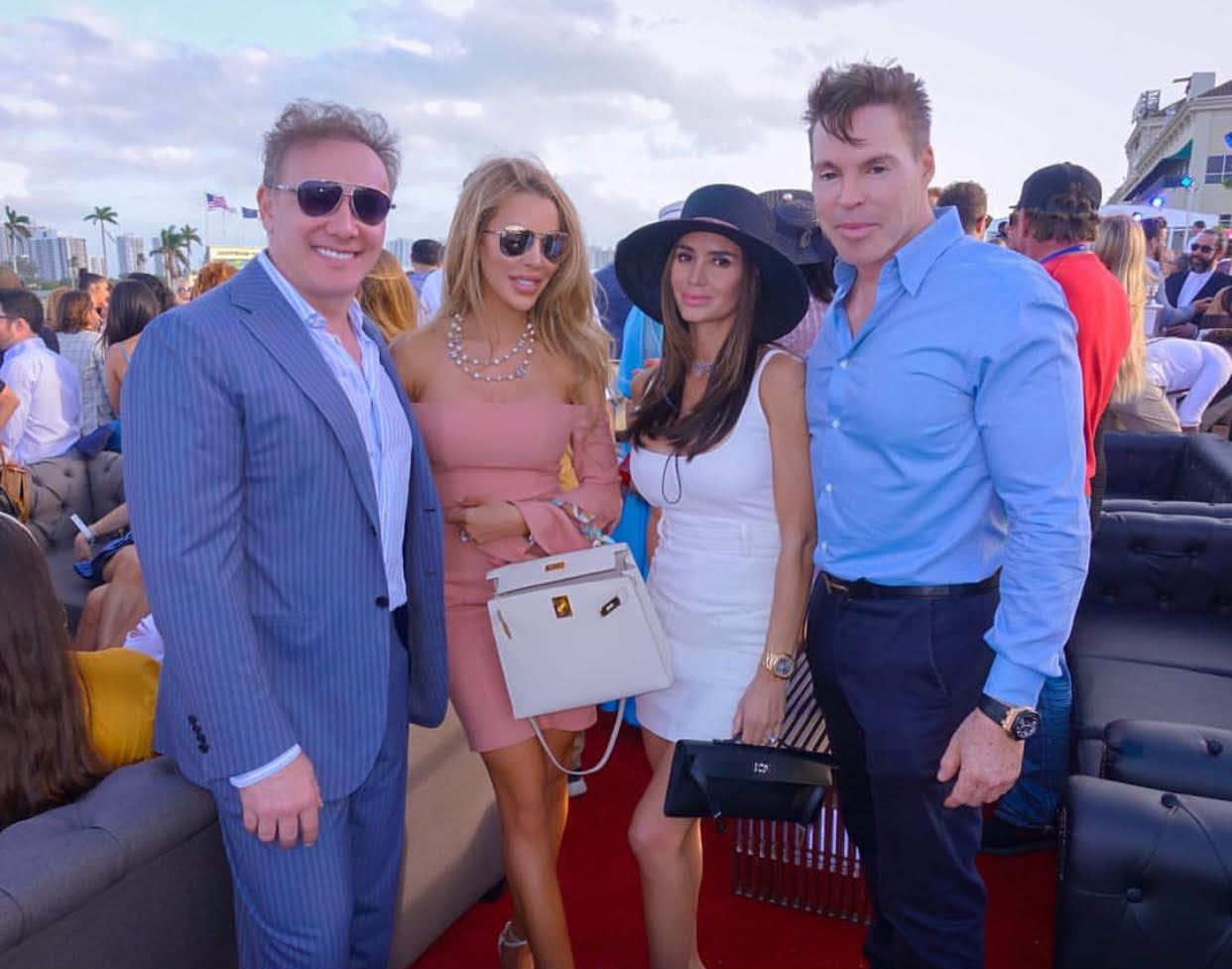 Pegasus World Cup Invitational – Hallandale Beach, FL
January 27, 2018
The Pegasus World Cup Invitational, presented by The Stronach Group, returned for its second year. Enthralled spectators watched as horse Gun Runner (ridden by jockey Florent Geroux) raced to victory. Belinda Stronach, chairman and president of The Stronach Group, partnered with David Grutman as he brought the LIV Boardwalk Village Pop-Up to the race. Guests enjoyed offerings from several of Grutman's restaurants. Celebrity attendees included Ludacris, Post Malone, DJ Ruckus, Pharrell Williams, Lenny Kravitz, Olivia Culpo, Wilmer Valderama, and Prince Royce.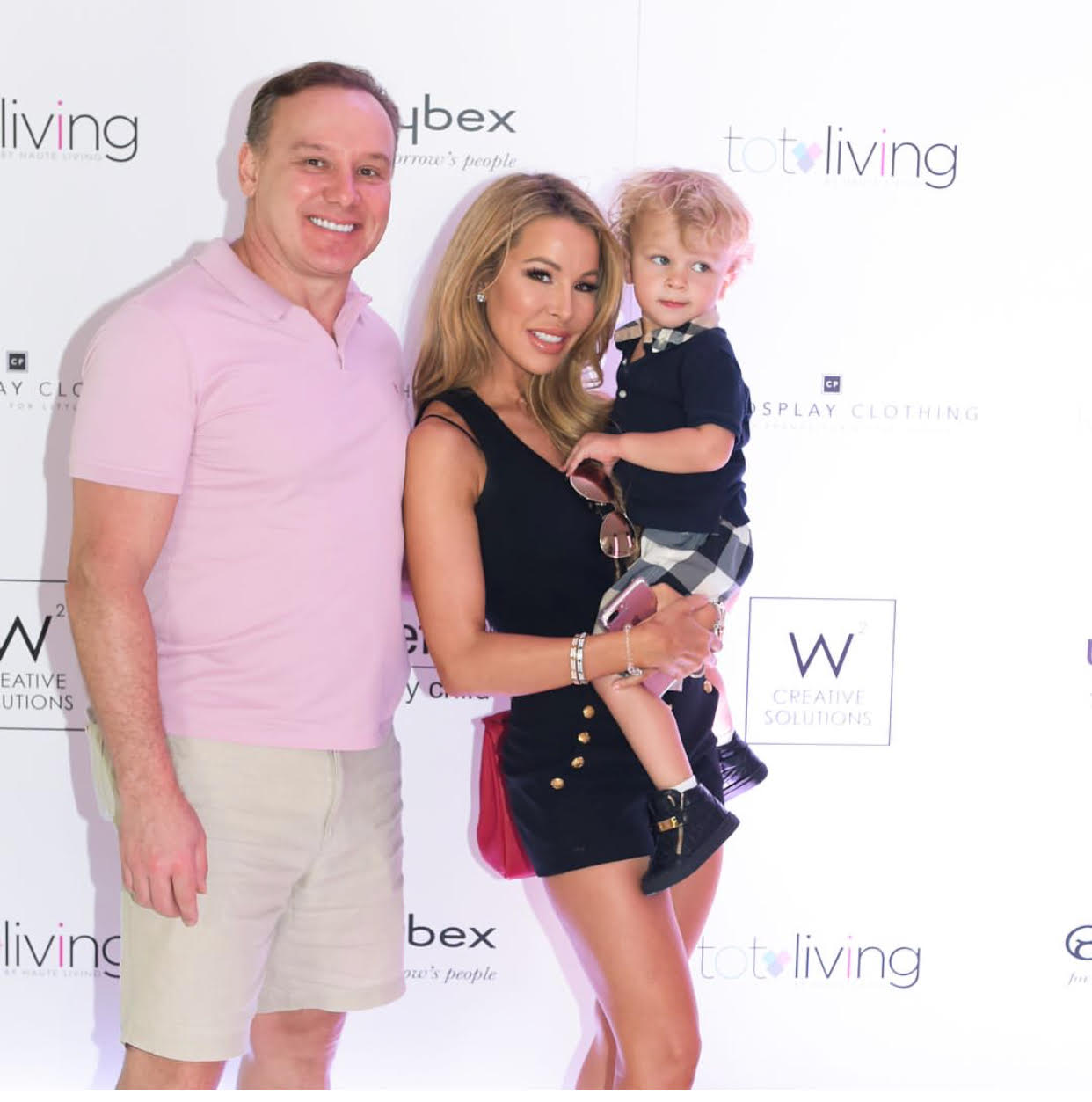 DJ Khaled Celebrates Son Asahd's 1st Birthday With Epic Jungle-Themed Dance Party In Miami
Saturday October 21st, 2017
Held at LIV at Fontainebleau in Miami, the event was a six-figure buyout of the newly reopened nightclub, which was decorated in a jungle theme and featured elements from The Lion King and hosted by Sean "Diddy" Combs.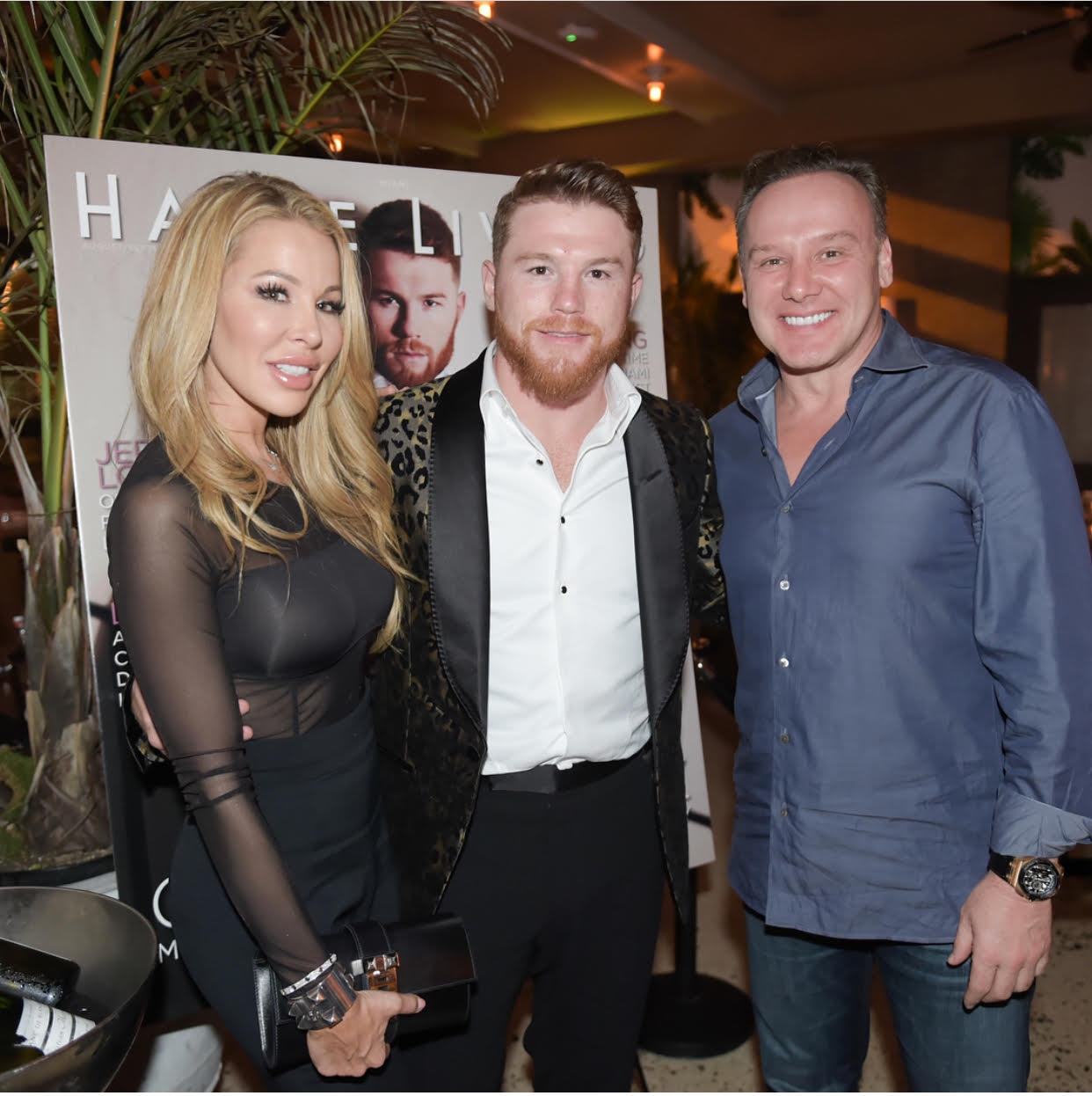 Marion To Celebrate Its Cover Launch With Star Boxer, Saul Canelo Alvarez
Tuesday, October 24th, 2017
Haute Living Magazine Took Over Brickell's Hot Spot Marion To Celebrate Its Cover Launch With Star Boxer, Saul Canelo Alvarez, With Luxury Watch Brand Franck Muller.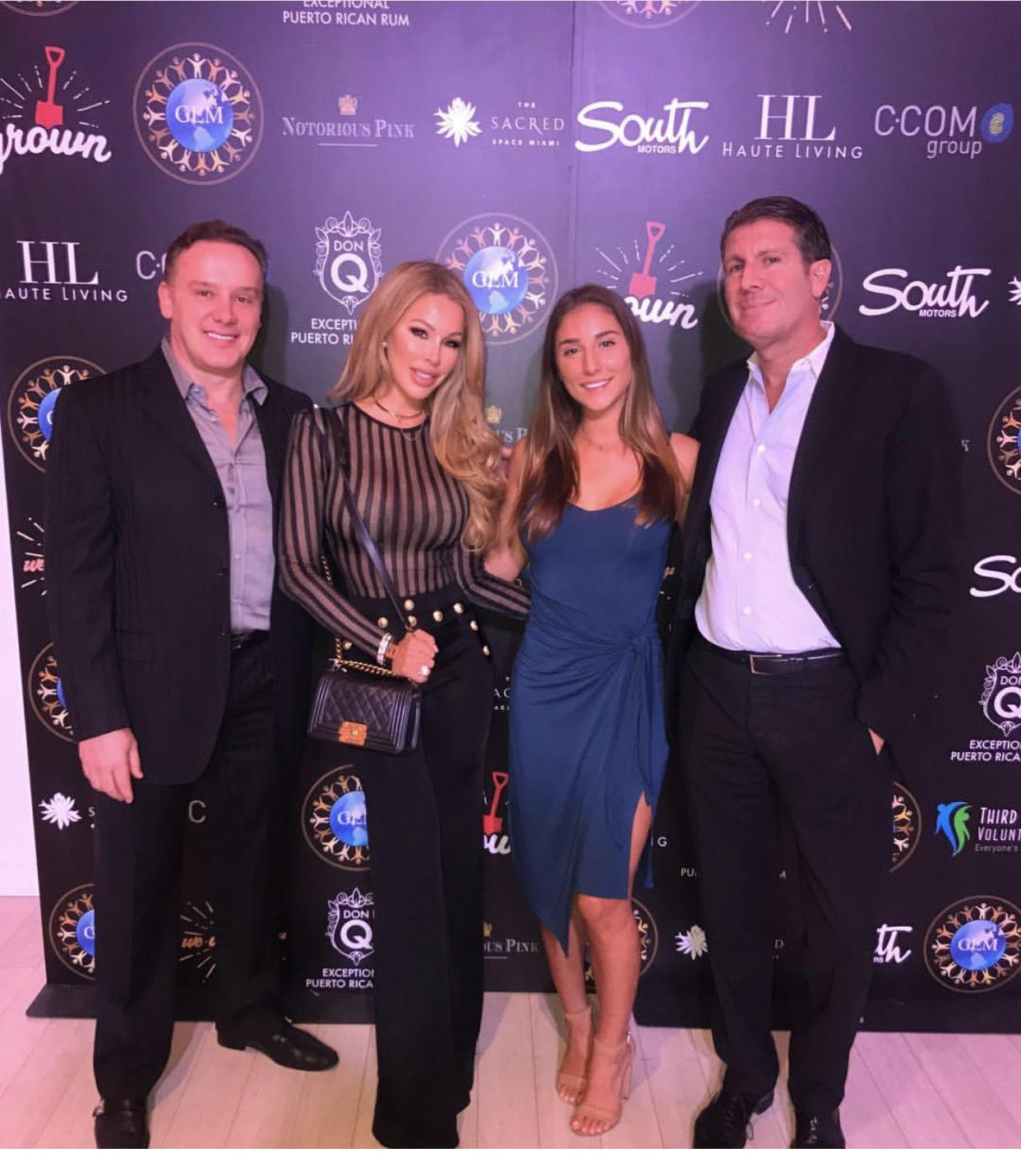 "Miami Cares For Puerto Rico" Fundraising Event At The Sacred Space, Miami
October 5th, 2017
Event proceeds went straight to GEM to benefit Puerto Rico and the damage that occurred during hurricanes Irma & Maria. Celebrity guests Carlos Ponce and Jencarlos Canela were in attendance, both having been active proponents for aid to Puerto Rico. The night included live music by Wasabi Jones and a special performance by Yoli Mayor.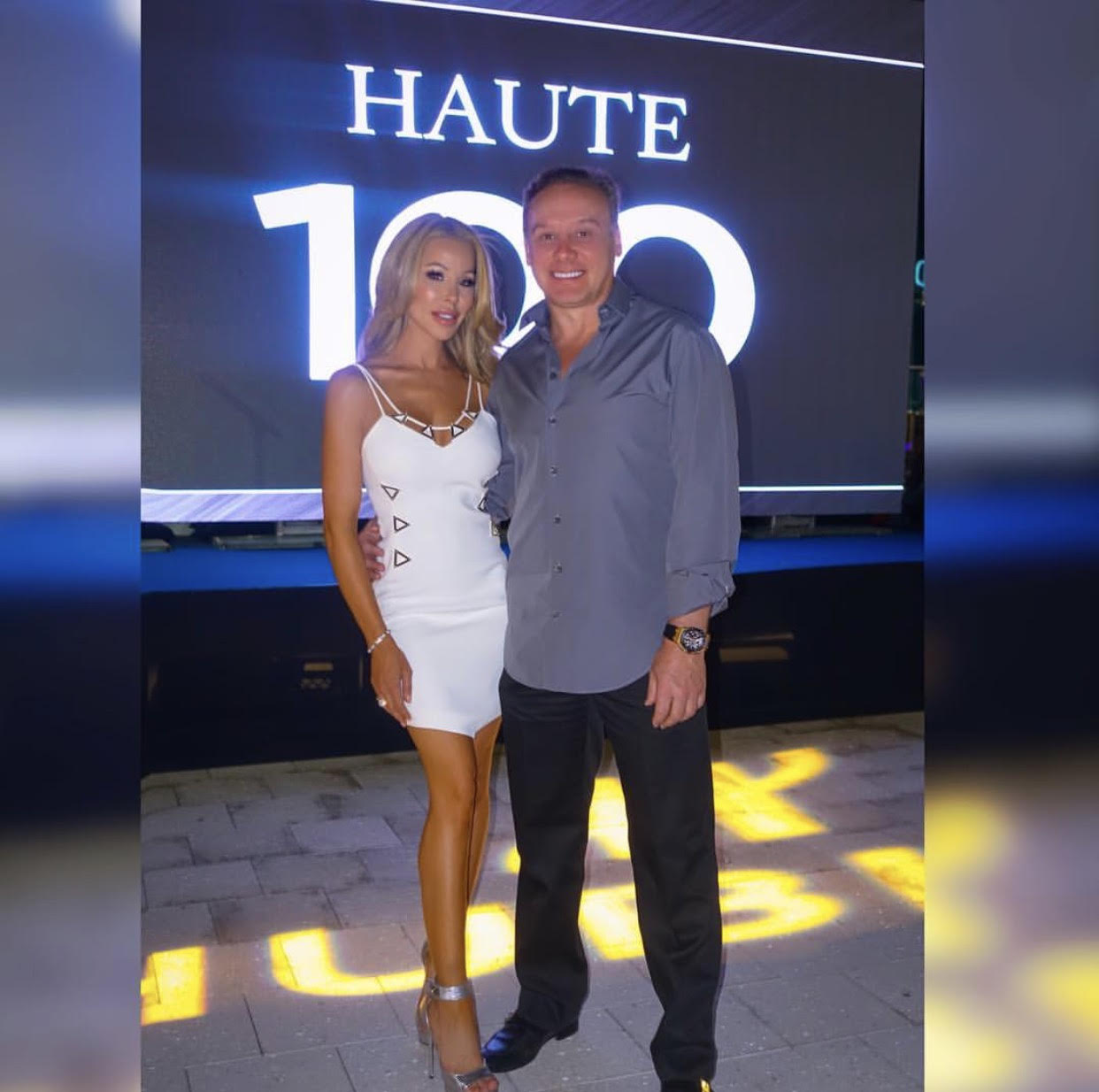 Haute Living Haute 100 List 2017
August 19th, 2017
The annual Haute 100 List celebrates the biggest names in the city, including philanthropists, entrepreneurs, power couples, developers, creatives, athletes, hospitality power players, and more. Dr. Hochstein and his wife, Lisa, are very involved in philanthropic endeavors throughout the city, such as the Make-A-Wish® Foundation, and recently hosted the Little Lighthouse Hearts & Stars Gala at their private home.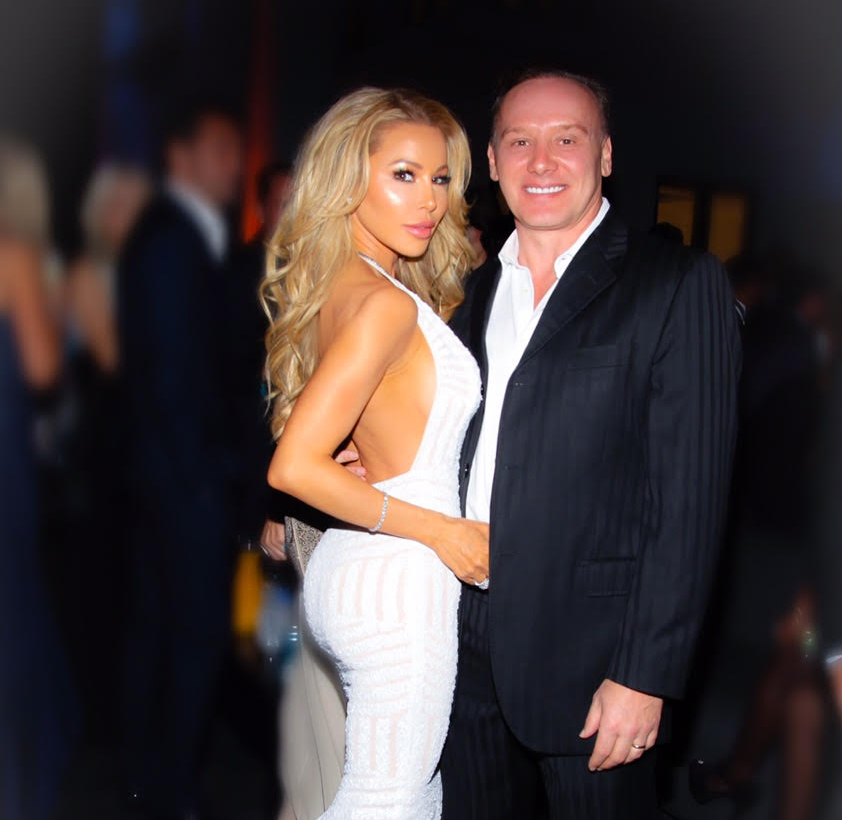 Hearts & Stars Gala – Miami Beach, FL
March 18, 2017
The Little Lighthouse Foundation ("LLF") Hearts & Stars Weekend culminated with the Hearts & Stars Gala. The Mystic Dreams-themed party hosted 750 guests for a top shelf open bar featuring Ketel One Vodka, Casa Noble Tequila, Oak & Cane Rum, Larceny Bourbon, Nysus Beer, Italian sparkling wines from Tita Italia Wines & Delicatessen, and food tastings from some of South Florida's top restaurants including Kaori, C'enzo's, Ola, and Miami Cake Lounge. Photo: David Heischrek / DHPA.com Dress: @stello #heartsAndstarsgala #llfoundation #llf2017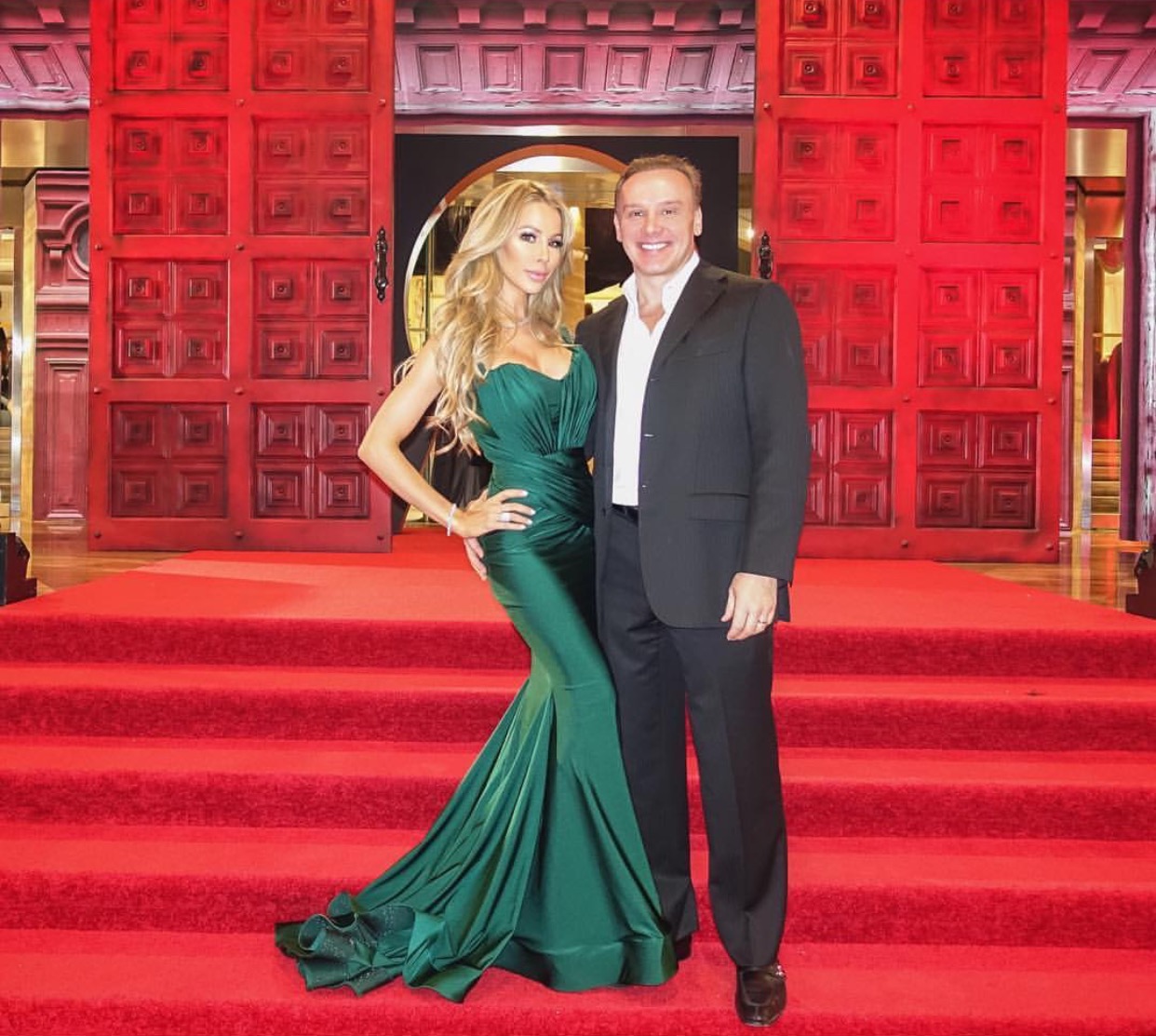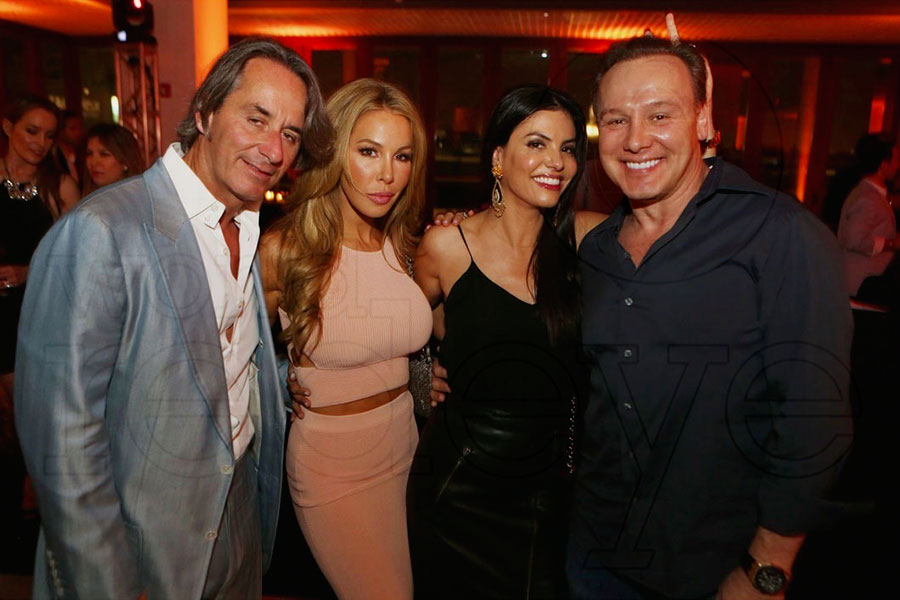 TAG Heuer Miami Design District Boutique Grand Opening
Frederic Marq, Lisa Hochstein, Adriana De Moura, & Leonard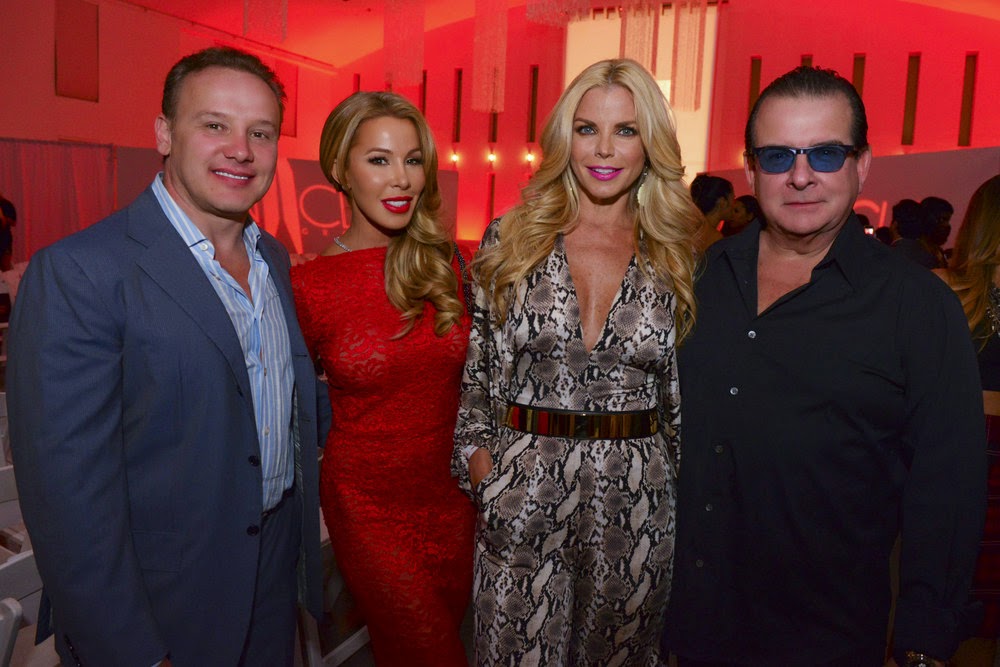 MT Costello Fashion Show
May 17, 2014
Pinnacle Entertainment Group unveiled the first annual Pinnacle Collection starring designer Michael Costello in Miami Beach. Celebrities in attendance included Grammy Award winner Tamar Braxton; music producer Vincent Herbert; TV Personalities Alexia Echevarria and Lisa Hochstein; celebrity DJ Michelle Pooch; Janice Combs; Miami socialite, Julz Goddard; and fashion innovators Maxwell Osborne and Milan Vukmirovic. Afterwards, the designers greeted guests at an exclusive pop-up shop and fashion exhibit.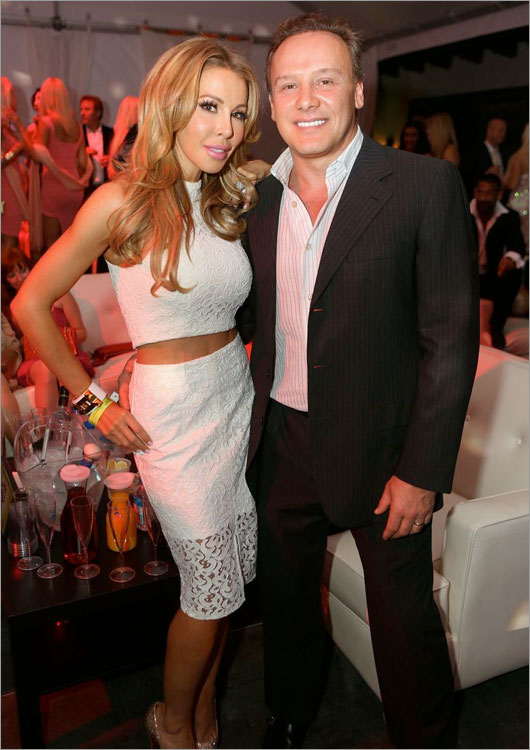 The Little Lighthouse Foundation Hearts & Stars Gala 2014
March 15, 2014
Over 1,000 guests joined co-founders Robert Sena, Aaron Resnick, and Charlie Venturi in Miami Beach for The Little Lighthouse Foundation's 5th Annual Hearts & Stars gala: Beyond Macau, presented by Credit Suisse and Warren Henry Automotive Group. Additional hosting was provided by Buster Cox. Guests arrived by water to the home of Bill Dean, transformed into the city of Macau, where they gambled the night away.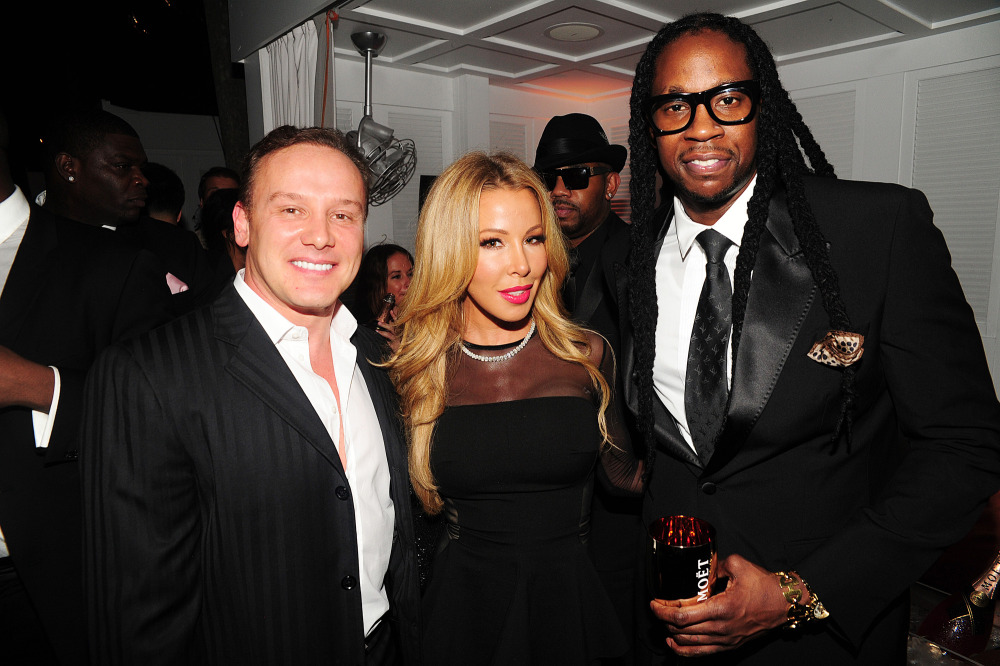 Moët & Chandon's Rosé Lounge Series Debut
November 7th, 2013
Dr. Leonard Hochstein and wife Lisa were in attendance as Moët & Chandon's 2013 Rosé Lounge Series made its Miami debut with a private black-tie celebration and live performance by Grammy-nominated rapper, 2 Chainz. The event served as a launch event for the Moët Nectar Impérial Rosé Leopard limited edition 6-litre Methuselah bottle and was held at the Delano South Beach in Miami.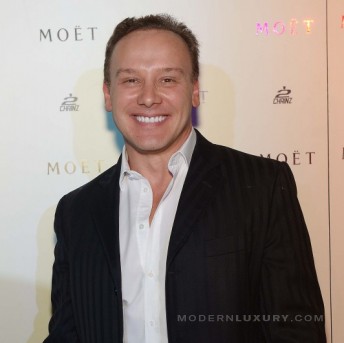 Moet & Chandon's 2013 Rosé Event
November 7, 2013
Moët & Chandon's 2013 Rosé Lounge Series made it's Miami debut with a private black-tie celebration. Rapper 2 Chainz was presented the Moët Nectar Impérial Rosé Leopard Luxury Edition Methuselah bottle by Moët & Chandon President, Thomas Bouleuc, who congratulated the hip-hop heavy weight on his success and thanked him for his participation.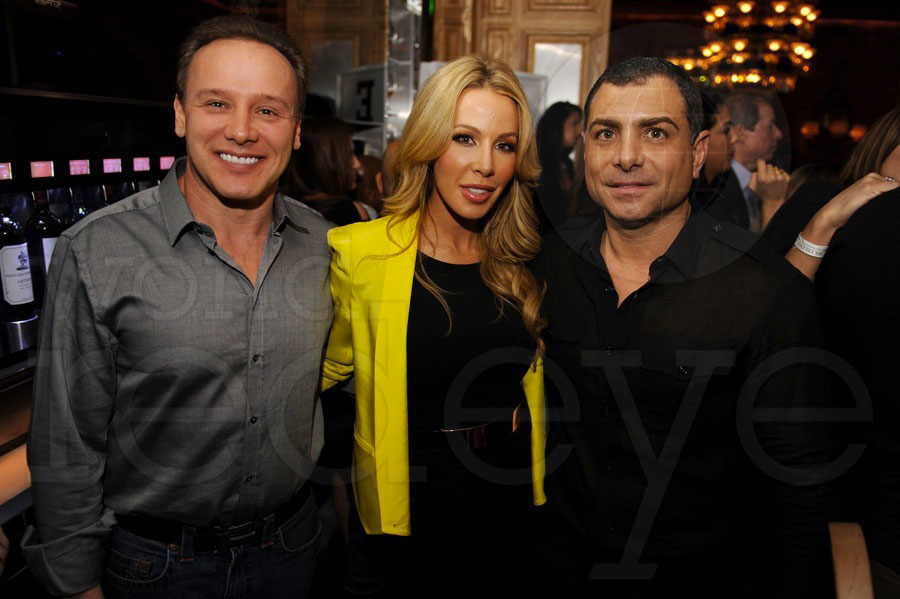 Antonio Misuraca Birthday @ The Forge
Miami Beach, FL – February 1, 2013
Friday night, Shareef Malnik, Michael Capponi, Valentina Sarria, and Maxwell Blandford invited guests to celebrate the birthday of Antonio Misuraca at The Forge. Antonio's friends and colleagues filled the restaurant and bar in celebration of not only his milestone birthday, but his accomplishments as a pioneer of South Beach as well.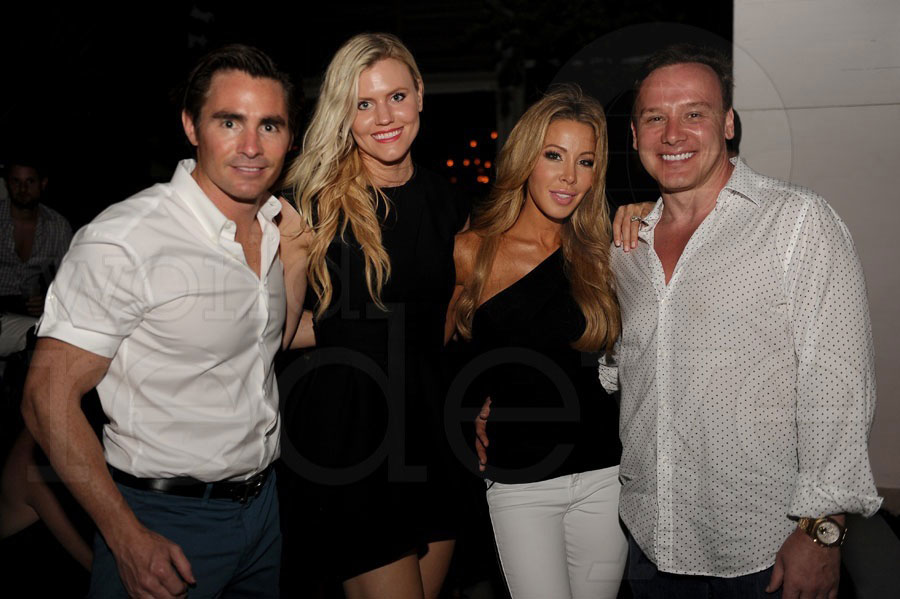 Mercedes-Benz Fashion Week Swim
July 20, 2013
Chloé showcased its Swim 2014 Collection on the runway for the first time in the United States during Mercedes-Benz Fashion Week Swim at Soho Beach House. The nautical-themed collection remained true to the brand's classic feminine silhouettes. Guests including Lisa Hochstein and Adriana De Moura of "The Real Housewives of Miami" enjoyed refreshments compliments of Corzo, Peroni, and Evian while enjoying the collection.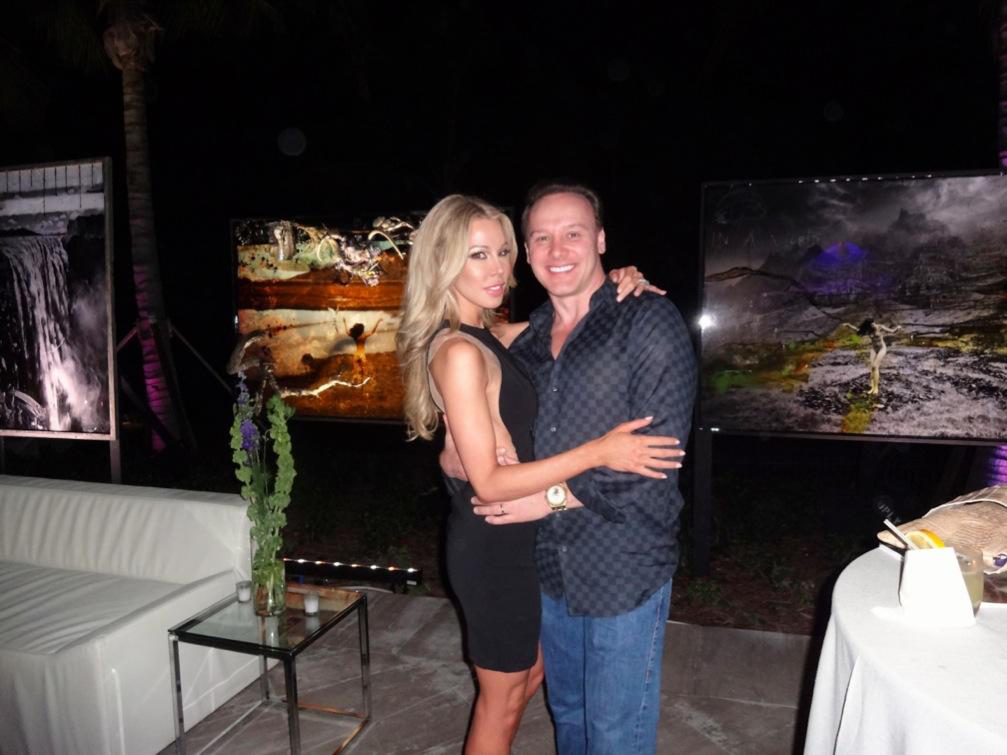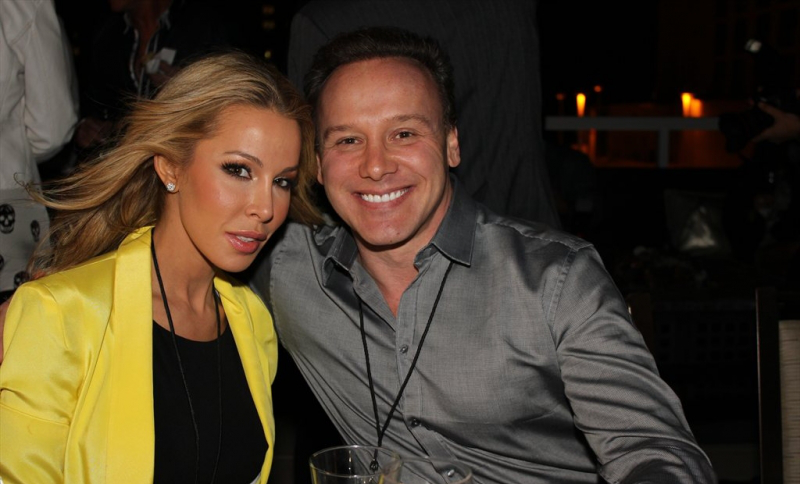 Miss Hawaiian Tropic Beauty Judges
February 1, 2013
There were 20 beauties who competed in the TropicBeauty Fort Lauderdale regional finals on a windy night at the Sky Terrace of the Westin Beach Resort & Spa, hosted by Kimberlee Etheridge of Haute in the City, produced and sponsored by ClubScore. Guests joined top models and special celebrity judges Dr. Leonard Hochstein and his wife, Lisa of "The Real Housewives of Miami."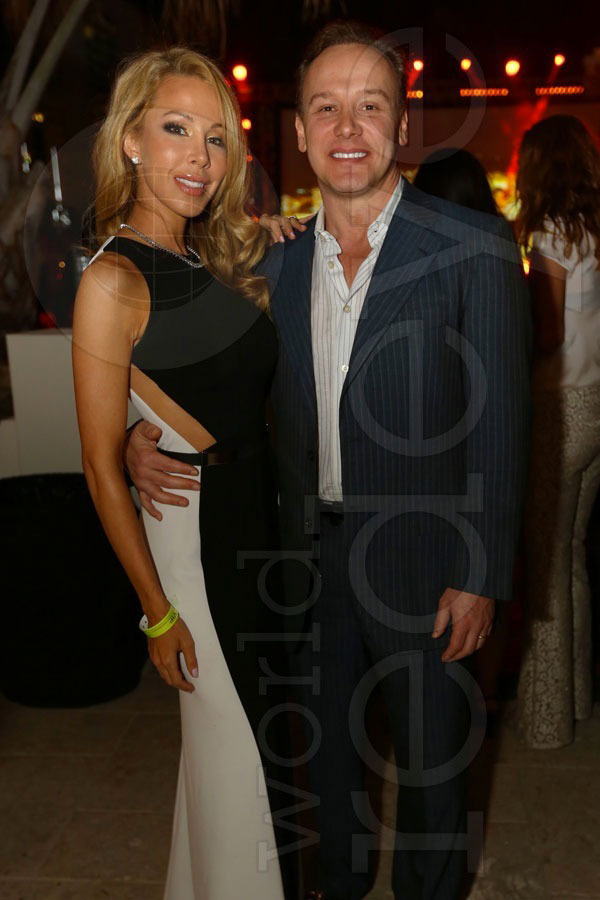 The Hearts & Stars Gala 2013
March 9th, 2013, Miami Beach, FL
The Hearts & Stars Gala, one of South Florida's premier social and philanthropic events, occurred on March 9th, 2013. Guests enjoyed a night of Monte Carlo at the Terra Veritatis Estate owned by Bill Dean, in Miami Beach, FL. Proceeds from the Hearts & Stars Gala benefit The Little Lighthouse Foundation (LLF).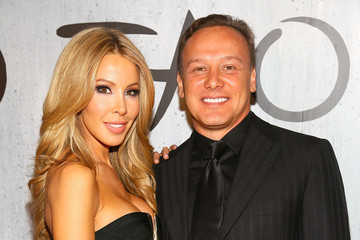 TAO Downtown
September 28th, 2013
Celebrities came together Saturday, September 28th, for the grand opening of the new TAO Downtown at the Maritime Hotel, TAO's second New York location. Guests included Alicia Keys, Swizz Beatz, Katrina Bowden, Debra Messing, Naomi Campbell, Samantha Ronson, DJ Vice, Ashanti, Will.i.am, Tyson Beckford, Kid Cudi, K Russell Simmons, Lily Aldridge, Emily Ratajkowski, Vanessa Ray, Lisa Hochstein, and Nicky Hilton.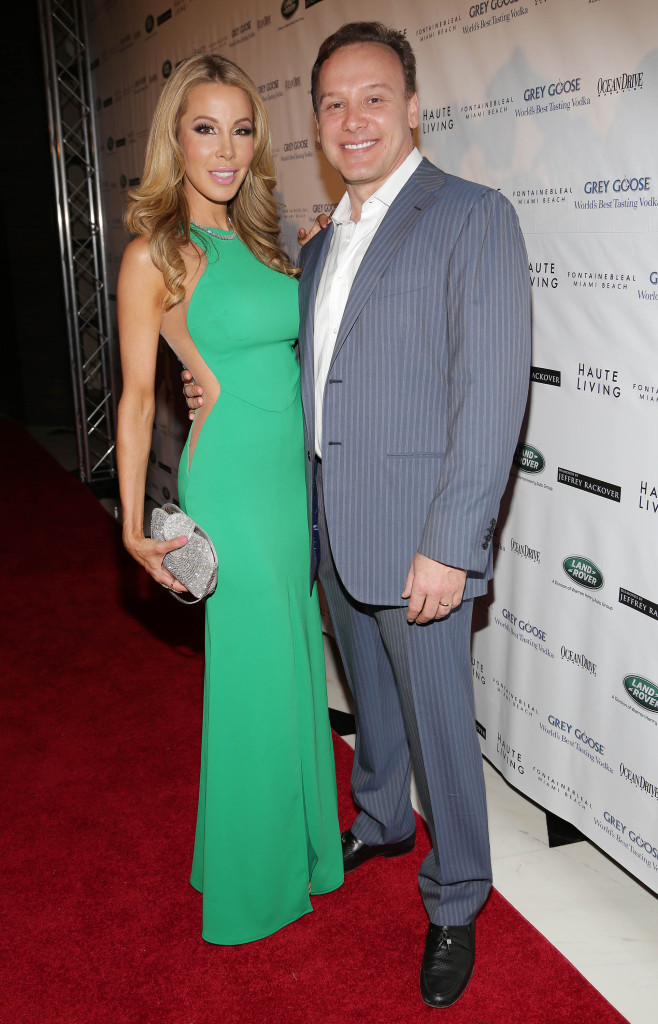 The Blacks Annual Gala 2013
Saturday, April 13th, 2013
Miami Beach, FL – The Blacks' Annual Gala is Miami's yearly charity event with A-list celebrities, social icons, business titans and top legal minds, featuring Flo Rida at the Fontainebleau Miami Beach.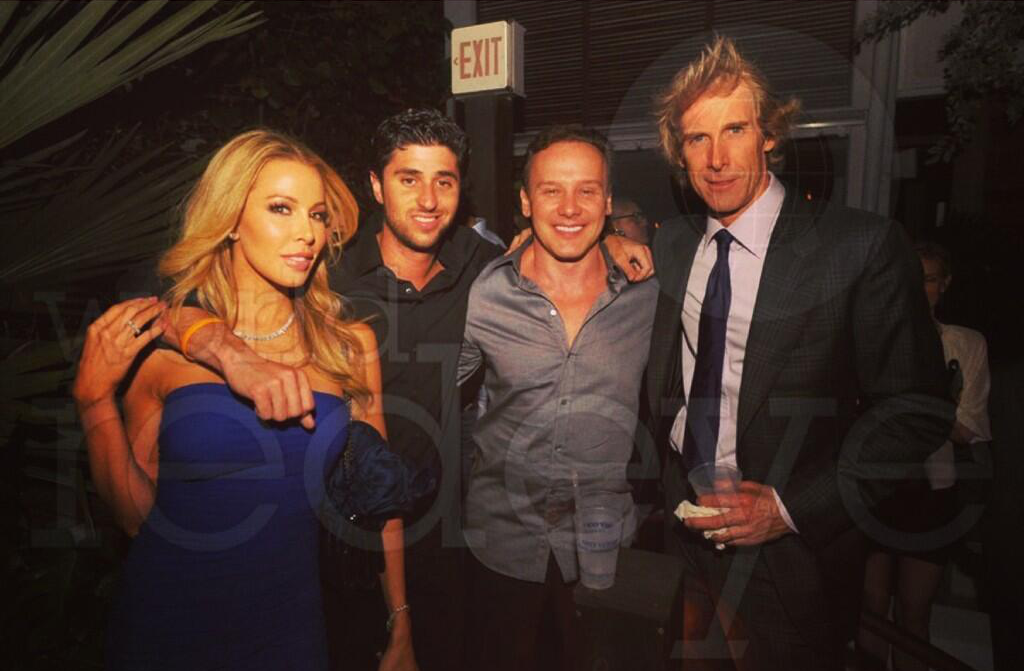 Premiere Of Pain & Gain
Miami Beach, FL – April 11, 2013
A red carpet movie premiere on Lincoln Road doesn't happen on the regular in Miami, but yesterday was a special occasion with the Pain & Gain premiere presented by Grey Goose. Based on a true story and directed by Michael Bay, Pain & Gain was filmed right here in Miami last summer with Dwayne Johnson, Mark Wahlberg, and Anthony Mackie in the starring roles.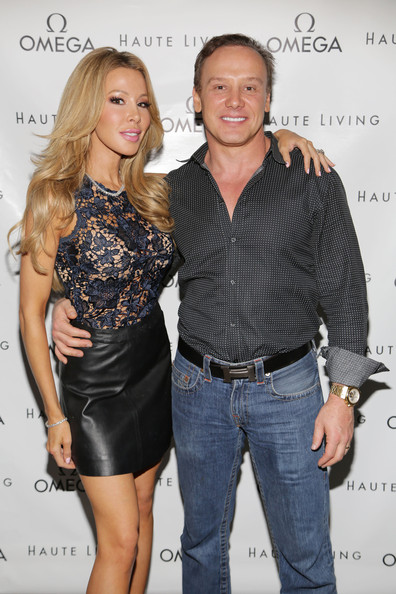 Dr. Hochstein At The OMEGA DARK SIDE OF THE MOON WATCH EVENT DECEMBER 4TH
Lisa Hochstein and Lenny Hochstein pose at the Haute Living OMEGA Dark Side of the Moon Watch event hosted by Larsa and Scottie Pippen on December 4, 2013 in Miami Beach, Florida.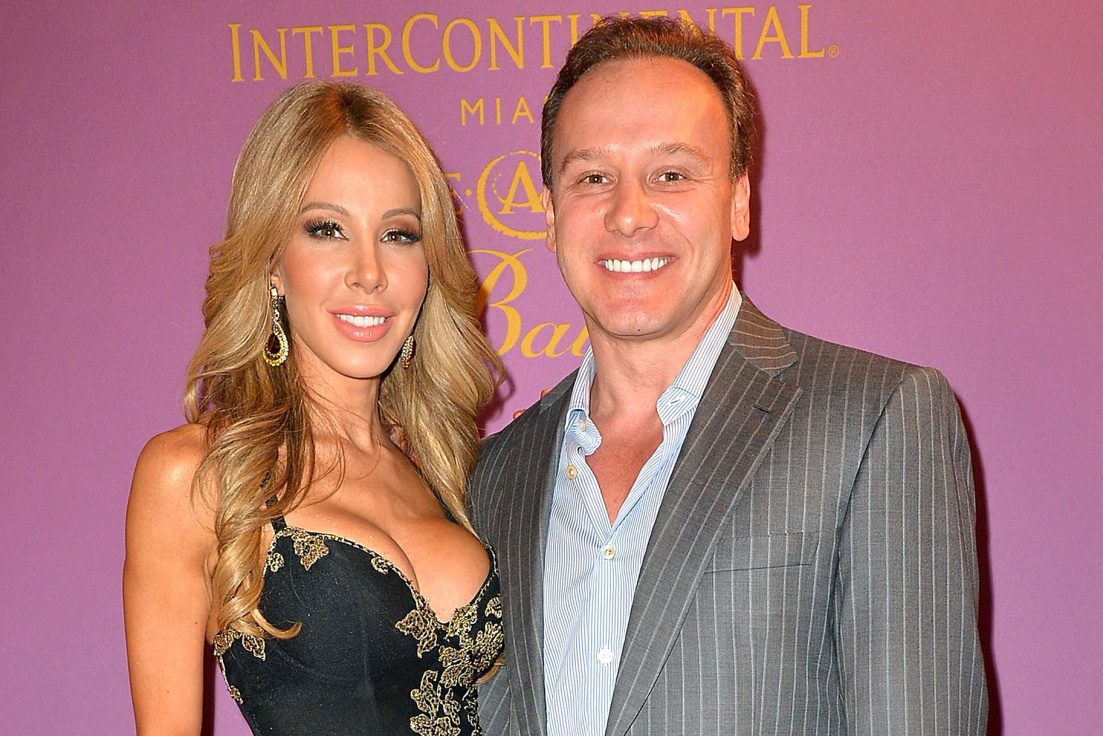 Make-A-Wish® Ball
November 3, 2012
Make-A-Wish® Southern Florida and InterContinental Miami celebrated the 18th Annual InterContinental Miami Make-A-Wish® Ball with a theme inspired by India's vibrant colors, animated street markets, and jubilant Bollywood music. Melanie Amaro, winner of The X Factor and South Florida native, performed, and Burn Notice star Gabrielle Anwar returned as the celebrity auctioneer. The Ball was chaired by Shareef Malnik, owner of The Forge Restaurant & Wine Bar.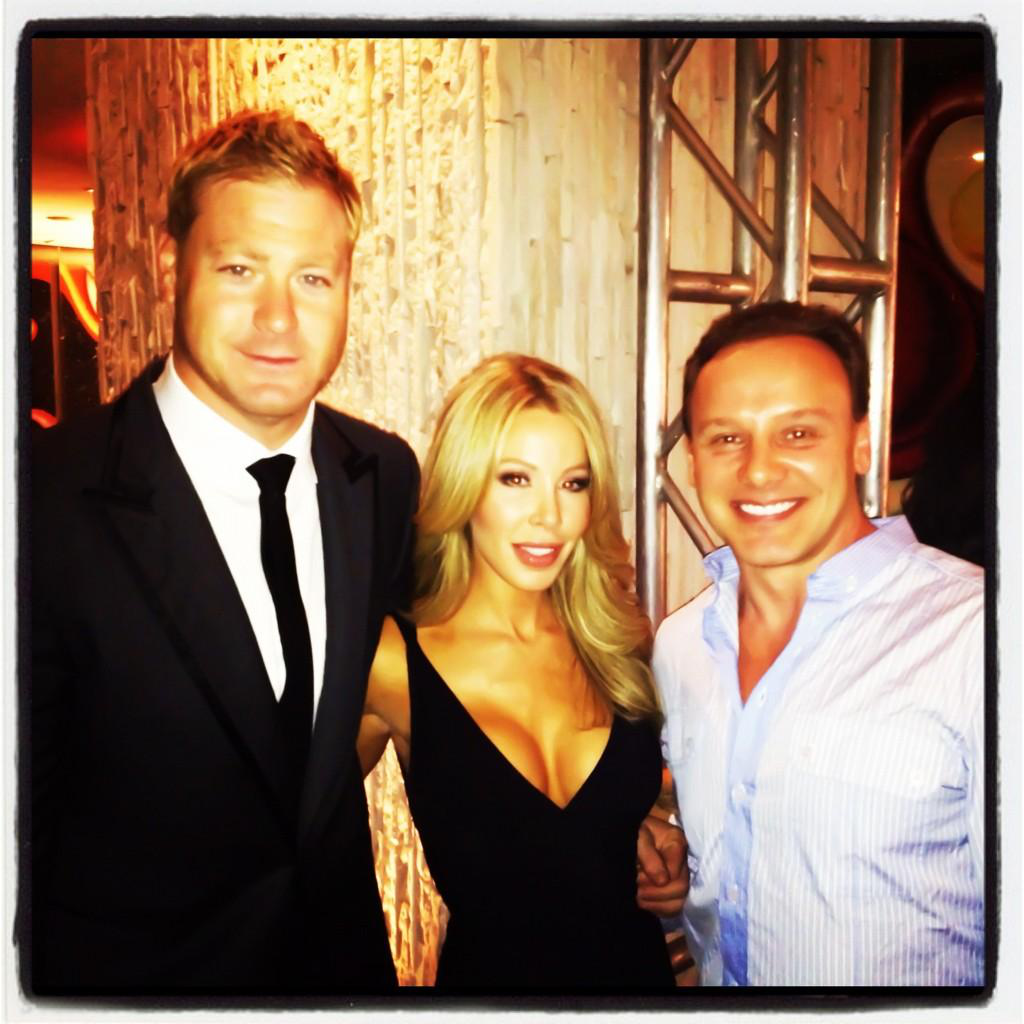 Iconic And Award-Winning Luxury Watchmaker
September 28, 2012
Dr. Hochstein and wife Lisa were in attendance as luxury Swiss watchmaker, Hublot, celebrated the unveiling of its new, limited edition, Hublot King Power "305" Timepiece at W South Beach Hotel & Residences. The unveiling and launch party, with special guest DJ Irie (DJ for the Miami Heat), featured a 30-foot video wall, catering by the culinary experts at W South Beach Hotel & Residences, free-flowing Dom Perignon (with support from The Collection and Ferrari), and an official unveiling announcement from Miami Heat's Udonis Haslem.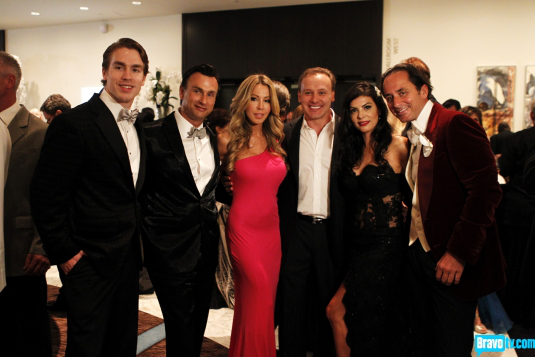 The Blacks' Annual Gala
March 25th 2012
It was a star-studded night at the The Blacks' Annual Gala at the Fontainebleau Hotel in Miami Beach. Flo Rida and American Idol Taylor Hicks performed for the guests of the gala benefiting the Consequences Charity, which provides education, resources, support, and mentoring for at-risk youth to reduce juvenile crime and incarceration. Attendees included "The Real Housewives of Miami" cast, Lance Bass, Dennis Rodman, and of course the fabulous Elaine Lancaster!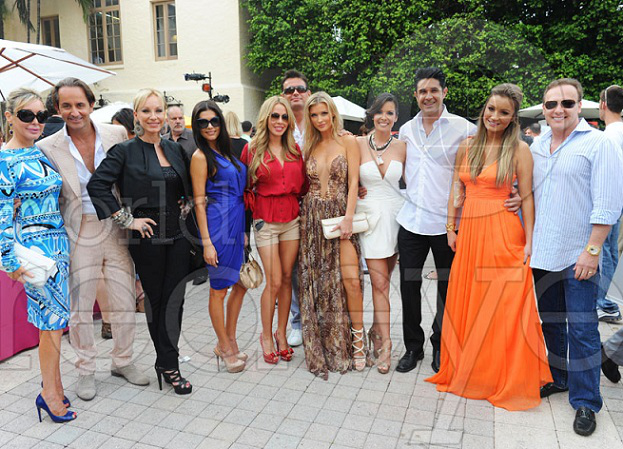 South Beach Wine & Food Festival
February 26, 2012
Presenting the unannounced new cast of Bravo TV's Miami Housewives Franchise. Lisa Hochstein, Karent Sierra, Marta Krupa, & Joanna Krupa, who are new to the Miami crew, attended the event. For the festival's last day, more than a dozen chefs were in attendance, each with their own special preparation technique that brought pig roasting to a whole new level.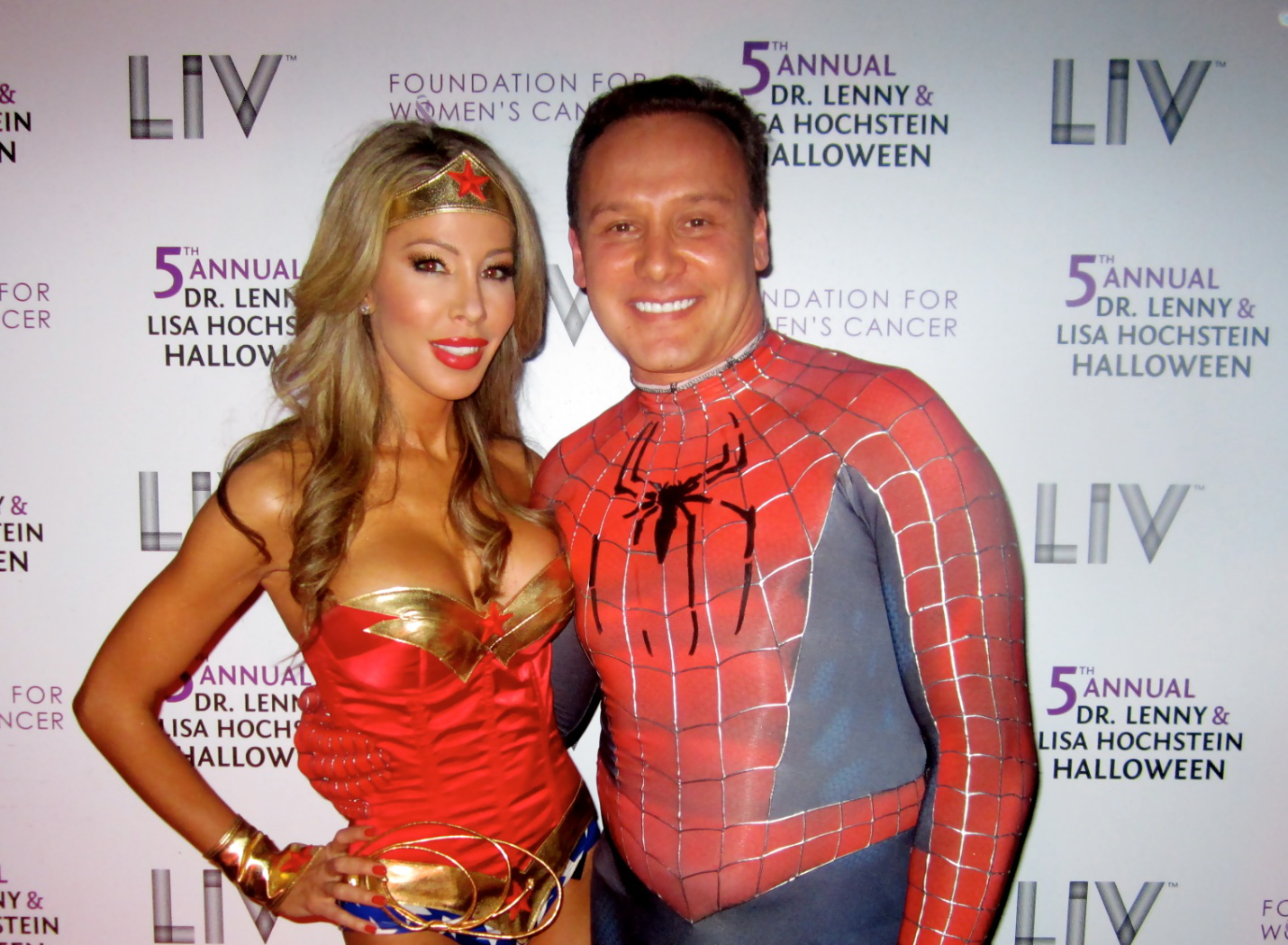 5th Annual Halloween Party 2012
October 27th, 2012
Dr. Hochstein and wife Lisa every year host a Halloween charity event at their house in Miami, FL. In the past five years, Dr. Hochstein and wife Lisa have raised over $250,000 for the Make A Wish Foundation, The Humane Society, Susan G. Komen and the Women's Cancer Research Foundation.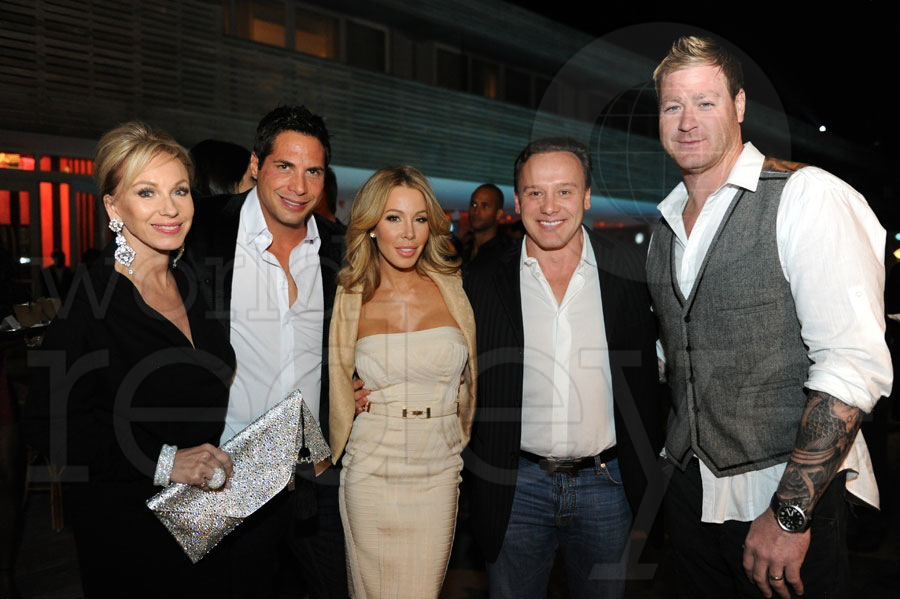 SLS Hotel Soft Opening
June 26, 2012
SLS Hotel South Beach celebrated its official soft opening with a Ringing of the Bell ceremony and private reception. sbe Founder, Chairman, and CEO Sam Nazarian, sbe President Arash Azarbarzin, SLS Hotels Culinary Director José Andrés, SLS Hotel South Beach General Manager Albert Mertz, and Miami Beach Vice Mayor Jerry Libbin, welcomed South Florida community leaders and tastemakers to commemorate the brand's arrival to the East Coast. This was the first time sbe aligned some of its most celebrated brands on one property, including The Bazaar by José Andrés, Katsuya by Starck and Hyde Beach.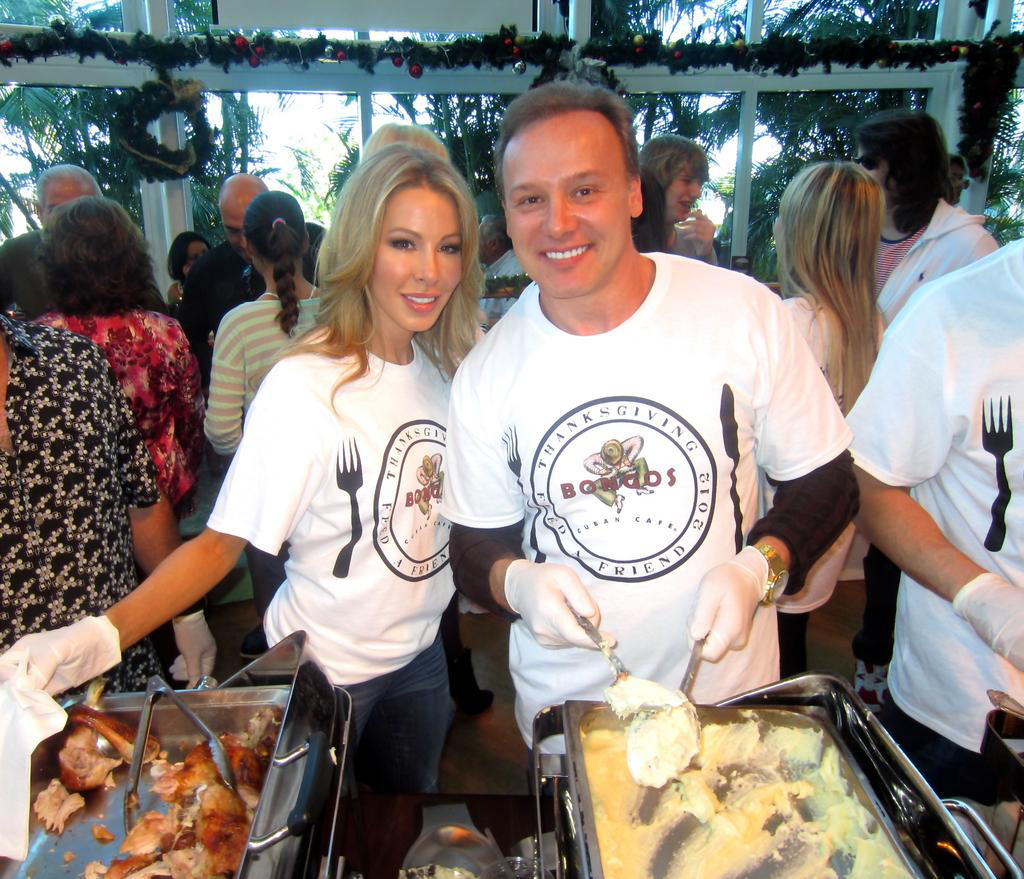 Lisa And Dr. Hochstein Lend A Hand At 4th Annual Thanksgiving Day Feed-A-Friend Dinner
November 27th, 2012
Emilio Estefan's Bongos Cuban Cafe, along with Blue Cross and Blue Shield of Florida, and sponsors Sedano's Supermarkets and Baptist Health South Florida, partnered with four local charities to feed friends and families in transition at the 4th annual Thanksgiving "Feed-A-Friend" dinner. Big Brothers & Big Sisters, Camillus House, Chapman Partnership & Caring For Miami invited over 1,500 guests to join together for a Cuban-American fusion holiday feast.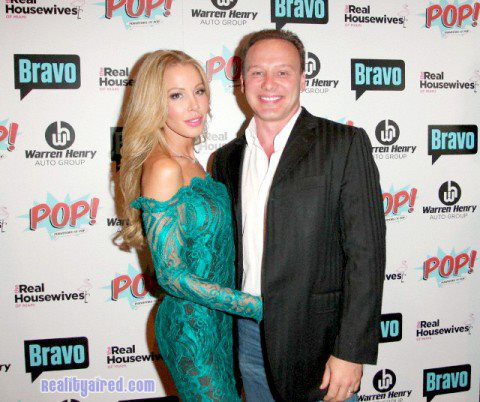 Real Housewives Of Miami Season 2 VIP Launch Party
September 10th, 2012
The cast and other celebs kicked things off with a Season 2 VIP Launch Party held at The Forge Restaurant in Miami Beach, Florida.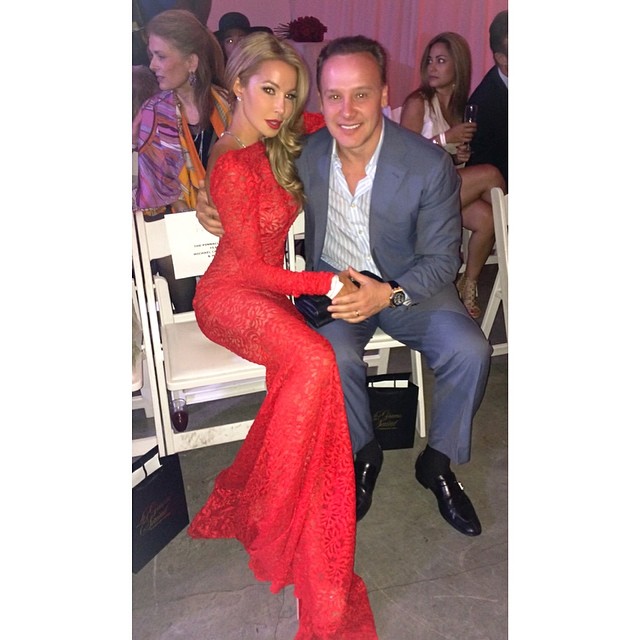 MT Costello Fashion Show
May 17, 2014
Pinnacle Entertainment Group, founded by Dion Pouncil and James Cloud unveiled the first annual "Pinnacle Collection" fashion show starring designer Michael Costello. Celebrity attendees included Tamar Braxton, Alexia Echevarria, and Lisa Hochstein. Guests were treated to private runway presentations of Michael Costello Couture and MT Costello (co-designed by Michael's cousin, Stephanie Costello) at The Temple House in Miami Beach. Attendees enjoyed light bites sponsored by Cavalli Miami and signature cocktails by Le Grand Saint Sparkling Vodka.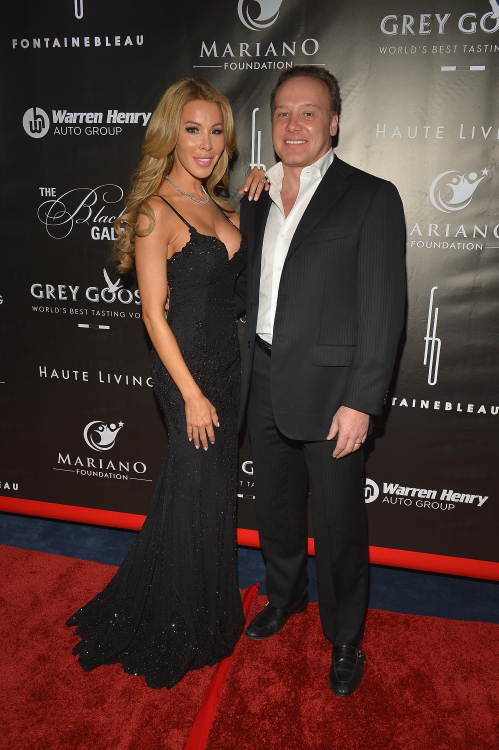 The Blacks's Annual Gala 2014
MIAMI BEACH, FL – OCTOBER 25
Lisa Hochstein and Lenny Hochstein attends The Blacks' Annual Gala at Fontainebleau Miami Beach on October 25, 2014 in Miami Beach, Florida. (Photo by Gustavo Caballero/Getty Images for The Blacks' Annual Gala)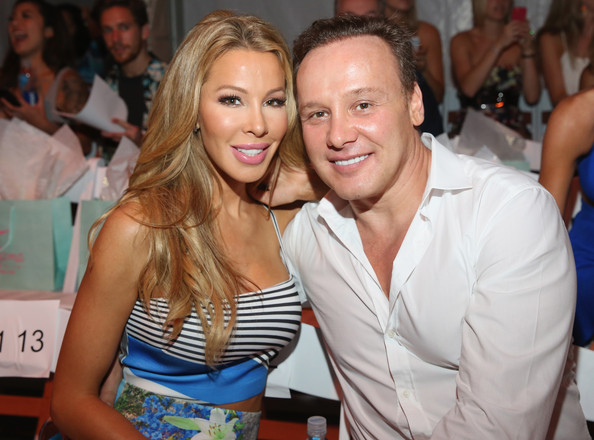 Luli Fama Fashion Show – Mercedes-Benz Fashion Week Swim 2015
TV Personality Lisa Hochstein and Lenny Hochstein attend Luli Fama fashion show during Mercedes-Benz Fashion Week Swim 2015 at Cabana Grande at The Raleigh on July 20, 2014 in Miami, Florida.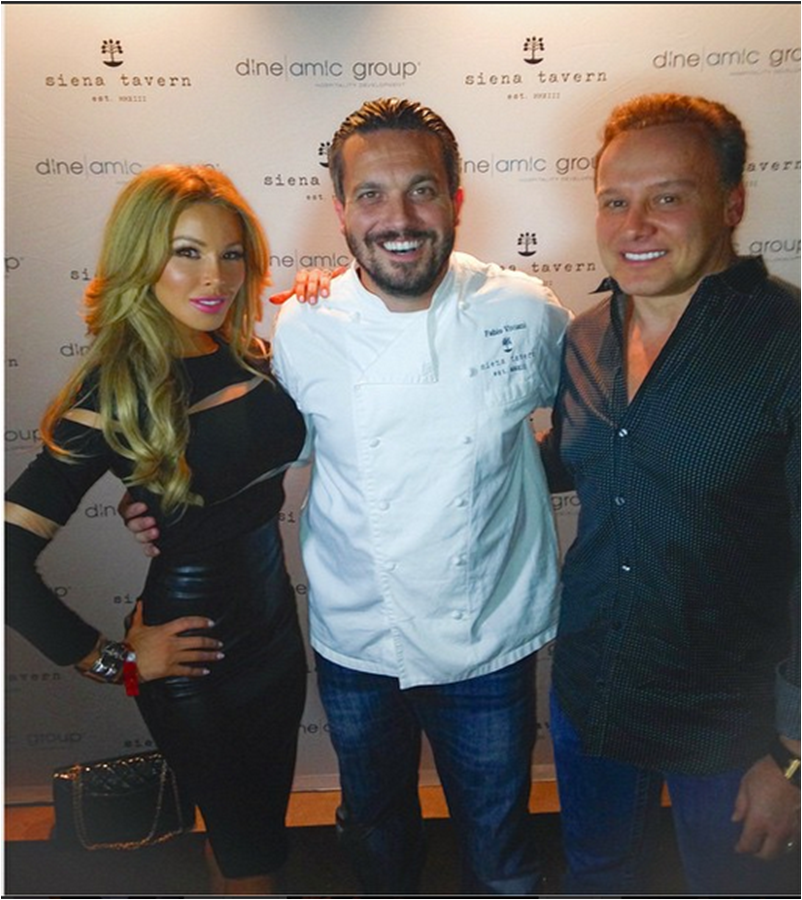 Opening Of Siena Tavern Miami
November 2014
Pictured Above from Left: Reality TV Star Lisa Hochstein, Chef Fabio Vivian, and Dr. Leonard Hochstein at the opening of Siena Tavern Miami.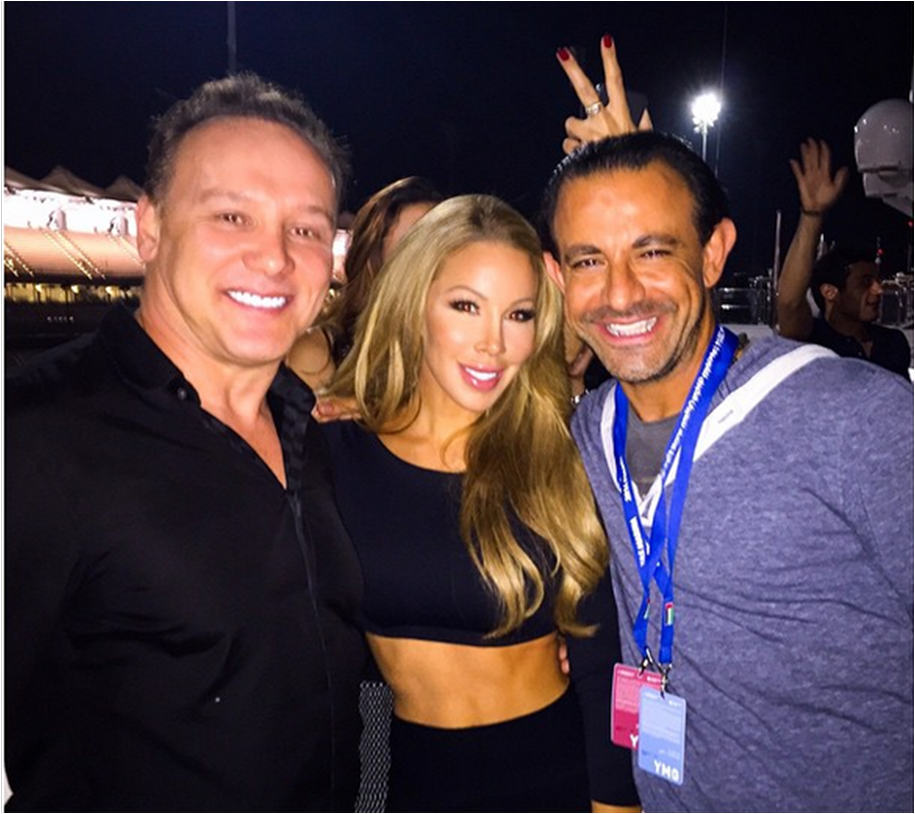 FORMULA 1 ETIHAD AIRWAYS ABU DHABI GRAND PRIX
Entering its 6th year, the 2014 FORMULA 1 ETIHAD AIRWAYS ABU DHABI GRAND PRIX took place on the 21, 22, 23 November. With more choice than ever before, Middle East's biggest event was the standout sporting event of the year and offered all visitors an unparalleled social and sporting experience. Shown Above From Left: Dr. Leonard Hochstein, Lisa Hochstein, Fidelio Cavalli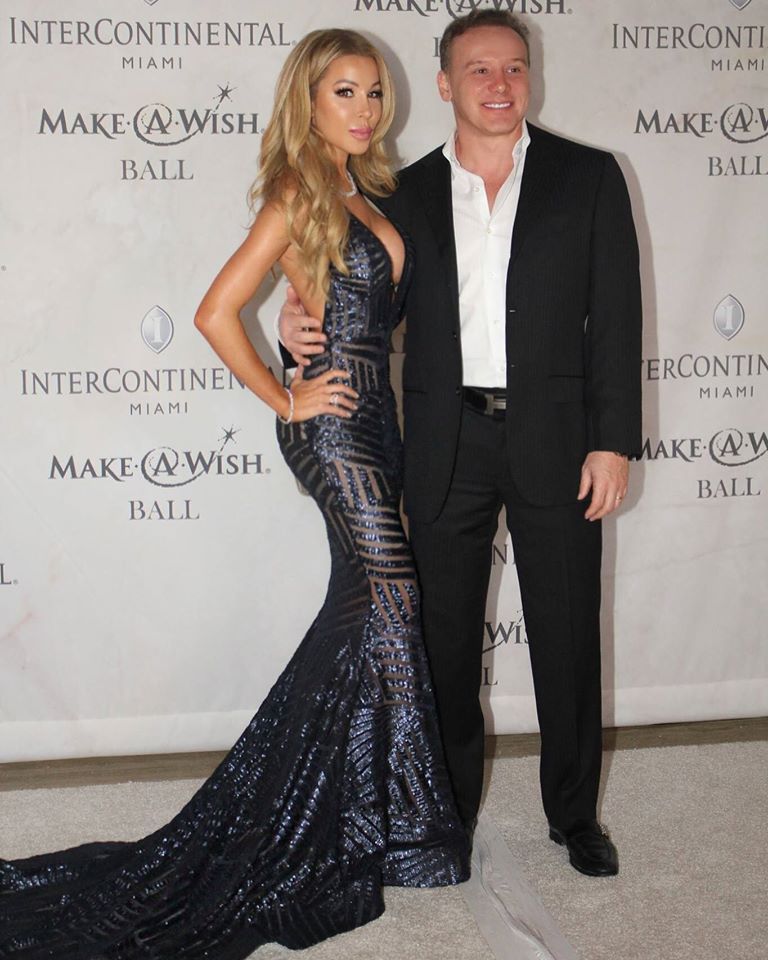 Make A Wish Ball 2015
November 7th, 2015
The InterContinental Miami Make-A-Wish Ball is the "can't miss" event of the South Florida social scene. In its 20-year history, the Ball has raised more than $16.8 million, enough to grant the heartfelt wishes of more than 3,500 children with life-threatening medical conditions. This premier event features dinner, drinks, dancing and the chance to bid on fantasy items and experiences in the famed Live & Silent Auctions.
Dr. Hochstein's Top Surgical Procedures in Miami, Florida