Many women and men struggle with their weight loss goals even with diet and exercise. If you find yourself among this group, you may be searching for anything to help you achieve the weight loss you desire.

For some qualifying candidates, Ozempic® injections for weight loss may be a potential solution.

The key ingredient in Ozempic® injections is GLP-1, a glucagon-like peptide-1 hormone. This amino acid-based hormone reduces the time it takes for food to be processed by the stomach and emptied into the intestines (gastric emptying), extending the feeling of fullness (satiety).

First used to regulate the levels of sugar in the blood of diabetic patients, it is now FDA-cleared for use as a weight loss medication.

Dr. Leonard Hochstein is a world-renowned plastic surgeon who oversees the Hochstein Medspa.
Our medspa provides Ozempic® injections for weight loss in Miami, Florida.
Am I a Candidate for Ozempic® for Weight Loss?
FDA guidance advises that individuals with a BMI of at least 30 kg/m2, or 27 kg/m2 or more with at least one weight-related condition may be prescribed Ozempic® for weight loss.
Semaglutide 2.4 mg, the scientific term for GLP-1, is safe and effective for most patients of any age and ethnicity struggling with obesity. These injections offer the following benefits:
High efficiency for overall weight loss
Reduced waist circumference
Improved cardiovascular health and blood pressure
Ozempic® injections may be a better choice for weight loss patients with higher cardiovascular risk than other medicines.
Remember, pharmaceutical weight loss products like Ozempic® are more effective when combined with a healthy diet and exercise program.
You may not be a good candidate if any of the following are true:
You are taking lifesaving oral medications. Be cautious and discuss receiving Ozempic® injections with your doctor. Because Ozempic® slows down gastric emptying, it may impact the amount of medicine absorbed by your body.
You are taking other semaglutide medications. Don't use Ozempic® with other semaglutide-containing prescription and nonprescription medicines or herbal products.
How Does Ozempic® for Weight Loss Work?
Since GLP-1 delays the rate of gastric emptying, the patient stays full longer, lowering hunger, reducing appetite, and prolonging fullness. This results in less food being consumed, leading to weight loss.
Because GLP-1 receptors are naturally found in the hypothalamus, Ozempic® also works on the specific areas of the brain that regulate hunger and appetite.
---
Is There Down Time With Ozempic® Injections?
No, there is no recovery period. However, be aware of the possible side effects and follow the doctor's instructions to avoid them.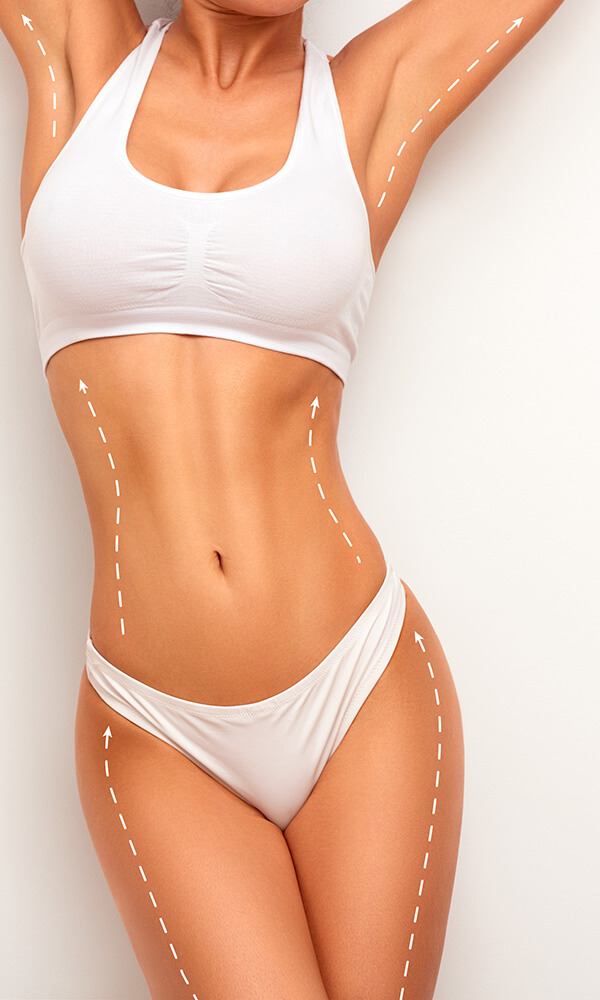 Model
What Kind of Results Can I Expect From Ozempic® for Weight Loss?
You can lose up to 34 pounds or more in under 70 weeks, according to a 68-week study of about 2000 overweight individuals.
Using 2.4 mg of Ozempic® once weekly, these patients averaged a 15 percent loss of body weight compared to 2.4 percent in individuals who took a placebo.
---
What Other Weight Loss Treatments Are Offered at Hochstein Medspa?
Check out our Medspa services here. We offer the following non-surgical treatments to help you lose fat and tone your body in Miami:
Fat Reduction Massage – This combination of wood therapy, deep tissue massage, and lymphatic drainage reduces the number of fat cells in the abdomen, flanks, back, and buttocks.
Anti-Cellulite Massage – Ultrasound energy, combined with several wooden implements used in a repetitive massage technique, targets fat and cellulite while stimulating the lymphatic drainage system to eliminate toxins from the body. This sudden release of toxins encourages your metabolism to enter high gear and burn more fat. The manipulation of cellulite also helps break down stubborn fat deposits on the legs and buttocks, smoothing out the skin.
Ozempic® for Weight Loss FAQ
What are the side effects associated with Ozempic®?
The common side effects of Ozempic® include:
Nausea
Diarrhea
Stomach (abdominal) pain
Vomiting
Constipation
To reduce these possible side effects, try eating bland, low-fat foods, like rice, toast, or crackers, and foods made with water, such as gelatin and soups. Stay away from greasy and sweet foods. Eat slowly, drink clear beverages, and avoid lying down after you eat.
Can I drink alcohol while being treated with Ozempic®?
Limit your alcohol consumption while taking Ozempic® as alcohol may affect your blood sugar, especially when combined with Ozempic®.
Alcohol can also upset your stomach and exacerbate the Ozempic® side effects.
How do I take Ozempic®?
Ozempic® is injected under the skin of the abdomen, upper arm, or thigh. Avoid injecting Ozempic® into the muscle or vein.
Ozempic® is taken once weekly using the Ozempic® pen. Follow your health care provider's instructions on the proper way to use Ozempic®.
How soon will I lose weight after starting Ozempic®?
You should notice changes in your appetite and reduced food cravings within the first week of treatment and begin seeing results a couple of weeks after starting this medication.
Looking for Ozempic® for Weight Loss in Miami, FL?
Hochstein Medspa offers a wide range of non-surgical cosmetic treatments, including Ozempic® Injections for Weight Loss in Miami, Florida.
Call us today at (786) 802-6699 to learn more about our advanced weight loss treatments!