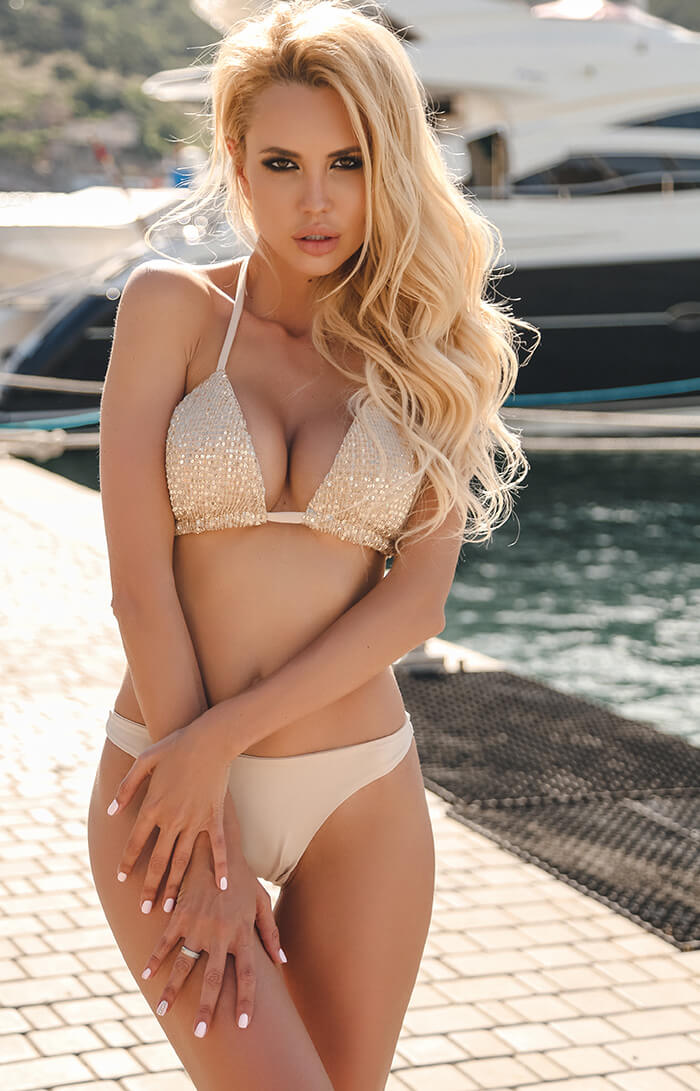 Model
What Are the Benefits of

Breast Reduction With Lift?
Reduced Physical Discomfort
Heavy breasts place strain on the back, neck, shoulders, and chest, which tends to cause physical pain. A breast reduction lessens this discomfort as well as skin irritations below the breasts and divots in the shoulders from bra straps.
Less Unwanted Attention
Overly large breasts—especially those that develop during adolescence—often provoke unwanted attention that can make teenagers and women feel self-conscious about their physical appearance. A breast reduction makes the breasts less noticeable, thus enhancing emotional comfort.
Repositions the Nipples
Large and heavy breasts can cause sagging and nipples that point downward. A breast reduction with a breast lift elevates downward-facing nipples so that they project outward. This and other breast lift techniques restore a perky appearance to the breasts.
Wider Variety of Clothing Options
Many women with larger busts find difficulty finding off-the-rack clothing that fits. This is because clothing sizes are designed to fit evenly proportioned body contours. A breast reduction provides women with balanced proportions that allow for a better clothing fit.
---
Dr. Hochstein

is committed to providing his patients with

the safest, most comfortable care possible
What Happens at a

Breast Reduction With Lift Consultation?

Your consultation with Dr. Hochstein is an integral part of a successful breast reduction with lift. During this meeting, Dr. Hochstein will:
Discuss your desired results and expectations
Examine your breasts
Explain your surgical options
Establish a surgical plan
Provide you with before and after photos of his previous patients
Take measurements and photos
Evaluate your medical history
Advise you on how to prepare for your procedure

Patients should:

Stop smoking
Stop all medications or herbal supplements that thin the blood
What Are Virtual Consultations?
Dr. Hochstein sees patients from Miami as well as from all over the country. Therefore, he offers one-on-one virtual consultations for patients who are unable to make it to Miami for an in-office visit. He also offers concierge services for his out-of-town patients.
Book A Consultation
Where Are Breast Reduction Incisions Made?
Anchor Incision
Incisions are made around the areola, down the lower pole of the breast, and across the inframammary fold (breast crease)—this is called "anchor incisions"
Excess glandular tissue, fat, and skin are reduced
The nipple and areola are repositioned—the areola complex may need to be removed and reattached in extreme cases (this will be discussed at your consultation, if so)
Areolas are resized
This option allows for significant tissue reduction and lift
Where Are Breast Lift Incisions Made?
A breast lift is combined with a breast reduction to tighten and raise the remaining breast tissue. When performed in combination, a breast lift uses the same incisions as a breast reduction—the anchor incision; however, when performed alone, a breast lift surgery can utilize other, less-invasive options.
Keyhole Incision
Incisions are made around the areola and vertically down to the breast crease
This is also referred to as a lollipop incision
Nipple projection is adjusted
Areolas are resized
Ideal for women with mild to moderate ptosis (breast sagging)
This is not appropriate for significant tissue removal
Periareolar Incision
Circular incisions are made around the areola
This is also referred to as a donut incision
Nipple projection can be slightly repositioned
Areolas are resized
Ideal for women with minor breast ptosis
This is not appropriate for significant tissue removal
---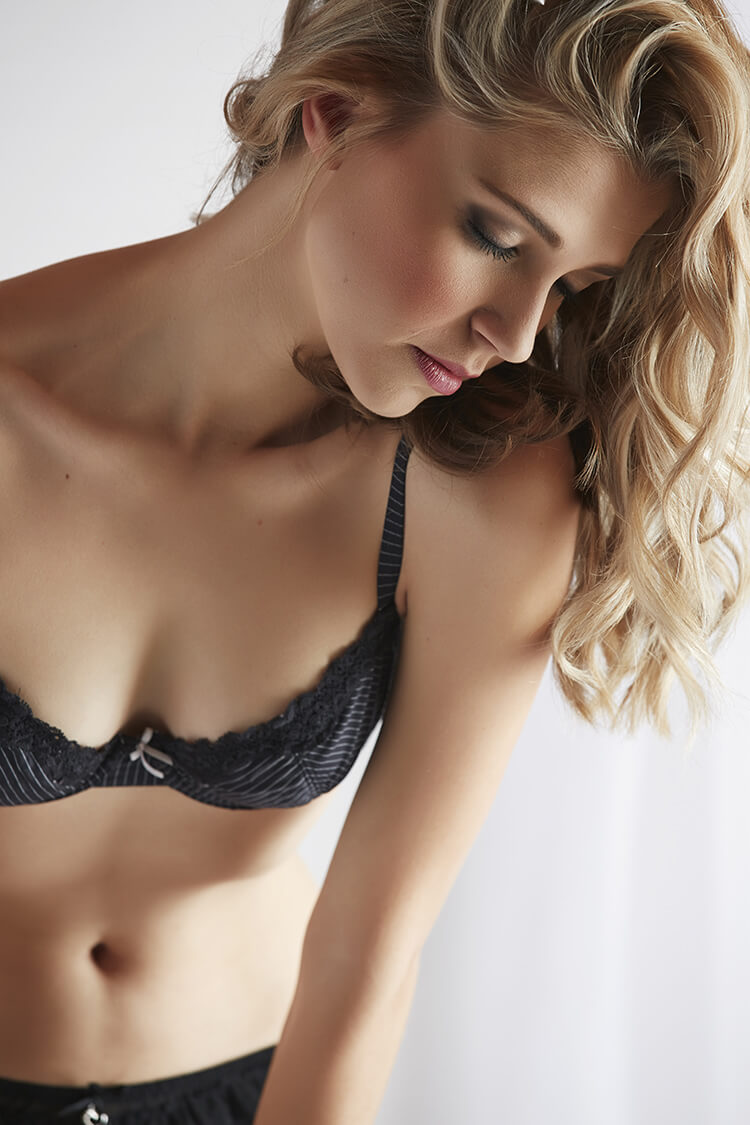 Model
Breast Reduction With Lift
Please Contact Us Today for a Free Consultation
Book A Consultation
Model
Why Should I Combine a Breast Lift With a Breast Reduction?
Heavy breasts place a significant strain on the skin and connective tissues of the breasts. While a breast reduction removes excess breast tissue, it does not tighten and reposition the remaining tissues unless a breast lift is performed in combination. A breast lift surgery utilizes the same incisions as a breast reduction, making it a convenient combination.
Do You Have Concerns About a

Breast Reduction With Lift?
Breast Reduction With Lift Recovery
A breast reduction surgery will result in mild to significant bruising and swelling. Your breasts will be wrapped in a compression garment/support bra that will protect the incisions and aid in the healing process.
Week 1: Bruising and swelling will reach its peak. Lifting, pushing, or pulling anything over 15 pounds is not allowed, and patients should spend the initial days resting comfortably. Most patients return to work after 4 to 7 days.
Week 2-3: The majority of the swelling will resolve; however, there will still be a significant amount of swelling present.
Week 4-5: Patients should still wear their compression garments. Incisions typically will start to close at this time, and patients can start applying scar creams.
Week 6: Patients can resume all activities, even high-impact exercises. It is recommended though to start slow!
Breast Reduction With Lift Cost
Breast reduction with lift is tailored specifically to your needs. Therefore, the total cost of your breast reduction will vary depending on the extent of tissue removed, the techniques used, and additional cost factors like anesthesia fees, facility fees, surgeon's fees, and geographical location. Dr. Hochstein will provide you with an accurate cost estimate during your consultation.
Breast Reduction With Lift Pain
A breast reduction with a lift is performed under general anesthesia to enhance comfort during and immediately after the surgery. Any soreness or pain that develops in the hours and days following your breast reduction can be alleviated with prescribed or over-the-counter pain medication. Most women only require medication for a few days.
Breast Reduction With Lift Scars
Scarring will develop at the incision sites, meaning that scars will show around the areola, down the lower pole of the breast, and across the inframammary fold. While these incisions may be noticeable initially, they will fade over time to be barely noticeable and can be covered by bras, bathing suits, and clothing. You can help reduce the visibility of these scars by applying scar creams, avoiding sun exposure, and taking care of your healing incisions. Underwire bras should also be avoided for a full year!
Breast Reduction With Lift

Frequently Asked Questions
Am I a candidate for a breast reduction with a breast lift?
A breast reduction with a lift benefits women who are unhappy with the appearance and feel of their overly large, cumbersome breasts.
Have fully developed breasts
Experience physical discomforts, such as neck, back, chest, or shoulder pain
Have divots or indentations in their shoulders from the weight of bra straps
Are not happy with the aesthetic appearance of their chest
Are in good overall health
Do not smoke
Have realistic expectations of their results
During your consultation, Dr. Hochstein will evaluate the condition and size of your breasts to determine the best surgical techniques for your needs.
What are the risks associated with a breast reduction with breast lift?
A breast reduction surgery is safe; however, rare complications can occur.
Potential physical complications include:
Adverse reactions to the anesthesia
Bleeding
Infection
Fluid collection
Nerve damage
Hematoma
Prolonged or poor wound healing
Potential aesthetic risks include:
Unfavorable scarring
Breast asymmetry
Skin discoloration
Can I breastfeed after a breast reduction with lift?
Some women can breastfeed after their breast reduction with lift, while others cannot produce as much or any milk. The likelihood of you breastfeeding afterward will depend on the techniques used and whether any tissues were severed during the operation. Inform Dr. Hochstein during your consultation if breastfeeding is a concern for you.
How old do I have to be to have a breast reduction with breast lift?
While most plastic surgeons wish to wait until a woman is at least 18 years old before performing a breast reduction, this operation can be successfully performed on a woman of any age as long as her breasts are fully developed.
Does a breast lift also decrease the size of my breasts?
A breast lift surgery is designed to raise sagging breasts, enhance breast contour, reposition downward-pointing nipples, and reduce the size of stretched areolas. While this procedure can result in a minor reduction in size (since the breasts are becoming more compact), it does not remove excess tissue and will not result in a significant reduction. If women are displeased about the large size of their breasts, a breast reduction should also be performed to meet their goals.
Why do I need to stop smoking before my breast reduction?
Smoking and other forms of nicotine use affect the blood flow throughout your body and reduce circulation. This can increase your risk of complications like heart attack and stroke during your operation and can prolong your healing process after surgery. Patients should quit smoking for at least four weeks before their breast reduction and until two weeks after their surgery.
Will I still have feeling in my breasts and nipples after a breast reduction with lift?
This procedure removes excess tissue to restore breast aesthetics. While many women regain some, if not all, sensation in their breasts and nipples after surgery, others experience a temporary or permanent reduction or loss in feeling. This loss will depend on the extent of the procedure, the patient's ability to heal, and whether or not the nipples were detached from the breast tissue.
Is a breast reduction covered by insurance?
Plastic surgery procedures are usually not covered by insurance because they are elective. We offer financing options through CareCredit®, ALPHAEON CREDIT®, United Medical Finance, EFinancing Solutions, and Prosper Healthcare Lending to help you with your payments.
Will the results of my breast reduction be permanent?
A breast reduction is considered to be permanent; however, an additional pregnancy and significant weight fluctuations can negatively affect the quality of your results. Additionally, a breast reduction with lift will not stop the natural aging process, and the breast tissue will continue to loosen and sag with time.