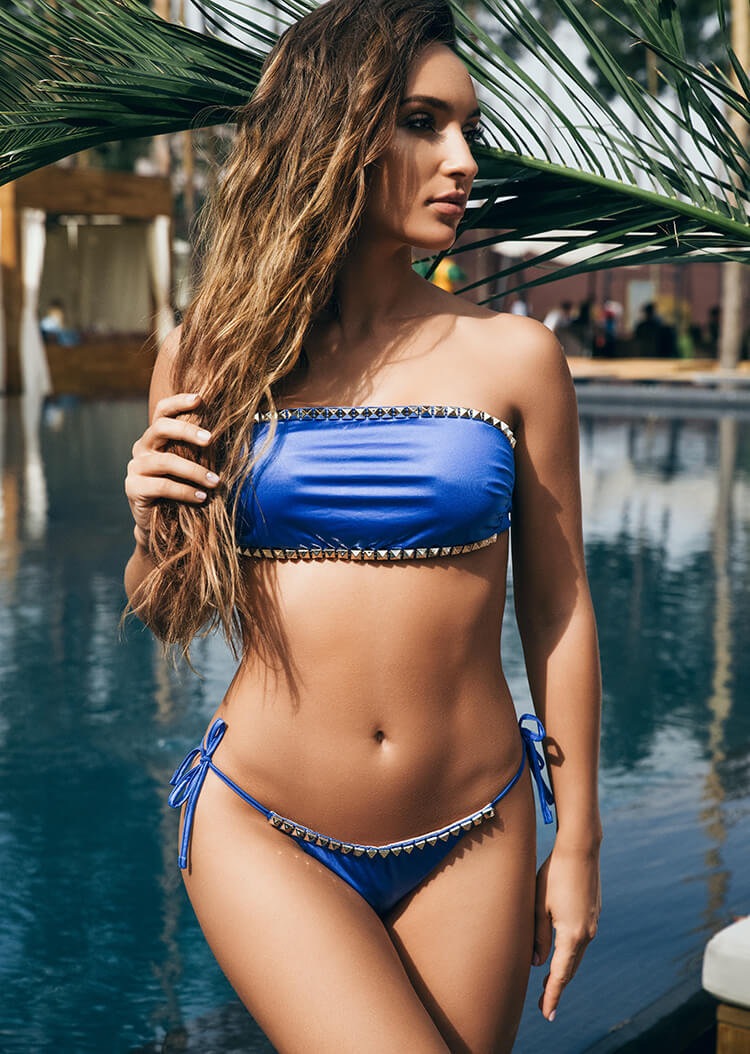 Model
What Do You Desire?
A mini tummy tuck or a full tummy tuck can achieve excellent results depending on the degree of correction you desire. A full tummy tuck reduces abdominal fat, tightens the skin and muscles, and removes stretch marks if they are present on the skin. A mini tummy tuck removes excess skin and fat from your lower abdomen only; it does not tighten the abdominal muscles.
Reduced Abdominal Fat
A tummy tuck procedure usually incorporates some form of liposuction to remove excess fat. Subcutaneous fat, which is the fat closest to the skin, is removed to reveal a slender, toned physique.
Tighter Skin
If you have any degree of sagging abdominal skin from weight fluctuations or pregnancy, a tummy tuck removes it. Dr. Hochstein removes any excess skin and redrapes the remaining skin over the muscles to create a smoother contour.
Firmer Muscles
During your procedure, Dr. Hochstein repairs abdominal separation or muscle weakening caused by pregnancy or weight fluctuations. He also tightens your upper and lower abdominal muscles to create a firm foundation for your tighter skin.
Fewer Stretch Marks
Stretch marks are removed during this procedure if they fall on the excess skin that Dr. Hochstein removes. For any residual stretch marks, Dr. Hochstein can recommend a skin treatment that can improve their appearance.
---
Recovery
Most patients need to take about two weeks off from work and routine activities. Remaining bent over in a 45-degree angle after your surgery is crucial to your recuperation. Ensure that you walk and sit in this 45-degree angle for at least 7 to 10 days to reduce the risk of complications, such as necrosis of the incisions. You should also sleep with your torso elevated at a 45-degree angle with your legs propped up. Avoid exercise and heavy lifting for six to eight weeks, and closely follow your post-operative instructions to achieve the best results.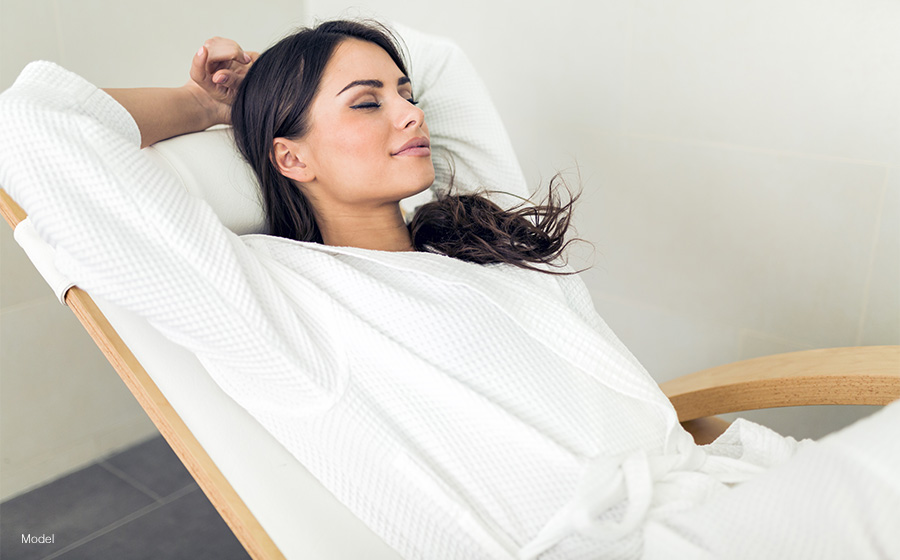 Cost
Your tummy tuck procedure will be tailored to your unique needs. Whether you choose to have a mini tummy tuck, a full tummy tuck, or a combination of techniques, Dr. Hochstein determines the cost for your procedure during your initial consultation.
Pain
You will likely feel sore following your surgery. Dr. Hochstein provides a pain pump to help numb the tender area. He can also prescribe oral pain medication to help keep you comfortable as you heal. A compression garment is used to help decrease pain and swelling while you recover.
Scars
As with any surgical procedure, there will be scars associated with your tummy tuck. The scar will span the lower pelvis from one hip bone to the other or may be shorter if you opt for a mini tummy tuck. Most styles of bathing suits and underwear can camouflage your scars, which should also fade significantly with time.
Post-surgical Massages
Lymphatic drainage is a therapeutic massage designed specifically to relieve pain and reduce inflammation. Any person who submits themselves to a cosmetic surgical procedure will experience inflammation as a side effect of the work performed in that area. A lymphatic drainage massage is required after liposculpture or a tummy tuck. The primary purpose of these massages is to eliminate liquid that tends to accumulate and harden into fibrosis. Fibrosis is the name given to those little balls and lumps that you feel forming under your skin about one to two weeks after a surgical procedure. These massages also allow for better circulation of the blood, help reduce edema, and assist in softening the texture of the skin to ensure a better healing process. Lymphatic drainage massages should only be performed by licensed and experienced massage therapists.
This Mom of 4 looks "rocking" after her Tummy Tuck with Dr. H!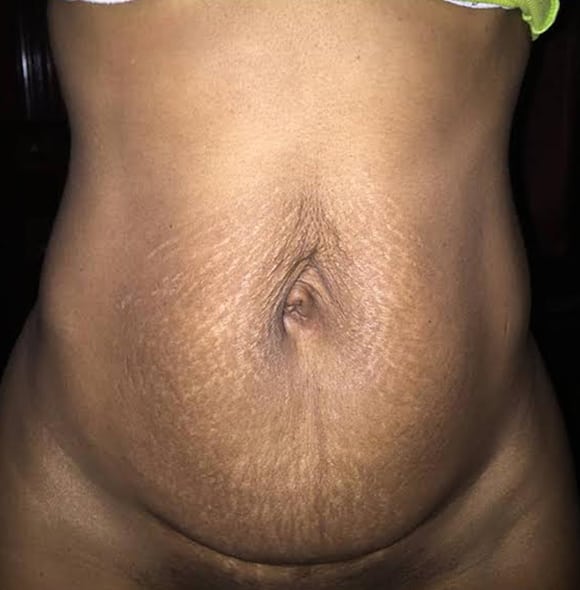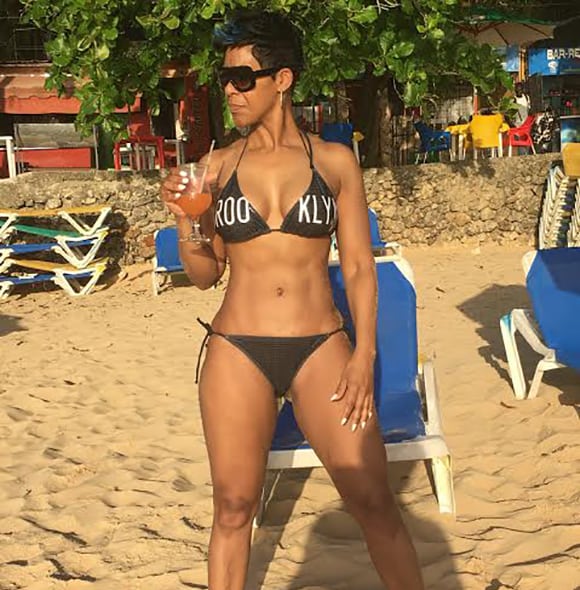 Tummy Tuck Frequently Asked Questions
Am I a candidate for a tummy tuck?
The best candidates for this procedure are in good health, do not smoke, and have realistic expectations of the process. They have typically maintained their current weight for at least three months.
How much weight will I lose with a tummy tuck?
Your weight will likely be reduced after surgery, but this is not the goal of the procedure. A tummy tuck is meant to improve the shape of the midsection and the tightness of the abdominal skin.
Do I need liposuction along with my tummy tuck?
Dr. Hochstein often combines liposuction with a tummy tuck, but not all patients will need it. If your main concern is excess skin, a tummy tuck alone can remove it. However, many women decide to combine a tummy tuck with other procedures, such as breast augmentation or a Mommy Makeover, for overall body rejuvenation.
What if I have a significant amount of fat or excess skin?
Dr. Hochstein can perform an extended tummy tuck on patients who have a significant amount of skin to be removed. These patients have typically lost a large amount of weight either through diet and exercise or gastric bypass surgery and have loose, sagging skin. The procedure is similar to a traditional tummy tuck but will involve a longer incision, sometimes completely around the torso, which will also improve the appearance of the back. Dr. Hochstein can also remove "love handles" and other fatty areas around the core to reveal a more slender midsection.
Should I be finished having children before considering a tummy tuck?
Yes. Since pregnancy will undo the results of a tummy tuck, it is recommended that women be finished having children before considering surgery.
What results can I expect from a tummy tuck?
Tummy tuck results are permanent unless you subsequently gain a significant amount of weight or become pregnant. Patients who are at or near their ideal weight will experience the best results from this procedure, which include a flatter abdomen, more feminine contours for women, smoother skin, and increased confidence.
Dr. Hochstein's Top Surgical Procedures In Miami, Florida