3 Minute Read:
Using radiofrequency (RF) with microneedling has changed the cosmetic skin treatment game, with the Lutronic® Genius™ often being the top choice of providers offering this advanced procedure.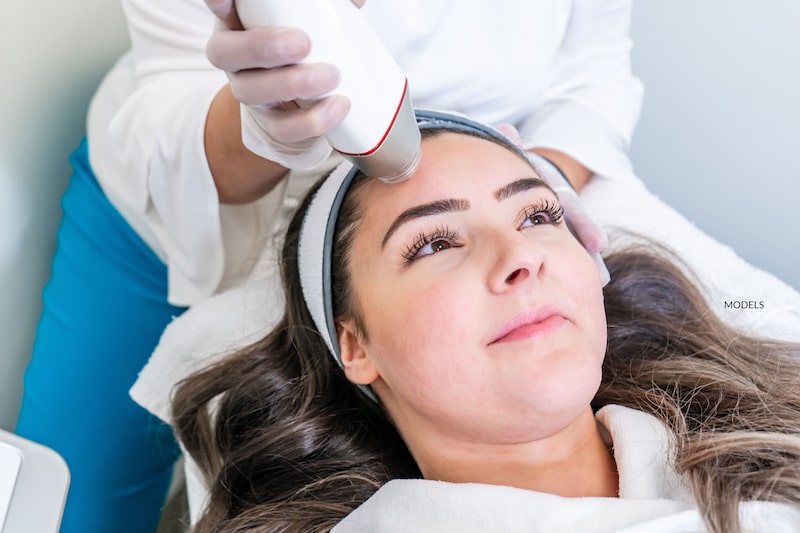 Adding radiofrequency energy to a microneedling treatment (collagen induction therapy) is also known as microneedling RF or RFM and significantly increases effectiveness when addressing several common signs of aging and other skin flaws.
1. Improves the Appearance of Acne Scars
Acne scars are frustrating at any age, and cosmetic professionals agree that the Lutronic® Genius™ is a preferred treatment method due to its safety, ability to penetrate deeply, and effectiveness in all skin types.
2. Can Eliminate Fine Lines and Wrinkles
RF microneedling can stop fine lines in their tracks and dramatically reduce the appearance of deep wrinkles by resurfacing the skin and increasing collagen production.
RF microneedling often produces a more youthful and smoother complexion with results that can sometimes rival facelift surgery in qualifying patients. Surgical procedures treat a much wider variety of aging concerns and are appropriate for patients with moderate to significant skin laxity.
3. Tightens Sagging Skin
The new collagen produced by the Lutronic® Genius™ can tighten loose skin on your face, neck, abdomen, knees, and more so you can enjoy a dramatically younger-looking appearance.
4. Reduces Stretch Marks
RF microneedling is highly effective when treating stretch marks due to its ability to remodel the skin. This is an excellent way to prepare your body for beach season.
5. Treats Hyperhidrosis
RF microneedling can also permanently treat excessive sweating (hyperhidrosis) by reducing the size and number of existing sweat glands.
How Does Microneedling RF Work?
The Genius™ RFM device delivers radiofrequency energy through gold-plated microneedles that penetrate the skin at various depths. This variation targets specific skin flaws and triggers the rapid production of elastin and collagen.
This process results in skin restructuring with new young skin cells occurring over the weeks and months following your procedure.
Radiofrequency microneedling is designed to improve the overall quality of your skin for a healthy, rejuvenated appearance.
One of the things that makes Lutronic® different is its ability to treat these skin conditions on various parts of the body, including:
Face
Neck
Arms
Underarms
Abdomen
Thighs
Knees
Other advantages of RF microneedling with the Lutronic® Genius™ include its effectiveness and safety when used on darker skin tones.
You can expect at least four sessions spaced three to eight weeks apart for ideal results, with deeper scars typically requiring five treatments.
When Will You See Your Final Results After RFM?
Downtime and recovery after RFM are considerably shorter and more comfortable than ablative lasers and deep chemical peels. You should see your final results three to six months after starting treatment.
Yearly touch-up sessions are recommended to maintain your skin's appearance.
Finding Treatment With Lutronic® Genius™ RF Microneedling in Miami, FL
Hochstein Medspa is overseen by Dr. Leonard Hochstein, a respected and well-known, board-certified plastic surgeon, and offers a wide range of non-surgical cosmetic treatments in Miami, Florida, including RF microneedling with The Lutronic® Genius™.
Call us at (786) 802-6699 to learn more about microneedling RF and our other state-of-the-art beauty treatments!