4 Minute Read:
Age, lifestyle, life events, and even genetics — each can cause our facial skin to lose its luster and become worn down. When this happens, we can look older than we want.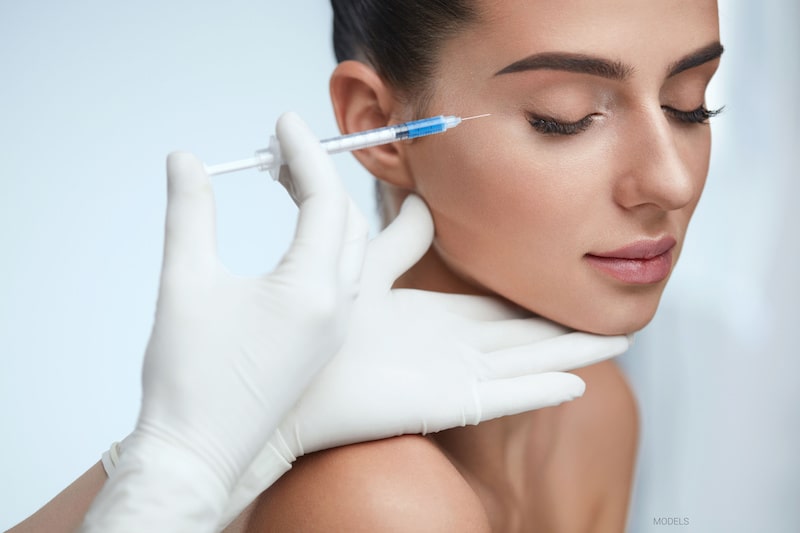 Though you can try to cover up these skin concerns with makeup and accessories, the reality is that you are only masking the problem and not actually addressing it. Non-surgical cosmetic procedures can help you rejuvenate your facial skin so that you can regain your youthful appearance.
Injectable treatments offer stunning results for women and men of all ages. And while any injectable option can help improve your aesthetic appearance, combining injectables can balance your face and help you feel proud and confident with how you look.
What Can Non-surgical Facial Balancing Help Me Achieve?
Facial concerns are unique to each and every individual. Some women and men struggle with age-related issues, like wrinkles and fine lines, while other patients find themselves struggling with volume loss in areas of their face (due to age or genetics).
Still, other patients are frustrated with dynamic wrinkles, which are wrinkles caused by continuous contractions of muscles. And what's more, even if patients share the same cosmetic concerns, they likely do not have these issues on the same areas of their faces.
Because of this, it is so important that you schedule a consultation at Hochstein Medspa. During your consultation, you will be able to discuss your aesthetic frustrations and goals, and your skin care specialist will develop a treatment plan that is perfect for you.
What Treatment Options Are Available to Me?
The term "injectablet" encompasses several different non-surgical, minimally invasive cosmetic treatments. And while you can simply have one type of injectable treatment performed, facial balancing is a combination treatment in which several different types of injectables are used to give you full-face rejuvenation.
Below, you will find information about some of the different injectables that Dr. Hochstein offers at his Medspa:
View this post on Instagram
Hyaluronic Acid Fillers
Hyaluronic acid (HA) is a solution that attracts and retains moisture. HA dermal fillers are injected beneath the skin to restore lost volume and minimize (or even erase) age-related wrinkles and facial lines.
At Hochstein Medspa, we are proud to offer the Restylane® brand of HA fillers and more. Depending on the areas of your face that require improvement, you can have any number of the facial Restylane® family of products for the face (from Restylane® Silk for your lips to Restylane® Defyne™ to treat nasolabial folds and marionette lines).
Collagen-Stimulating Fillers
While Restylane® fillers work by using hyaluronic acid, RADIESSE® is an injectable filler that is composed of calcium hydroxylapatite. This solution helps to stimulate the production of collagen in the injected area, which helps to offer lasting improvement to the quality and strength of the skin. Additionally, RADIESSE® works to restore volume in areas of the face, such as nasolabial folds.
One of the greatest benefits of the RADIESSE® injectable treatment is that it effectively corrects moderate to severe wrinkles and lines on the face.
Neuromodulators
While the injectables mentioned above help to correct age-related lines and imperfections in the facial skin, neurotoxin injectables help smooth the skin of wrinkles and lines caused by muscle contractions (whether from squinting or making facial expressions). These skin lines tend to appear on the forehead and around the eyes (frown lines, crow's feet, forehead wrinkles, and glabellar lines between the eyebrows).
Neuromodulators work by temporarily blocking signals from the muscle to the brain. This keeps the muscle from contracting, and no contracting muscle means no dynamic wrinkles. Unlike dermal fillers, which are injected just below the surface of the skin, neuromodulators are injected directly into the troublesome muscle.
At Hochstein Medspa, we are proud to offer four of the most effective and trusted brands of neuromodulators, including BOTOX® Cosmetic, Dysport®, Xeomin®, and Jeuveau®. At your consultation, your skin care expert will discuss which neurotoxin injectable is best for you.
Do You Want to Learn More About Non-Surgical Facial Balancing?
Dr. Hochstein offers non-surgical treatments to help women and men achieve a more balanced and harmonious facial appearance in Miami. If you have questions about this treatment or you think you may be a candidate, call our plastic surgery practice today at (305) 931-3338 or fill out our online form to schedule your consultation.