2 Minute Read:
Concerns over excessive underarm sweating (hyperhidrosis) are more common than you might think. Fortunately, treatments now exist to address this condition, with popular options being injectable neuromodulators like Dysport® or XEOMIN®.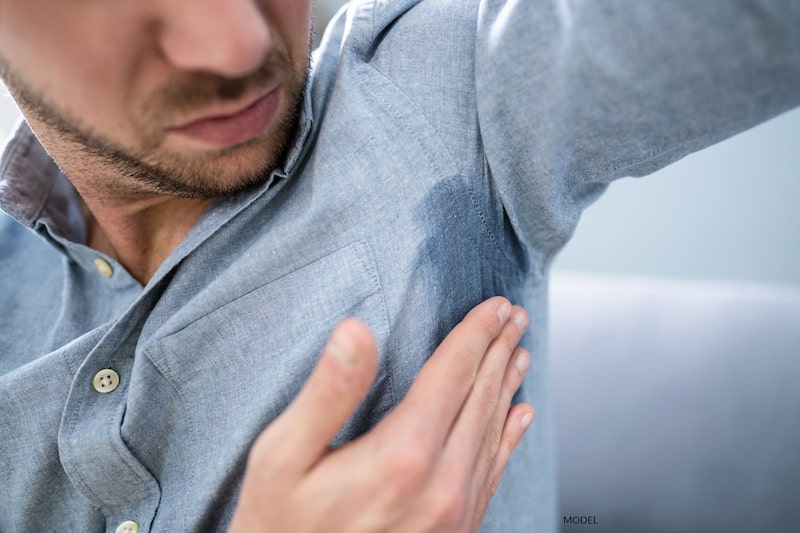 These FDA-approved cosmetic treatments are similar to BOTOX® Cosmetic and have long been used to reduce or eliminate facial lines and wrinkles. However, botulinum type A injectables are also used medically and can effectively reduce underarm sweating.
Why Undergo Treatment for Hyperhidrosis?
There are several reasons to treat your excessive underarm sweating, including:
1. Embarrassment
We all want to portray a sense of dignity. While we can control our behavior and verbal social interactions, individuals with hyperhidrosis cannot control the amount of sweat they produce. This condition can cause tremendous embarrassment and interfere with first impressions, romantic dates, and intimate encounters.
2. Lack of Comfort
To be comfortable is to be dry — just ask a baby. However, this key element of comfort doesn't end in adulthood. No one wants to feel the wet drip of underarm perspiration, and when it's excessive, comfort can seem like a luxury.
3. Stained Clothes
Good clothes can be costly, and if you suffer from hyperhidrosis, you probably find yourself in stores or online to purchase new shirts far more often than you'd like. Not only that, but having to throw away your favorite button-down or pullover is a drag.
Treating excessive sweating can put an end to these negative experiences while restoring your dignity, comfort, and wardrobe.
Are You a Candidate for Hyperhidrosis Treatment?
If you have experienced the above three issues or any of the following situations, are in good overall health, and have realistic expectations, you are probably an excellent candidate for the treatment of excessive sweating.
Sweating that often interferes with your daily activities
Emotional distress that causes your sweating
Unexplained night sweats
What to Expect During Treatment for Excessive Sweating
These FDA-approved injectable treatments are performed on an outpatient basis. Before the procedure, a local anesthetic will be administered, or ice will be applied.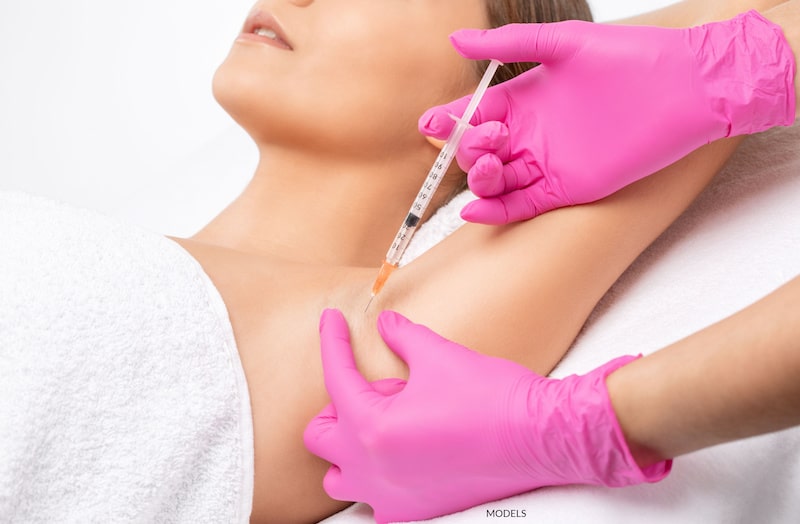 The chosen neuromodulator (BOTOX® Cosmetic, Dysport®, or XEOMIN®) will be injected several times into the armpits with a small needle to block the nerves that cause you to sweat temporarily.
This non-invasive procedure requires no downtime or recovery period, and you can resume all normal activities immediately after treatment.
How Long Does Injectable Hyperhidrosis Treatment Results Last?
Injectable treatment for hyperhidrosis provides long-lasting results for up to 12 months. Annual maintenance injections may be advised.
Finding Treatment for Hyperhidrosis in Miami, FL
Hochstein Medspa is overseen by Dr. Leonard Hochstein, a well-known and respected, board-certified plastic surgeon, and offers both injectable solutions and RF microneedling for the treatment of excessive sweating in Miami, Florida.
Call us at (786) 802-6699 to learn more about your Miami hyperhidrosis treatment options and our wide range of state-of-the-art beauty treatments!