3 Minute Read:
You may have heard about Ozempic® as a treatment for diabetes and the claims that it may also help patients lose weight. These claims are true, and last year the FDA approved Ozempic® for weight loss here in the US.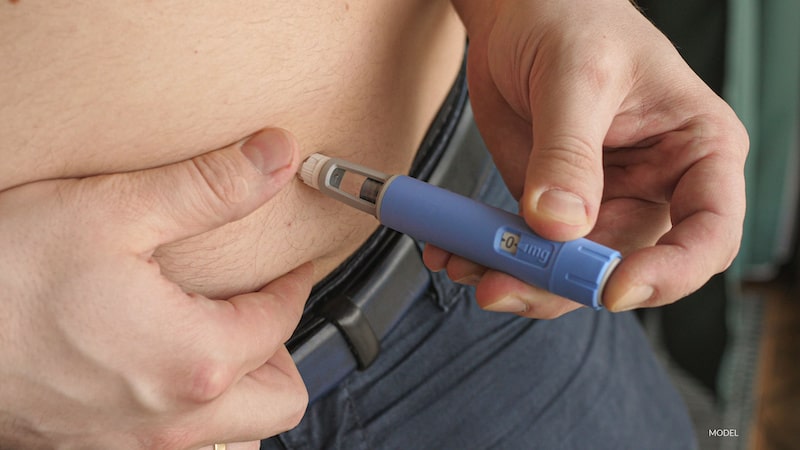 If you are interested in exploring this once weekly injectable medication to see if it might be the solution you need to reach your weight loss goals, ask yourself these five questions:
1. What is my body mass index (BMI)?
You may be prescribed Ozempic® for weight loss if you have a BMI of at least 30 kg/m2 or are being treated for at least one weight-related illness with a BMI of 27 kg/m2 or higher.
2. Am I ready to exercise and start eating healthier?
Ozempic® for weight loss works best as part of a comprehensive approach to weight loss that includes diet and exercise.
When you are proactive and committed to a healthier lifestyle, Ozempic® can help you lose weight while you tone your body. This dedication to your well-being will result in a slimmer figure or physique, more energy, and improved health.
3. Do I want to reduce cravings and feel less hungry?
Ozempic® reduces your cravings for unhealthy foods and keeps you feeling full longer. This works in two ways:
It slows down the speed at which the food you eat moves from your stomach into the intestines.
It inhibits the brain signals that regulate hunger and appetite.
4. Am I at increased cardiovascular risk or have high blood pressure?
Ozempic® may be a better option for individuals with high blood pressure or cardiovascular risks when compared to other weight loss medications.
5. Am I comfortable with injections?
Ozempic® for weight loss is administered using a special pen that injects the medicine into the fat in your abdomen, thighs, or upper arms. It's a simple procedure that can be performed by yourself or, if you prefer, by a friend or family member.
See the step-by-step instructions below.
Step-by-Step Ozempic® Pen Instructions
Preparing the Ozempic® Pen
Confirm that the pen contains Ozempic® and ensure the medicine inside is clear and colorless.
Connect a new needle by pushing and turning until it is tightly attached. Pull off both of the needle caps.
Ensure proper flow with each new pen by turning the dose selector to the flow check symbol, then pressing the dose button until the counter displays 0. A drop should appear at the tip of the needle.
Administering Your Dose
Turn the dose selector to the dose you've been instructed to inject.
Insert the needle into the abdominal, thigh, or upper arm skin, avoiding any veins or muscles.
Press down and hold the dose button, wait for the counter to reach 0, and then slowly count to six.
Carefully remove the needle.
After the Injection
Place the needle into a sharps container and put the cap back on the Ozempic® pen.
What You Need to Know About Ozempic® for Weight Loss
Talk to your doctor about starting Ozempic® for weight loss and make sure they are aware of all medicines you are already taking, as oral medications will be delayed in the stomach, which may reduce the amount absorbed by the body.
You will need to limit the amount of alcohol you drink as it may affect your blood sugar and exacerbate gastric side effects.
Common side effects associated with Ozempic® are:
Nausea
Vomiting
Diarrhea
Constipation
Abdominal pain
These side effects can be controlled by eating a bland, low-fat diet and foods made with water, like gelatin and soups. Avoid greasy and sugary snacks and desserts. Eat slowly, drink cold, clear beverages, and don't lie down soon after eating.
Add a Non-surgical Body Sculpting Procedure After Achieving Your Weight Loss Goals
Hochstein MedSpa offers VelaShape®, a body sculpting procedure that combines RF (radio frequency) energy with vacuum technology and infrared light to minimize the appearance of cellulite and reduce fat cells.
VelaShape® also promotes the rapid production of collagen and elastin to help tighten skin, which may be useful after weight loss.
Find Ozempic® for Weight Loss in Miami, FL?
If you think Ozempic® for weight loss may be the right solution for you, contact Miami's Hochstein MedSpa today.
Call our Miami, Florida MedSpa at 786-802-6699 or fill out our online contact form to schedule a consultation.