2 Minute Read:
Microneedling has grown in popularity dramatically in the last few years. And, we can see why.
This non-invasive procedure offers real, long-standing results, and thousands of people are hooked! If you are considering microneedling for yourself, you might wonder how the process works and what the benefits are.
Good news — we've got all the answers for you here!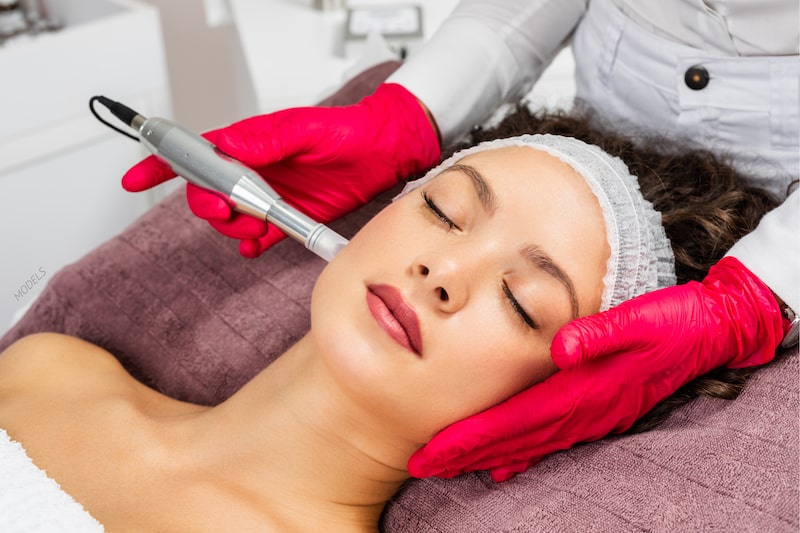 How Does Microneedling Work?
Microneedling uses a handheld device with tiny needles that prick the skin. These miniature "wounds" signal to your body to work on healing that area. As the body naturally heals, it produces new collagen and elastin to give smoother, healthier, and firmer-looking skin.
There are many types of microneedling procedures, including microneedling with PRP. This process, also known as the vampire facial, uses platelet-rich plasma (PRP) to accelerate healing.
Here, a vile of your blood is taken and processed to isolate the growth-factor-rich platelet-rich plasma. This blood is applied to your face after the microneedling wounds have been created so that the PRP may absorb into the micro-wounds. Platelets bond to cell and tissue structure, allowing new tissues to form that are stronger and younger-looking.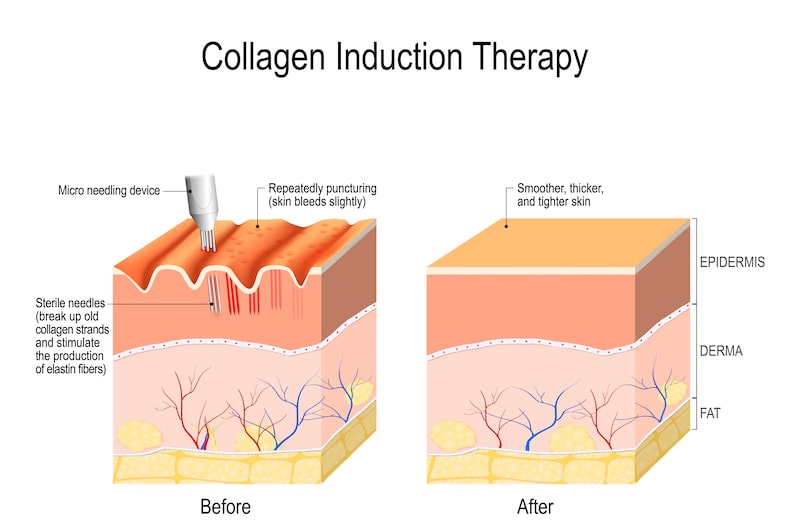 What Are the Benefits of Microneedling?
Microneedling is typically used to help reduce and eliminate acne scarring, wrinkles, deep lines, fine lines, and large pores. Patients walk away with firmer, smoother, and younger-looking skin. Previous scars can fade away or blend with your skin, thanks to the increased production of collagen. Additionally, the results are long-lasting!
The exact number of treatments you'll need varies from patient to patient. However, most people start to see results within just a few sessions. On average, individuals are recommended to book at least four sessions to see their optimal results.
Individuals love this treatment because it's fast, non-invasive, and generally safe for anyone in good health. And the process is relatively pain-free! Recovery isn't too bad either — you'll only experience some redness and mild soreness for a few days after the procedure.
Lastly, this procedure is 100 percent natural and free of chemicals. It's a way to allow your body to heal itself.
Book Your Microneedling Session Today
Hochstein Medspa is one of Miami's best options when it comes to microneedling. If you still have reservations about the procedure, book a consultation. Our team of specialists will be happy to examine you to ensure that microneedling is the correct procedure for you and answer any questions you may have. Hochstein Medspa also offers microneedling with PRP and the Lutronic® Genius™ Radiofrequency Microneedling so that you can see your results faster!
Ready to have beautiful, glowing skin? Book today by calling (786) 802-6699 or filling out this online form. You can also see how medspa treatments have benefitted our previous patients by visiting our medspa before and after gallery.