3 Minute Read:
While many women are recommended to hold off on a tummy until after their family is complete, we understand that plans change, and additional pregnancies after a tummy tuck are always possible.
The most important thing to understand is that having a previous tummy tuck will not affect your pregnancy, and you will still be able to have a very healthy bundle of joy; however, pregnancy may have negative effects on your tummy tuck results.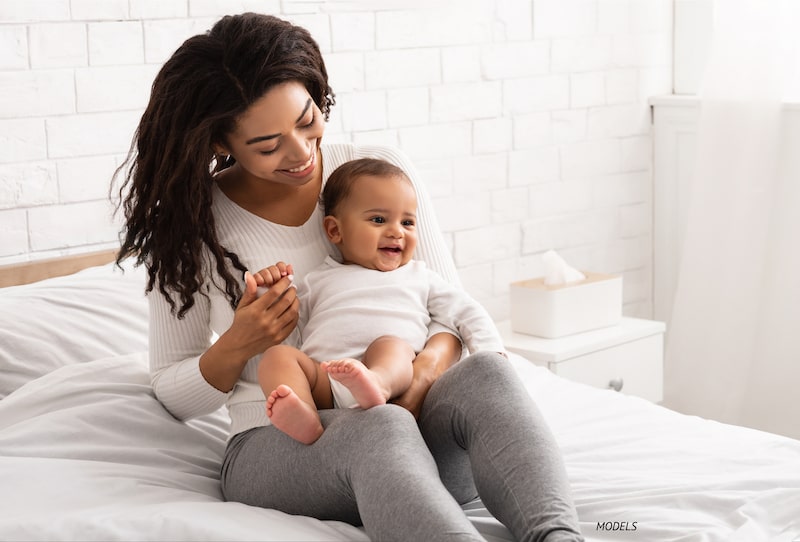 A tummy tuck is designed to correct loose abdominal skin and weakened abdominal muscles. Pregnancy can stretch out that skin and separate that muscle (regardless of a previous tummy tuck).
Most plastic surgeons will advise their patients not to get pregnant for at least two years after a tummy tuck. Patients considering getting pregnant should discuss this issue with their plastic surgeon before undergoing the procedure.
How Does Pregnancy Affect Your Tummy Tuck?
During pregnancy, you have a lot of extra weight being carried around by the abdominal muscles and skin, which causes these areas to stretch out. Stretched skin loses elasticity, meaning that it won't bounce back completely once the weight goes away.
What If I Get Pregnant After a Tummy Tuck?
While pregnancy can be a time of great joy, it can also leave your body feeling less than stellar. This is especially true in the abdominal area, and most women find that their tummy develops "pooches" after delivery that are resistant to diet and exercise.
While it's hard to fight these changes, there are things that you can do to improve your appearance after delivery. One of these is getting a tummy tuck, even if you had one before.
The most important thing to remember about a tummy tuck after pregnancy is that it's going to take some time for your belly to look its best again.
Is It Possible to Maintain My Tummy Tuck Results After Getting Pregnant?
There is no easy answer to this question. Many patients who have had a tummy tuck and then become pregnant decide to have some revision or touch-up afterward.
However, there are many cases where the results can be maintained with a healthy diet and exercise.
Am I a Candidate for a Tummy Tuck?
The best way to determine if surgery is right for you is to have a consultation with a board-certified plastic surgeon who can evaluate your body type, discuss your desired results, and answer any questions you may have.
However, you may be a perfect candidate for a tummy tuck post-pregnancy if:
You are bothered by the appearance of your abdomen after giving birth
You are physically healthy and at a stable weight after pregnancy
You're a non-smoker
It's at least six months after you gave birth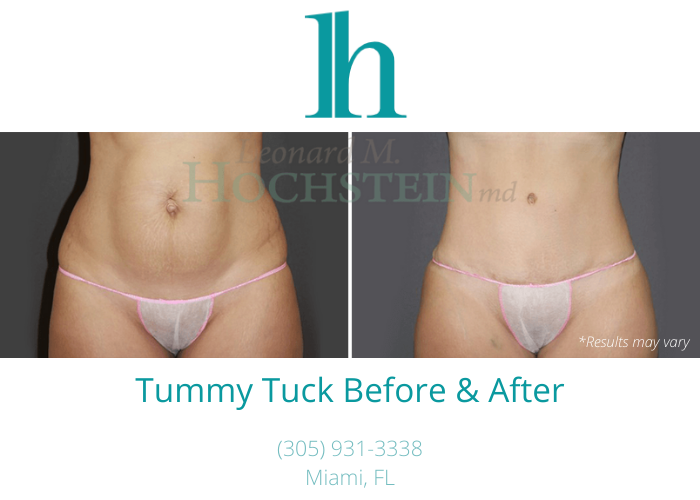 You can see more transformations by visiting Dr. Hochstein's tummy tuck before and after photo gallery.
Where Can I Get a Tummy Tuck in Miami, FL?
A tummy tuck surgery can greatly improve aesthetic appearance and give a woman a more slender and attractive figure.
However, if you do become pregnant or are considering becoming pregnant after a tummy tuck, Dr. Leonard M. Hochstein M.D. and his team will be happy to help advise you on how to prepare for a successful recovery from your tummy tuck procedure in Miami.
Regardless of your post-pregnancy goals, contact us on (305) 931-3338 or fill out our online form for more information about our procedures today!