3 Minute Read:
Get Back on Your Feet and Start Showing Off Your Slim Contours
While recovering from a tummy tuck surgery, you may have questions about what you can do and when certain activities are safe.
Dr. Hochstein offers seven tips to help you plan your recovery in Miami.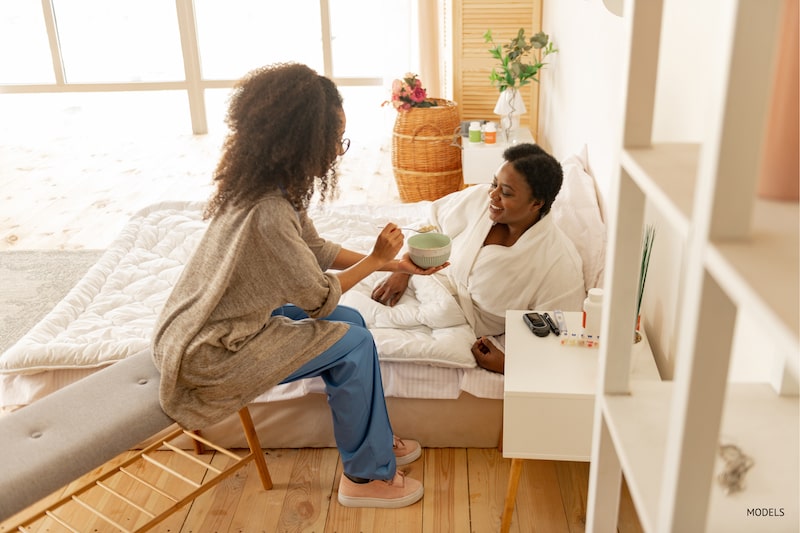 1. Sleep in an Elevated Position
While recovering from plastic surgery, you should keep your incisions elevated while sleeping. This reduces swelling and speeds the healing process.
After a tummy tuck, you should sleep in a slightly upright position. This will not only be better for swelling, but it will be more comfortable, as lying flat will be challenging initially.
For patients who sleep soundly, adjusting pillows can be sufficient to keep them in the proper position throughout the night.
For patients who routinely toss and turn, Dr. Hochstein suggests sleeping in a recliner or loveseat for a few days. This can prevent you from putting tension on your healing incisions while you sleep.
2. Keep Your Incisions Clean
Cleanliness is critical during your surgical recovery as you have an increased risk of infection. Keeping your incisions clean reduces the risk of infection and makes the recovery process safer.
Dr. Hochstein recommends showering and washing your incisions the day after your tummy tuck.
Even after showering is safe, you should still avoid soaking in water for up to six weeks. This includes swimming, bathing, and hot tubs.
3. Exercise Appropriately
Patients should begin walking around within a day or two of their tummy tuck to increase circulation. There are several types of exercises that are helpful during your recovery and others that you should avoid for some time.
Walking is the best thing you can do for yourself during the first two weeks of your tummy tuck recovery. For the first two to three days, you may only be able to walk around your house. By the end of the first week, you should be able to walk around the block.
By the second week of recovery, longer walks are usually viable.
After six weeks, you may carefully resume strengthening your abdominal muscles. These activities include running, jogging, and lifting items over 15 pounds.
Exercises like Pilates, yoga, and other abdominal strengthening practices are ideal. You should begin working your abdominal muscles gradually and be careful not to strain them.
4. Maintain a Healthy Diet
It is important to eat well after a tummy tuck, especially since pain medications may unsettle your stomach for a few days. Therefore, you should start by eating lighter fare like soups, yogurt, and fresh fruit and vegetables.
It is essential to stay well hydrated during your recovery, so be sure to drink plenty of water. You can learn how a healthy diet can help minimize your surgical scars here.
You should focus on plenty of the following foods, including:
Fresh fruits and vegetables (dark leafy greens, citrus, and dark-colored berries are best)
Eggs, fish, and poultry (for protein)
Soft cheese and yogurt (for protein and vitamins)
Whole grain cereals (for fiber)
Foods that you should avoid during your recovery include:
Consider some tips to keep your body slim after body contouring.
5. Avoid Smoking
You must refrain from smoking for at least two weeks after an abdominoplasty. Smoking restricts blood flow, which can lead to severe and potentially fatal consequences during your recovery. You should also avoid nicotine patches, pills, and related products for the same reason.
Looking for More Information on a Tummy Tuck Recovery?
To learn more about steps you can take to make your tummy tuck recovery easier, contact us online or call Dr. Leonard Hochstein's office at (305) 931-3338. You can learn more about Dr. Hochstein's general post-operative instructions here.