2 Min Read
PRP microneedling is a cosmetic treatment that improves and rejuvenates the facial skin. This non-surgical cosmetic procedure helps stimulate collagen production, which reduces skin laxity, scars, and skin irregularities.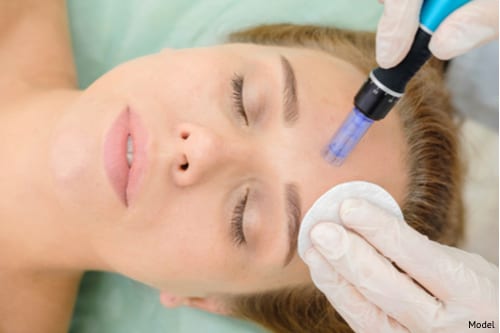 1. PRP Is 100 Percent Natural 
PRP, or platelet-rich plasma, is a natural protein derived from your blood that stimulates collagen production in the face due to its high number of growth factors.

Since you are using your own PRP, there is little chance of cross contamination or infection.

PRP is known to be effective as an injection; however, it can also enhance the results of your microneedling treatment.
2. Improves Skin
This cosmetic treatment provides patients with a rejuvenated facial complexion by correcting age spots, wrinkles, scarring, and several forms of hyperpigmentation.

Since it stimulates collagen production, PRP microneedling is also beneficial in thickening thin skin and improving skin texture.
3. It Is Non-Invasive
PRP microneedling is a non-invasive cosmetic treatment that takes about 30 minutes to complete.

There are multiple steps during a PRP microneedling session.

Your provider will begin by numbing your face to provide you with comfort throughout the procedure.
Blood will be drawn from your arm, and the blood will be placed into a centrifuge that will separate the PRP from the other components of your blood.
The Eclipse MicroPen® makes hundreds of micro-wounds in the skin to promote a natural healing response.
The PRP is massaged onto the treatment areas.
This treatment requires little to no downtime, and any redness will start to dissipate within hours of the treatment.
4. Long-Lasting Results
You will gradually see the improvement in your skin quality and tone as collagen and elastin stores are increased. These results can be maintained by protecting yourself from the sun and applying skin care products.

A PRP microneedling treatment may require multiple sessions to reach the best outcome. It is essential to receive this treatment with a medical professional to achieve the best and longest-lasting results.

After undergoing this treatment, you may wish to return for a follow up to discuss the results and decide whether or not to undergo another cosmetic procedure.
Want to Know More About PRP Microneedling?
If you would like to learn more about a PRP microneedling treatment in Miami, Florida, contact the Hochstein Medspa and Wellness Clinic by calling (786) 802-6699 or visiting our online consultation page.