4 Minute Read:
It goes without saying that carrying around excess fat in various areas of your body (especially your midsection) is frustrating and can cause you to feel self-conscious and embarrassed. You may not be able to wear the clothes you want to wear or participate in social activities that you love.
While you can remain on the sidelines of your life, there is an alternative option: combatting this issue and getting rid of excess fat with non-surgical body contouring treatments.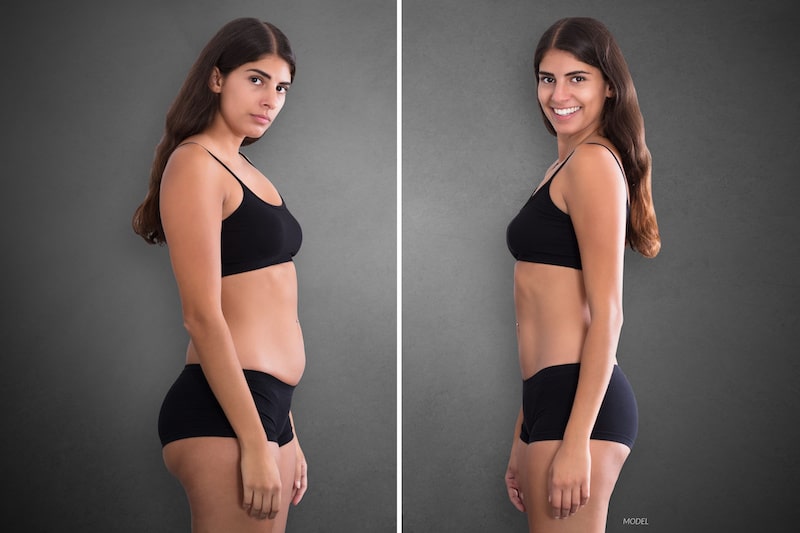 At Hochstein MedSpa, we are proud to offer several non-surgical body contouring treatment options, including truSculpt® iD, which is one of the most trusted non-surgical procedures available for helping you get rid of extra fat. That is because truSculpt® iD by Cutera® not only helps you shed extra fat but also helps to tighten skin in the treatment areas.
However, there are even more reasons why truSculpt® iD is a fantastic option for patients looking to lose stubborn fat and tighten skin.
What Is truSculpt® iD?
During a truSculpt® iD treatment, radio frequency energy (RF energy) is directed at troublesome areas of the abdomen and flanks. This RF energy heats the fat cells, destroying the cells while keeping the surrounding skin and tissue safe. This destroyed fat is then flushed from your body naturally through the lymphatics. Once the fat is destroyed and removed, it is gone for good. In addition to getting rid of excess fat from your body, collagen and elastin production are stimulated to help deliver long-lasting results.
Most patients require two to three treatment sessions, spaced four to eight weeks apart to receive optimal results.
What Are the Benefits of truSculpt® iD?
While there are several non-surgical body contouring treatments available to men and women, truSculpt® iD is trusted to help you get rid of unsightly pockets of fat in your abdomen and flanks. Some specific benefits of this treatment include:
1. Fast Treatment Time
While many other non-surgical body contouring procedures take anywhere from 20 to 60 minutes to perform, you can be finished with your truSculpt® iD treatment in as little as 15 minutes. This means that you can have your procedure performed during your lunch break.
2. Comfort
Besides the dramatic results that truSculpt® iD offers patients, there is no pain associated with this treatment, either during or after the procedure is completed. In fact, anesthesia is not even used for this treatment. Additionally, there are no resulting scars (since there are no incisions made), nor is there any damage to the surrounding skin or tissue.
3. Consistent Results
The truSculpt® iD system has been created to not only be effective but to be dependable. This means that your results can be tailored to your needs and desires, and you can look forward to achieving those results every time. While the success of some cosmetic treatments can fluctuate, you can trust that your truSculpt® iD results will be what you are looking for.
4. Skin Tightening
As mentioned above, one of the benefits that sets truSculpt® iD apart from other non-surgical body contouring procedures is the fact that collagen and elastin production are stimulated, which causes skin in the treatment areas to tighten.
5. Few Side Effects
Besides some slight redness, and tenderness in the treatment areas, there is no recovery or downtime associated with truSculpt® iD. This means that after your treatment, you can get right back to your normal, daily activities without missing a beat.
What Other Non-surgical Body Contouring Procedures Are Available at Hochstein MedSpa
While truSculpt® iD offers stunning results, we are proud to also offer VelaShape®, which combines radio frequency energy with infrared light and vacuum technology to help minimize the appearance of cellulite on the skin while also getting rid of fat cells. As with truSculpt® iD, the fat is essentially melted away with VelaShape®; however, truSculpt® iD offers more personalization so that you can achieve the results you specifically desire.
Additionally, we offer CoolSculpting®, which works similar to truSculpt® iD in the sense that fat cells are destroyed and removed from your body, but with CoolSculpting®, the fat is frozen away through cryolipolysis instead of heated.
It is important to also note that where truSculpt® iD and VelaShape® both promote collagen and elastin production, CoolSculpting® does not, so you should not expect to see any skin tightening with this procedure.
Interested in Learning More?
If you think that truSculpt® may be the right treatment for you, then contact Hochstein MedSpa today. You can call our Miami office at 786-802-6699 or fill out our online contact form to schedule a consultation.