2 Min Read:
A breast augmentation is a very popular procedure that leaves most patients happy with their results. A breast augmentation is also very customizable, which means that there are quite a few decisions to make, such as which implant characteristics you would like and where you would like your implants to be inserted (above or below the muscle).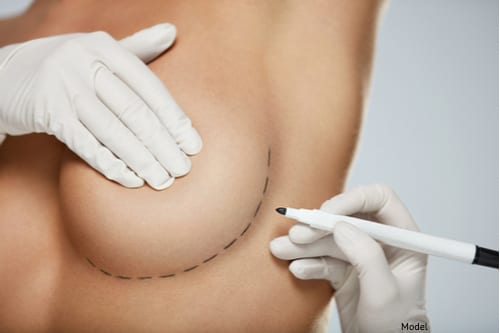 Even when you are well-informed, you may find that your chosen characteristics or results aren't exactly what you had hoped for. This is where a breast revision comes in. If you have had an augmentation and would like to change something about your enlarged breasts, then a breast revision might be a good procedure.
What Is a Breast Revision?
A breast revision is a secondary breast surgery that adjusts the results of a breast augmentation. In most cases, you will be advised to wait at least six months after your breast augmentation before you attempt a breast revision. This waiting period is necessary to heal and get an accurate idea of your final results before reopening incisions. Results also tend to change throughout recovery, and waiting can help you get a better picture of what your aesthetic and lifestyle will be with your new breasts.
What Can I Accomplish With a Breast Revision?
If your augmented breasts have healed completely, and you are still unhappy with your results, a breast revision may be in your future.
A breast revision can be used to:
Change implant size and shape
Change implant material
Adjust implant position within the breast pocket
Remove implants
Correct implant complications
A breast revision can only be performed as a follow-up to a breast augmentation. A breast revision alone cannot be used to augment the breasts.
Is It Time to Consider a Breast Revision?
You can consider a breast revision once you have fully healed from your breast augmentation and have a clear idea of what you want to adjust about your breasts. Correcting your breast augmentation could be as simple as changing an implant size by selecting a larger or smaller implant or deciding to switch to a different filling material (either saline to silicone, or silicone to saline).
In some cases, women realize that their implants do not fit their lifestyle or aesthetic in the ways that they had hoped. If this is the case, a breast revision can also be used to remove implants permanently.
Even though a breast augmentation is a serious surgical procedure, you are never locked into the results. Our goal is to provide you with the breast shape and size of your dreams, and while this is often accomplished on the first try, it doesn't always work that way. Luckily, you can feel confident that your breast implants can be adjusted until you reach the breasts you want.
Want to Learn More?
If you want to get a breast revision and would like to learn more about your options near Miami, Florida, please contact Dr. Hochstein by calling 305-931-3338 or filling out this contact form to schedule a consultation. If necessary, Dr. Hochstein offers virtual consultations.