2 Min Read: 
Individuals often feel great after a body contouring procedure, such as a tummy tuck or a Mommy Makeover. The idea of how great your body is going to look can make you feel energized. You may want to cling onto the momentum by starting an intense exercise routine.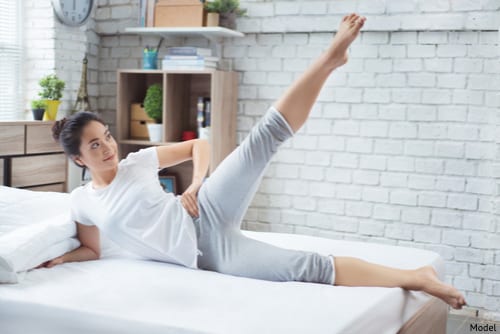 Unfortunately, this isn't the safest option. Exercise is recommended and encouraged after plastic surgery to promote blood flow and prevent blood clots. But, there needs to be some safety measures in place. Your body is still recovering from the operation, and swinging into an exercise routine too quickly can damage your surgical results.
We've outlined our top five tips on safely returning to exercise after a plastic surgery procedure.
1. Follow Your Surgeon's Instructions
After your procedure, your surgeon will provide clear instructions, including guidance about movement and exercise. Every person's reaction to surgery is different. Your surgeon will take all relevant factors into account, such as the number of procedures or combination of procedures you got, your health history, and any possible complications.
It's important to follow your surgeon's instructions carefully.
2. Start Slow
Your body has just been through a surgical procedure. You may feel fine, but your body needs time to recover. Don't assume you can go back to your old exercise routine right away. Instead, take things slow. Test your body out; if a routine doesn't seem to cause discomfort one day, you can raise the intensity slightly the next time.
3. Wear Supportive Activewear
Your surgeon will advise if you need to wear any compression garments, but even if you are not required, you may choose to wear supportive clothing after a body contouring procedure. Tight clothes help keep your body in place, so the results of your surgery aren't changed through exercise or movement.
4. Rest Days
In the beginning, make sure to create an exercise program with more rest days than you're used to. You want your body to focus on healing from the surgery. Too much exercise will divert your body's attention to recovering from the workouts instead.
5. Avoid Intense Workouts
It's required that you avoid high-energy workouts (including running and jogging), heavy weights (anything over 15 pounds), and stretching (including all yoga practices) for at least six weeks. This is true for all surgical procedures except a liposuction treatment, which is typically shorter. High-energy exercises and heavy weights can cause you to have an injury or open the surgical wound. Consider slow-paced workouts at first, such as walking.
Interested in Learning More?
Dr. Hochstein is the top choice if you're looking for quality plastic surgery work in Miami, Florida. With many impressive recognitions under his belt, Dr. Hochstein has a level of experience and talent that can't be argued with. Book your consultation with him by calling (305) 931-3338 or by filling out this form.