A tummy tuck (abdominoplasty) has become one of the most popular surgeries that Dr. Hochstein performs.
Every change made during a tummy tuck aims to improve the abdominal appearance after weight loss or pregnancy. In many cases, patients consider the results of their surgery to be better than it was prior to their weight gain or pregnancy.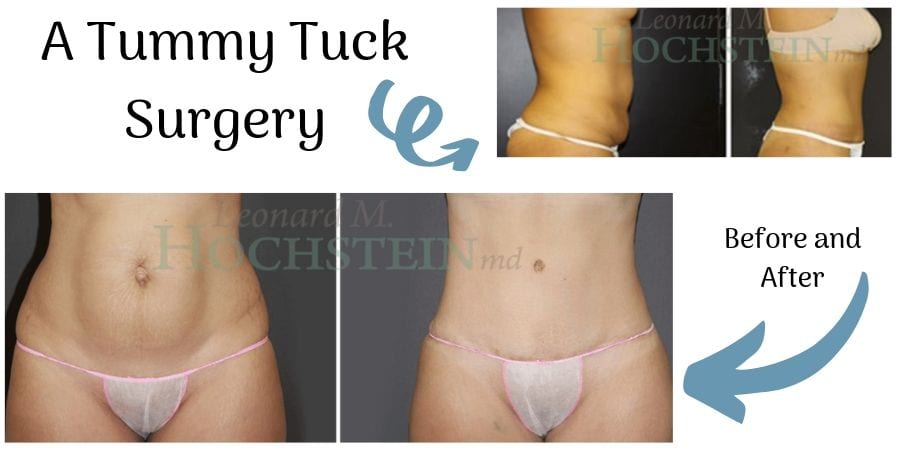 What Causes Excess Stomach Fat?
Many changes occur to the female body during pregnancy or weight gain. The most visible factor is the stretching of the skin, which can cause stretch marks and leave behind folds of excess tissue after childbirth or weight loss. During pregnancy, it is also common for fat to redistribute itself around the hips and abdominal area and for significant abdominal muscle separation to occur.
For some patients, male or female, aging and genetics can also lead to excess stomach fat and sagging skin. When properly performed, a tummy tuck is an effective way to reverse many of the effects of weight loss or pregnancy to create a slimmer, more defined abdomen.
What Can a Tummy Tuck Address?
Stretched Skin
Most of the excess skin caused by pregnancy or weight loss can be found on the stomach, between the pubic area and the belly button. During a tummy tuck, this skin is removed, and the remaining upper skin is pulled down. This method also results in the lifting and tightening of the intimate external areas.
Depending on the position of the stretch marks and excess skin, most scarring can be directed to a lower location on the body. When healed, the scar is usually very thin and easily hidden in a bikini. Dr. Hochstein takes care to make incisions as inconspicuous as possible.
Excess Fat
Lower abdominal fat is excised along with any excess skin. Additional shaping can be performed in the hips and back using liposuction or liposculpting. Dr. Hochstein's preferred method of fat removal is a power-assisted technique that removes fat deposits to create a thin waist.
Stretched and Separated Muscles
Muscles that have been stretched and separated from the abdomen are sutured back into position to create a tighter, chiseled appearance.
What Should I Expect During the Tummy Tuck Recovery?
Out of all the procedures performed by plastic surgeons, a tummy tuck can have one of the most intensive recoveries. This is because of how severely mobility is affected during the recovery time.
After your procedure, you will be given a post-operative care instruction packet that—while somewhat demanding—is essential to ensuring your body heals properly. While it is common for people to become impatient during the recovery, it is important to remember that it takes time to heal fully and following the instructions ensures the best possible final results.
Is There Any Pain From a Tummy Tuck?
Most patients experience discomfort for the first few weeks when standing up straight. The lower back can also become strained, which will make daily activities like getting out of bed and using the restroom more difficult.
As you gradually begin to use your muscles during the healing process, the tightness in the abdomen gradually disappears. It is critical that you do not attempt to stretch or pull the abdominal muscles during the first two weeks of healing. Patients are advised to change their position and gently walk around the house every few hours to reduce the chance of blood clots.
Relieving Discomfort
At the end of the procedure, Dr. Hochstein places one or two drains into the surgical area to evacuate any fluid that accumulates during the healing process. This enables a quicker recovery.
Because you must keep your body in a bent position for the first couple of weeks, sleeping can become difficult. We recommend using a recliner to keep your body in a "V" position while you sleep. Use plenty of pillows to help support your body during your recuperation.
Dr. Hoschstein uses a pain pump to help control discomfort. The pump is highly effective in reducing the initial pain at the surgical site. Most of our patients are surprised that they feel little or no pain in their stomach region. The pain pump has an uninterrupted flow of analgesia for up to six days, which can greatly reduce the intake of narcotics.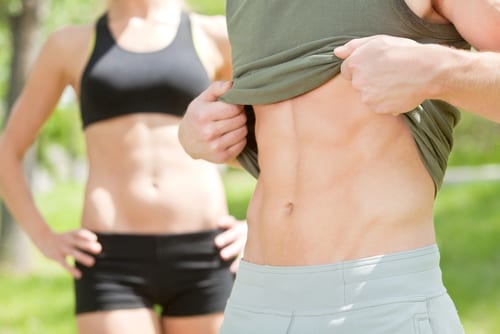 Is a Tummy Tuck Right for Me?
Although the tummy tuck may take a little more time to heal, it is by far the most gratifying procedure available. The best way to see if this procedure will help you correct your aesthetic problems is to look at real examples of previous patients. Review our online photo gallery to see before and after photos of patients just like you who have undergone a tummy tuck surgery.
While a tummy tuck is the best way to address problems in the abdomen, this surgery can be combined with a breast lift (mastopexy) to address similar problems with sagging skin in the chest area.
To learn more about a tummy tuck in Miami, Florida by filling out our contact form or calling our office at (305) 931-3338.