2 Minute Read:
As we approach the holiday season, many people start to feel the effects of stress on their skin. Our winter skin tends to be drier and suffers from more wrinkles.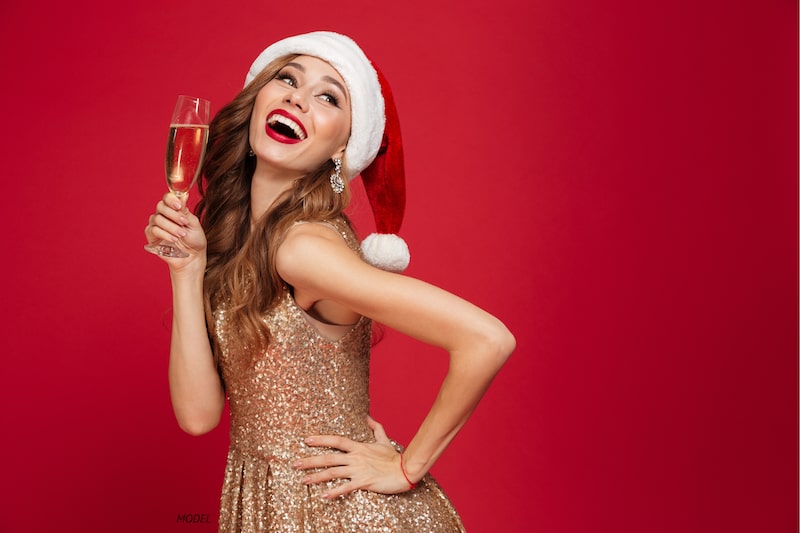 These are two things that are not desirable during the holidays when pictures are being taken! If you want to look younger and happier during the holiday season, one of the best ways to do that is to remove wrinkles and plump your cheeks.
Restylane® does both by helping your skin retain water that can be sucked away by the dry winter air.
What Is Restylane®?
Restylane® is a safe, built-to-last dermal filler that adds volume and smooths wrinkles in your skin, so you have a more youthful look. It improves the appearance of moderate to severe wrinkles caused by age, sun damage, and other lifestyle factors. Injections are administered by a physician who evaluates each patient's needs. Results are typically seen within one week — if not sooner!
How Does Restylane® Work?
This filler temporarily helps smooth moderate to severe facial wrinkles and folds while hydrating the skin for a refreshed appearance. Its ability to keep skin hydrated longer enables it to play a vital role in helping you achieve a more youthful look during the holidays — and throughout the colder months — without enduring painful and costly procedures.
How Is the Restylane® Procedure Done?
For an attractive pout, look into Restylane®. It's a simple process that involves no incisions and only a little — if any — discomfort.
Here's how the procedure is done:
Your provider identifies the area of treatment and cleans it with antiseptic.
The provider then determines how much Restylane® is needed for the procedure.
Your provider then administers the Restylane® under your skin using a fine needle, and you're good to go.
Depending on the results you intend to achieve, this procedure can last anywhere between a few minutes to an hour.
To learn more about other injectable treatments and their benefits, read our blog here.
How Long Do Restylane® Fillers Last?
Depending on the kind and amount of Restylane® used, your fillers can last anywhere between six to 18 months.
Is Restylane® Expensive?
Restylane® is priced per unit (vial). Therefore, the cost of this procedure depends on the number of vials used. You can learn more about the cost of Restylane® fillers by scheduling a consultation with the Hochstein MedSpa.
And since this procedure is regarded as an elective cosmetic procedure, health insurance companies do not offer coverage.
Looking for a Restylane® in Miami?
Dr. Hochstein and his expert MedSpa team offer a variety of cosmetic procedures that will help you feel more confident this holiday season. To learn more, contact Dr. Hochstein at 786-802-6699 or fill out the form on our website to set up a consultation.