Looking to Amp Up Your Video Conferencing Look? See Which Facial Procedures Are Best
Posted February 08, 2021 in Facial Plastic Surgery, Facial Symmetry
2 Minute Read: 
Zoom and other video conferencing meeting apps have changed the way people are working, allowing life and productivity to proceed virtually. Many people are spending long hours staring at their faces during video calls—a dynamic that has made them confront their own reflections and become more aware of their appearances.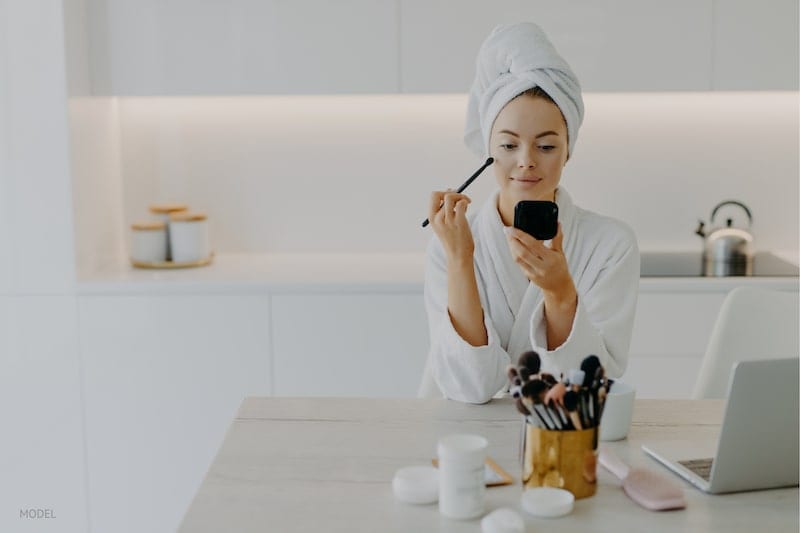 Many people are seeing themselves in ways they never have in the past, especially busy professionals who aren't regularly on social media or crazy about selfies. From sagging skin to droopy eyelids, crooked noses, and other facial concerns, the imperfections that once seemed little are now prominently emblazoned on the screen.
This development has seen a recent surge in patients seeking facial aesthetic treatments to restore a more youthful look.
What Are the Most Common Cosmetic Surgery Procedures for the Face?
A Brow Lift
If you are bothered by the look of your brow region and want to eliminate forehead wrinkles or furrows between the eyebrows, a brow lift may be right for you.
Also known as a forehead lift, a brow lift smooths wrinkles and creases on the forehead or those on the bridge of the nose. It also tightens the drooping skin over the outer corners of the upper eyelids, raising the brow region to a more alert and youthful position. The procedure is often performed in conjunction with an eyelid lift to rejuvenate aging eyes.
A Facelift
The effects of aging, gravity, sun exposure, and lifestyle choices can leave our faces looking tired with an aged appearance. Over time, increased skin laxity, loss of facial volume, and formation of wrinkles and fine lines begin to mask an individual's youthful contours.
For this reason, the facelift has become a popular procedure among many professionals, as they seek to restore a younger-looking appearance and increase confidence in the professional and personal environments imposed by the pandemic. 
This procedure strategically repositions and tightens underlying tissues, giving the face a fresher, smoother, and more contoured facial and neck appearance.
An Eyelid Lift
While the eyelids present a relatively small area of the face, any signs of aging on this area can make your overall appearance astounding. The inherently thin and delicate skin on the eyelid area ages more rapidly, giving the face a dull and tired expression. 
An eyelid lift effectively removes bags and excess skin on the upper and lower eyelids, resulting in a more youthful and refreshed look.
A Rhinoplasty
Sitting close to the laptop camera may draw attention to the nose shape or a dorsal hump. It's not surprising that many people are seeking a rhinoplasty to improve nose symmetry and enhance facial harmony.
Interested in Learning More?
Dr. Hochstein performs all these procedures with precision and skill and would love to help you achieve your cosmetic goals. Contact us at 305-931-3338 or fill our online form to schedule a consultation.