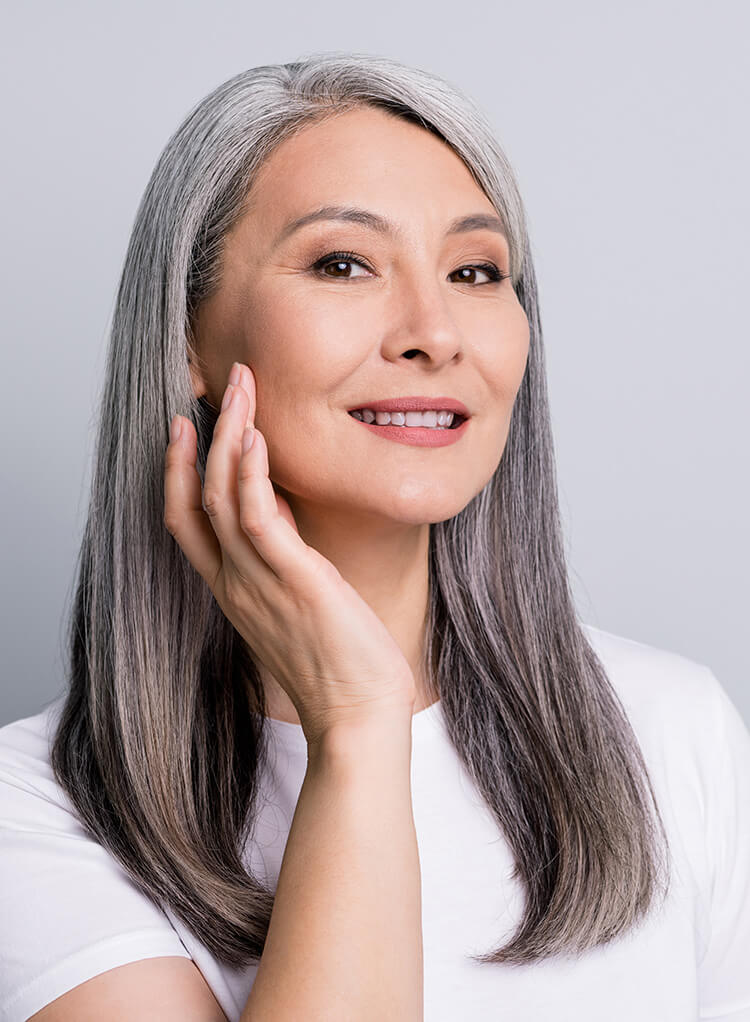 Model
Your

Brow Lift

A brow lift typically takes less than two hours and is performed while the patient is under general anesthesia.
Coronal Lift
Two incisions are created that extends from ear to ear, across the hairline. The skin is separated from the underlying support structures. The muscle and fat are lifted and repositioned, which reshapes the brows. Excess skin is trimmed away. The brow is stitched into place, and your incisions are closed.
Subcutaneous Lift
Small incisions are placed directly in the hairline. The skin is pulled upward, and excess skin is trimmed away. This technique doesn't lift the hairline and avoids scalp numbness.
---
Dr. Hochstein

is committed to providing his patients with

the safest, most comfortable care possible
Combine With Non-Surgical Treatments
A brow lift cannot treat crow's feet and poor skin texture around the eyes and forehead. Non-surgical treatments like Dysport®, XEOMIN®, or Jeuveau® injectables chemical peels, or laser treatments can treat wrinkles that aren't corrected through surgery. Routine, non-surgical treatments help maintain the quality of your results, so that you can look younger for longer.
Combine With a Facelift
Many patients who see aging around the eyes and brows will also notice that they have lower facial aging at the cheeks and the jawline. To achieve better facial rejuvenation results, you can choose to combine a facelift with your brow lift. A facelift will address sagging jowls and creases of the nasolabial folds. Combining procedures ensures a more firm facial look along with results that last longer.
Recovery
You will experience bruising, swelling, and redness around your eyes and forehead. You should rest with your head elevated for several days to minimize excess swelling to your treatment area. Patients can typically return to work a week after surgery and can resume regular exercise after three weeks. Most major swelling will subside after six weeks.
Cost
Each patient is unique; therefore, the cost of your brow lift will depend on the extent of correction required. The exact price of your brow lift will be determined during your consultation.
Pain
You are likely to feel sore and experience some mild discomfort following your brow lift. Oral pain medication will be prescribed by your physician to manage postoperative discomfort.
Brow Lift Frequently Asked Questions
How is proper brow positioning determined?
Dr. Hochstein will evaluate your facial features during your consultation and determine the most natural positioning for your brows. For men, this is typically on the orbital bone and just above the bone for women.
How long will my results last?
A brow lift is designed to provide long-lasting support to the brows, and most patients are happy with their results for years. However, a brow lift cannot stop the aging process, and you may consider routine, non-surgical treatments to maintain the quality of your appearance.
How should I prepare for my brow lift surgery?
You should quit smoking and stop taking medication that thins the blood (e.g., aspirin) for two to three weeks before your surgery to improve circulation, promote better healing, and reduce bleeding issues. You should also drink a lot of water to hydrate your body in the days leading up to surgery and get plenty of sleep the night before your surgery. Plan to have a friend or family member help you for the first few days following your procedure. Private duty nursing is also an excellent option.
Dr. Hochstein's Top Surgical Procedures In Miami, Florida