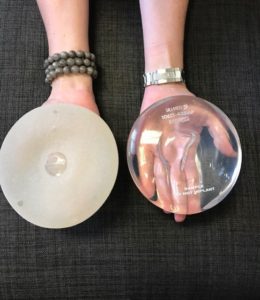 Recently, there has been a great deal of interest in the link between breast cancer and breast implants. I want to address some of these concerns and include some thoughts on the subject.
To be clear there is no link between breast implants and breast cancer! In fact, the largest independent study ever performed on the subject has shown that women with breast implants have a statistically lower risk of breast cancer compared to women without implants. There is, however, a rare cancer of blood cell called anaplastic large cell lymphoma (ALCL) that is linked to breast implants.
The FDA has now collected 359 such cases from the over five million women with breast implants in the United States. These cases are linked, specifically, to textured implants. Of the reported 231 cases where the shell was included in the statistics, only 28 had a smooth shell. I, personally, have abandoned textured implants over 10 years ago as I found them to be problematic in that they created fluid collections, and I observed an increase in the inflammation of the capsules with these types of implants. It appears these cancers are likely caused by this exact inflammation that I was able to appreciate so many years ago. There is no link to either saline or silicone as the content of the implant itself.
The treatment for these cancers is a simple removal of the implant and capsule. Rarely, they require chemotherapy. The data also describes nine deaths, although as of this time, I have been unable to find the cause as metastatic disease has not been described in the research I have seen to date.
Obviously, if you have textured implants, you are in a much higher risk category, and although there is no current recommendation to change to smooth implants, you should look for warning signs, including the following:
An acute onset of pain when previously there was none

A capsular contraction

A seroma (fluid collection)

A hematoma
To learn if you have textured implants, you should contact your surgeon. The most common scenarios for textured implants are the tear drop (all tear drop implants are textured) and implants placed above the muscle.
Leonard M. Hochstein, MD
If you are interested in improving your breast appearance, schedule your consultation with board-certified plastic surgeon Dr. Leonard M. Hochstein. Call us at (305) 931-3338 or fill out online contact form.