3 Minute Read:
Choosing a surgeon for a breast revision surgery is often difficult, especially since this is the second time you are going under the knife to sculpt and refine your breast contours.
Dr. Hochstein offers customized breast revision procedures that allow patients to choose what they want from their secondary breast surgery.
To choose the ideal plastic surgeon for your breast implant revision surgery, you should look at a few different factors.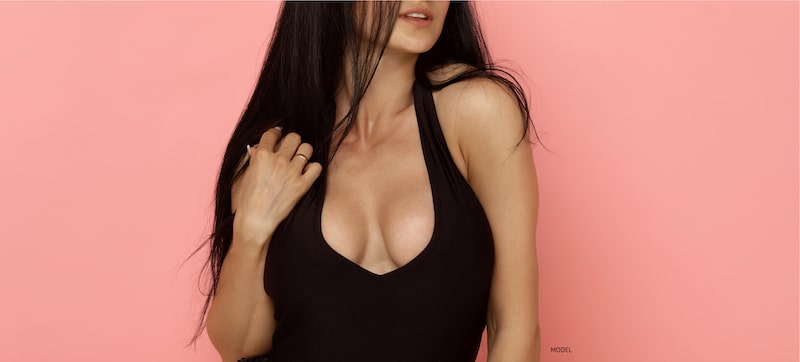 What Factors Make a Good Plastic Surgeon for a Breast Revision?
Board Certification
When deciding on a plastic surgeon, the first thing you should check is whether or not they are a board-certified plastic surgeon by the American Board of Plastic Surgery. Board certification means that a plastic surgeon has been trained to the highest standards and passed examinations administered by other expert plastic surgeons.
Board certification is not a guarantee of surgical skill in a specific procedure. However, it is a good indication that your prospective plastic surgeon has the qualifications needed for you to feel comfortable in their hands.
Dr. Hochstein has long been known as the "Boob God™" for his extensive experience in breast enhancement procedures.
Expertise in Breast Revision
Plastic surgeons often specialize in a specific plastic surgery type(s)/procedure(s).
A plastic surgeon specializing in a body lift or a facelift may not feel as comfortable working on the breasts. Therefore, this is not the surgeon to choose for your breast revision surgery.
Dr. Hochstein has a deep understanding of many plastic surgery techniques for the breasts, face, and body.
You should research your prospective plastic surgeon. Ask some of the following questions:
What procedures do they commonly perform?
What procedures do they advertise most on their website?
Call their office and ask what their surgeon's areas of expertise are.
By doing this legwork, you can be sure the plastic surgeon you are considering has the necessary expertise to perform your procedure.
Testimonials, Reviews, and Pictures
Once you have a shortlist of board-certified plastic surgeons who are experts in breast surgery (and ideally in breast revision in particular), you can get down into the details.
At this point, you should look at reviews and testimonials from former patients to get an idea of how happy they are with their results. You should also look at before and after pictures to make sure the results match your desires.
Read Inessa N.'s review of Leonard M Hochstein, MD on Yelp
Once you have finished this process, you should know which plastic surgeon is best for you.
Why Choose Dr. Hochstein?
Whether you are coming directly from a previous surgeon or looking for a change in your appearance after many years, Dr. Hochstein is an excellent choice to be your breast revision surgeon.
Dr. Hochstein is a board-certified plastic surgeon with more than 20 years of experience specializing as a breast surgeon. He has performed tens of thousands of breast surgeries, including breast implant removal surgery.
He is an expert in surgical procedures to treat conditions such as the following:
Capsular contracture
Implant rupture
Implant rotation
Double bubble deformity
His patients are widely (and vocally) pleased with their results. He's seen it all, done it all, and improved more breasts than many people see in a lifetime.
His website is chock full of positive reviews, glowing testimonials, and a photo gallery that shows off his exemplary breast revision results.
Want to Learn More About Dr. Hochstein?
If you want to learn more about Dr. Hochstein, his areas of expertise, and how he can assist you, please contact us online or call Dr. Leonard Hochstein's office at (305) 931-3338. We are happy to answer your questions. If you would like to schedule an appointment, we can assist you with that as well.