3 Minute Read:
We all want to wear clothes that express who we are, and some of us have excellent fashion sense.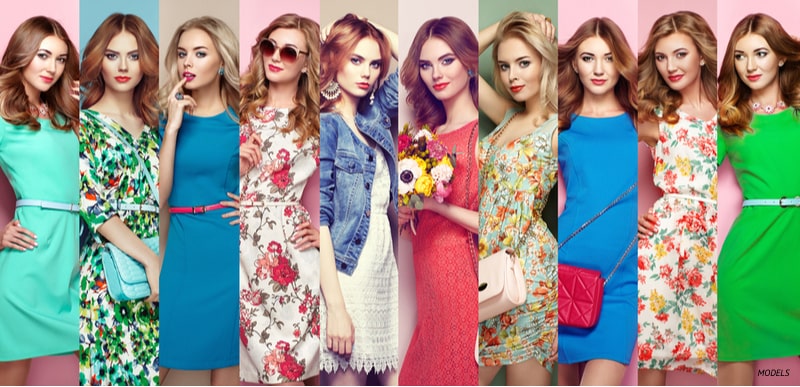 However, whether it's due to genetics or weight fluctuations, some of us don't feel confident wearing the clothes we would like.
The following seven procedures can help you reach your ideal shape and hopefully give you the confidence you are looking for to express yourself through your wardrobe.
1. A Breast Augmentation 
If you have small breasts that don't fill out your bras and tops the way you'd like, then breast implants are the answer. You can choose the size, shape, and placement of your implants and look great in your new bikini top!
Breast augmentation can be performed alone or in combinations with other breast enhancement or body sculpting treatments.
2. A Breast Lift/Reduction 
These procedures are similar in that they tighten and reposition the breast skin and tissue for a more appealing silhouette. However, for a woman with large breasts, a breast reduction can also reduce back and shoulder pain while instantly increasing the range of clothes she can wear.
Women can also choose to combine a breast lift with implants (if a lack of volume is also a concern).
For men with gynecomastia, a male breast reduction can allow them to go shirtless or wear thinner, more fashionable shirts with more confidence. This procedure may use liposuction, excision, or a combination of both techniques.

3. Brazilian Butt Lift
Ever since we fell in love with Selena, this procedure has been a popular way to improve one's profile in any outfit. 
The Brazilian Butt Lift is a fat grafting treatment, meaning that it harvests fat from elsewhere on your body (like the abdomen, flanks, or thighs) and injects the purified fat back into the buttocks for natural-looking and feeling volume.
As with other cosmetic surgeries, this procedure should only be performed by a board-certified plastic surgeon.
4. Liposuction Procedures
This procedure is less invasive than a tummy tuck and can remove stubborn fat almost anywhere on the body. Popular liposuction treatment areas include the abdomen, arms, and thighs, and treating these can help streamline your shape for a smoother, more toned silhouette. 
For a non-surgical alternative, consider VelaShape® III for body contouring. This treatment helps improve body contour by removing pockets of resistant fat, improving skin tone and texture, and offering cellulite reduction.
5. A Tummy Tuck  
This is the gold-standard procedure for slimming the waist and removing excess skin is a tried and true method to improve one's figure and look leaner in clothes. 
6. An Arm Lift 
Even with an otherwise ideal figure, many of us refrain from wearing anything without sleeves if our arms have sagging skin or fat. The arm lift procedure addresses extra fat and loose skin on the arms so that you can wear that spaghetti strap dress.
7. A Thigh Lift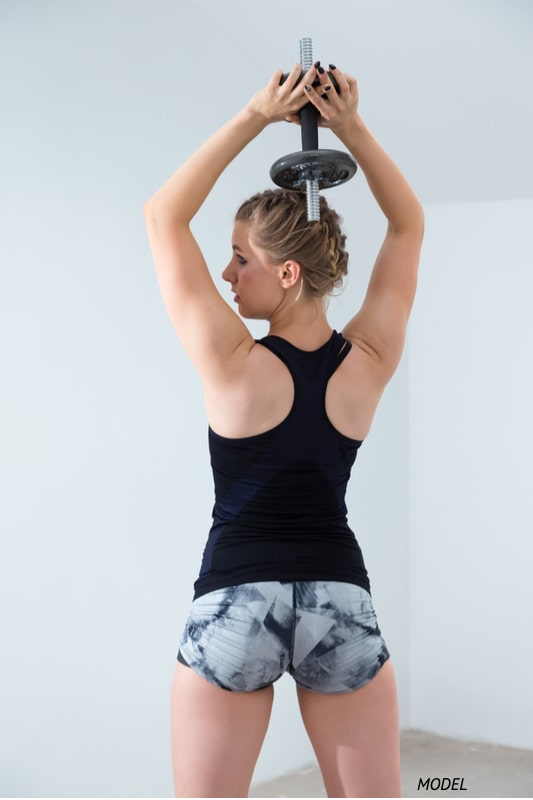 Everyone is talking about having a thigh gap when wearing a pair of skinny jeans or other tight pants, and this procedure is designed to achieve that look.
Even if you are not looking for a gap, a thigh lift surgery targets any laxity on the thighs for a smoother, more toned look that will be visible in jeans, tights, or mini dresses.
As a Bonus
If having children has caused the typical changes to your body, then consider combining two or more of the above treatments, such as a tummy tuck and a breast lift, for a complete Mommy Makeover. This more comprehensive treatment might be the ultimate solution for you.
Miami Beach Body Expert and Celebrity Plastic Surgeon | Leonard Hochstein
Call our Miami cosmetic surgeon at (786) 802-6699 and schedule a consultation with the Boob God™ himself, Dr. Leonard Hochstein, to learn more about the ways plastic surgery can help you wear the styles you want to wear.