3 Minute Read:
Hair loss is largely hereditary, and many men (and some women) experience increasing loss as they age. As a result, there are numerous hair-loss-reversal products available online and in pharmacies, drug stores, and hair salons. Sadly, most are ineffective. But one cosmetic procedure is proving to be helpful. It's platelet-rich plasma (PRP), an injectable treatment that offers real hope for those experiencing hair loss.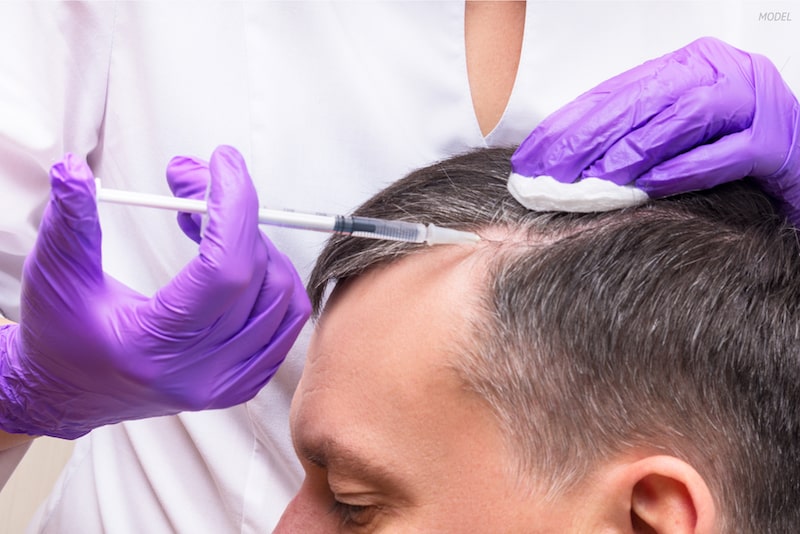 What Is PRP?
PRP (platelet-rich plasma) is a derivative of the blood that contains a high number of growth factors (over 20 types of growth factors, some of which have been shown to stimulate hair regrowth).
These growth factors have been shown to reawaken dormant hair follicles, allowing them to produce hair growth once again.
PRP can also be used to improve skin quality.
How Do PRP Hair Loss Treatments Work?
To treat hair loss, PRP is injected near the site of hair follicles, stimulating the growth of new hair. Typically a course of three treatments is required for the plasma to kickstart collagen and elastin creation. This cellular production of essential proteins, in turn, rejuvenates the hair follicle, stimulating hair growth.
PRP injections are often combined with topical treatments, such as Rogaine, to improve results.
How Effective Is PRP for Hair Loss?
Numerous studies have been performed in recent years to determine the efficacy of PRP for hair loss. And while there is no way that any cosmetic treatment is 100 percent guaranteed to stop or reverse hair loss, positive results have been shown. 
This treatment is most helpful for patients with thinning hair (including male and female pattern baldness); however, it is not a treatment for patients with significant bald patches or no hair.
Since PRP Is Not Surgery, Is There a Recovery Period?
PRP injections are considered safe when performed by a trained medical provider, but they can be painful for some patients. Pain or swelling at the injection site can be managed with cold packs and prescribed medication. Be sure to follow your provider's aftercare instructions for activities such as washing hair to avoid infection.
No downtime is required.
Mild side effects of this procedure can also include redness, headaches, and temporary hair shedding. Patients with a history of bleeding disorders or autoimmune diseases should approach this therapy with caution.
What Kinds of Results Can I Expect After PRP for Hair Loss Treatments?
Results from PRP hair loss treatments can vary from patient to patient. Be sure to discuss expectations with your cosmetic professional.
For most, hair loss will be halted, and new growth is apparent. But there are different kinds of hair loss: androgenetic alopecia (AGA), or hormone-related baldness, is a condition that can affect both men and women, while telogen effluvium is a hair loss that derives from stress.
What kind of hair loss you are experiencing will impact what kinds of results are reasonable to expect, so be sure to discuss your medical history and desired results with your treatment providers in your pre-procedure consultation.
Interested in Learning More About PRP for Hair Loss?
If you live in the greater Miami, Florida, area and would like to know more about PRP treatments for hair loss, give the friendly team at Hochstein Medspa a call. They can answer all your questions and schedule an in-person or virtual consultation. Call (786) 802-6699 today or use the online contact form.