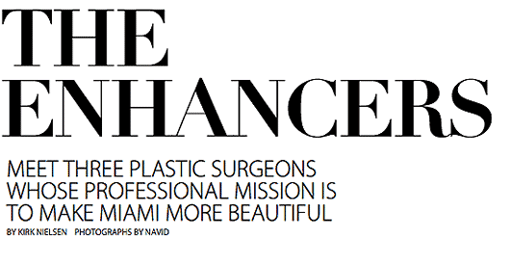 Few men enjoy more reverence upon the thresholds of Miami Beach hotspots. They are like shamans, unmarried, confident, rarely seen in public except by night. They know one key to opening the velvet rope is to appear with at least a small bevy of feminine beauty that miniskirts and décolletage can't contain. But these are medicine men of a special power, forged of glistening cleavage itself. They are developers and preservationists of the area's most precious asset: outrageously sexy women.
On a recent Saturday morning, Lenny Hochstein stood in a white T-shirt and maroon nylon warm-ups looking through the sunlit water of his new swimming pool. "She was flat-chested when she came here," he said, deadpan, referring to the dark-blue mermaid with large round breasts depicted in tile at the bottom. His own pectorals bulged slightly beneath his shirt, offering a hint of the auburn-haired 40-year-old doctor's muscular, compact body. Beyond the pool, past the lawn and the 38-foot red, orange and white Top Gun GT Cigarette boat docked along the sea wall, Biscayne Bay glimmered, with the silver arch of the Julia Tuttle Causeway in the distance. That's the view from the backyard of his 11,000-square-foot dream mansion on the northern shore of one of Miami Beach's Sunset Islands. Throughout the house, a platoon of carpenters was rushing to finish 11th-hour painting, tiling and electrical work before the April 28th birthday bash he was hosting for his friend, club promoter and real-estate developer Michael Capponi.
"I'm planning on having a lot of parties," the soft-spoken surgeon told me during a tour of the premises, accounting for the two "powder rooms" on the ground floor. In the east wing, he pointed out elaborate wood cabinets from Colombia, and in the west wing, a chef's kitchen and dining area for catered repasts and a large room for watching movies on a big flat-screen. A stained-glass dome above the main entrance is from Mexico. Upstairs, a walkway with a "bridge effect" connects the master bedroom to one of the guest bedrooms. The master bathroom, tiled in red onyx, has his-and-hers showers. "Now all I need is the her," he said wistfully.
He calls himself "impatient," "type A" and "a perfectionist," and admits to being fastidious at work and now with the mansion project. "I want everything yesterday. I want things done at my pace," he said. Were he not a surgeon he might have become a builder, he speculated. "Obviously I had the help of designers. But the basic concept of the house, the pool, kitchen, doors, windows, the shape, design, these were all my ideas. They just helped put it on paper," he added.
Hochstein, who also hails from Livingston, New Jersey, was born in Moscow in 1966 and moved to the United States with his parents at age six. His father is a renowned civil engineer whose feats include the redesign of the Panama Canal; he endearingly calls his mother "a professional shopper."
"Most kids dream about being policemen or firemen. I dreamt about being a surgeon," he said, seated on a short masonry wall near the pool. He applied to medical schools while in high school and attended a six-year program at Louisiana State University. He received his surgical training during five years at Parkland hospital in Dallas, performing the usual appendectomies, gall-bladder removals, burn treatments and more grisly operations involving bullet wounds. "It was gang warfare. You name it, shotguns, automatic weapons, people shot five, six, seven times."
Back then he envisioned a career as a transplant surgeon. "It was always my goal to improve quality of life. I was a little turned off by what medical school was about. It was all about extending life, and I just wasn't into that," he said. "What good is it if you're confined to a hospital bed, or are on multiple medications, and your lifestyle is horrible? At first I thought that transplant surgery was going to be it, because here were people who had a horrible disease and then their life was greatly improved."
But at 3 a.m. one weekend night while in his third year at Parkland he saw some middle-aged men come into the doctors' lounge. "I asked somebody, 'Who are those guys?' And he said, 'They're transplant surgeons. They're here to harvest organs.' So right away I realized that when I was 50 years old, the last place I wanted to be at three in the morning on a Saturday night was the operating room."
He received plastic-surgery training at the University of Miami from 1995 to 1998, followed by a fellowship with Ralph Millard, whom Hochstein calls "the greatest plastic surgeon who ever lived." Millard, who is now retired, received international acclaim starting in the '50s for developing new techniques and procedures for cleft-lip repair, rhinoplasty and breast reconstruction after a radical mastectomy. Millard also fixed Hochstein's nose, made crooked from kickboxing blows.
His decision to become a plastic surgeon was "the best I ever made," Hochstein said, "because I'm in a field that I truly love. I love doing plastic surgery. I really love the patients. And everything about it is thrilling for me. I don't feel it's a job. I look forward to it because every surgery is different and it just allows me to really use my expression."
He expressed himself 900 times last year during procedures costing $2,500 and up. A third of them involved faces, a third breasts and a third midsections demanding liposuction and tummy tucks. He also conducts about two or three vaginal labiaplasties per month to remove "redundant labia." "It's internal labia that become external and are visible, that protrude," he elucidated. "Some women are born with it. Some women get it through childbirth, some women through sports." And more women are having it sliced off. "Now it's a great operation. Before it was horrible. It left a nasty scar, cut the nerves. Now it's about as perfect as it gets. No nerve damage, invisible scar and predictable results," the doctor guaranteed. He credited Beverly Hills-based plastic surgeon Gary Alter with developing the new technique.
Hochstein believes plastic surgery is an art, but unlike artists wants his subjects to conjure up their "ideal beautiful," rather than go with his. "If somebody comes into my office and says, 'Doc, what do I need?' my answer is, 'Nothing,' " he said, noting that he does advise them about options, such as silicone implants versus saline.
That upsets some prospective patients, interjected his tall, blonde office manager, a former model with the Sirens agency, who had sat on the masonry wall several feet away to listen. "So they go to other doctors, and other doctors have told them they need, need, need. And then they come to me and say, 'How come you didn't tell me what I needed?' " she attested.
Heavens augmented from an A to a small D when she was 22. Hochstein lovingly replaced her original saline implants with silicone ones five years ago (the two dated for a while); he has tightened her upper-eye area and performed liposuction on her stomach and hips. He has worked on all the girlfriends he has had, but only at their request.
"It's not my job to criticize patients and tell them what's wrong with them. It's my job to help them with something they've already found that they're self-conscious about. If it's not a problem for them, it's not a problem for me," he continued. "It's pretty easy to tell if you want to look more like a Victoria's Secret model or Pamela Anderson. It's just a look that you're trying to achieve. Some people want to downplay it and some people want to make it in your face."
The latter are often women who returned for bigger implants. "Rarely do they go smaller," he said. "I try to get my patients to pick the size that they really want. Sometimes they don't do that. They listen to friends. They do what they think they ought to do. But I try to talk them into doing what they want. It's like they come in and say, 'Well, I want to be a D cup.' And then they say, 'I don't know, I don't want to be too big.' And my answer is, 'You want a D cup, right? That's big! And if that's what you want, then that's what you should have. Don't worry about what anybody else thinks.' "
In his first year of private practice he banked about $100,000 before taxes, Hochstein said. Now, nine years later and working at his optimal rate of four to six surgeries per day three days per week, his annual take-home pay is about $3 million. The waiting period for clients is two to three months. "There are only so many hours in a day," he noted. "I always wanted to be the busiest and top plastic surgeon in Miami, but I never thought I was going to be making that kind of money."
Among the blessings-besides the waterfront mansion, the boat, a Ferrari, a Maybach and a full-time driver-is VIP status at trendy South Beach lounges and clubs and access to private bashes thrown by the likes of German developer Thomas Kramer, whom he counts among his good friends. Hochstein augmented his social currency on South Beach by appearing in Miami Slice, a reality show on the Bravo channel a few years ago, though he admits it drew scorn from many of his professional peers. "I'm a big fan of the plastic-surgeon shows," he said. "I love what they've done for the field. It's brought it into your living room, where you see that it is for everybody, not just the rich and famous."
His workload forbids weeknight partying and often renders him too pooped to venture out on Fridays, leaving one night a week to enjoy his unique form of celebrity and the women who lust for it. "Lenny lives for Saturday nights," Heavens said.
Thus, at a quarter to midnight on the last Saturday in March, Hochstein and two male friends strolled through the doors of The Setai hotel on Collins Avenue to live a little. Each wore dark slacks, Hochstein a dark V-neck shirt, one friend a dark paisley-patterned cowboy shirt, the other a tight but stylish black T-shirt. After a walk around the dimly lit open-air courtyard-amid the hip DJ sounds and clusters of fashionably dressed women and men-they opened a glass door and stepped into the amber light of The Setai bar. It was a scene from the pages of a glossy fashion magazine come to life: the edge of the long bar teeming with freshly made-up and coiffed women, their smooth, lightly oiled skin glimmering in the soft light, their busts and hips wrapped in the latest flourishes of Valentino, Chanel and Prada. Chatter filled the air, but went no deeper than the niceties uttered in the dressing rooms of the Bal Harbour Shops. The sense of sight reigned supreme.
The doctor and his two friends sipped cocktails and scanned the area for gorgeous women, sharing muted Oh-my-Gods and Look-at-thats when one appeared. After two rounds of apple martinis for Hochstein, Mariela, the attractive sister of one of his friends, arrived with two female friends to see him. A little later Mireya, a dark-eyed, sharp-faced, black-haired beauty from Medellin, strutted in, drawing myriad glances from men and women. Her lean arms and lithe legs flowed from a black-and-white dress with a long dangling bow in the back. With her were several female compatriots. Of course, the doctor not only knew her, but also had dated her. They caught up a little while her friends chatted among themselves and exchanged basic biographical data with the doctor's buddies. Then they all moved on to other mingling, looking and occasional hip shaking to the piped-in mix of old and new R&B tunes.
During a lull, Hochstein found himself looking up at a very tall guy wearing an unfashionable button-down shirt and slacks. He was an anesthesiologist at Cedars Medical Center near downtown Miami. Hochstein told him he was a doctor.
"What kind?" the anesthesiologist asked.
"Plastic surgeon."
"Oh. What hospital?"
"Private practice."
The anesthesiologist nodded knowingly and alluded to the good money that must bring. Dr. Hochstein nodded back and just smiled contentedly.
Soon the doctor was again in the company of an attractive woman, this time a tall brunette who was obviously a model despite her flat shoes, jeans and T-shirt. She lured the doctor into the courtyard. His buddies were busy with Bridget from New York and Marie from Montpellier, France, for a half-hour before they realized the doctor was missing. They later learned the model had escorted him up to a private party in The Setai penthouse.
But the undisputed queen at The Setai bar that night was Melissa, a cute, smiley, platinum-blond girl who looked about 21 and might be described as petite were it not for the two creamy orbs expanding heavenward out of the top of a shimmery copper-colored minidress. She sat at the end of the bar with a young, handsome, dark-haired male beside her. Of course the doctor knew Melissa. In fact, she was one of his patients whose ideal beautiful had multiplied over time. His friends looked on in amazement as Hochstein walked over and spoke with her for several minutes.
"He's great," Melissa raved as the doctor disappeared into the courtyard, and she felt compelled to praise his presurgery demeanor. "He makes you feel so comfortable," she added, giggling a little.
At 1:30 a.m. Dr. Hochstein departed for his table at Suite and a few more hours of revelry, sipping cocktails and admiring the beautification and preservation work for which he was partly responsible. And so it was that at three o'clock in the morning he was surrounded by friends and numerous augmented bosoms in the VIP section of a South Beach nightclub rather than harvesting organs from the recently deceased at some godforsaken hospital.
"It's hard for me to go out on South Beach and not run into a dozen people whom I've operated on," he said later. Still, it was clear he sometimes suffers a bit of plastic surgeon's remorse. "I'm not saving lives," he affirmed.
But he and his professional peers might be saving sex lives. "Why do women have breast augmentation? To get laid more. That has actually been studied," Dr. Hochstein said. "I forget where the study was done, but it was pretty interesting. It tracked their sexual partners before and after, and women who were augmented had more sexual partners. And it was basically determined that was why they were having it done. We all kind of knew it in the back of our minds."
Photographer represented by belleandcompany.com
Photography assistance by Hamid Kootval
Nurse uniforms by ABC Costumes, Miami
Models are Mira Popova, Jocelyn Binder and Charlotte Acevedo.