3 Minute Read:
A PDO thread lift is an excellent alternative to conventional facelift surgery as it can effectively reverse several common signs of aging with little downtime.
If you've been considering one of the many facial enhancement treatments available today, be sure to explore the benefits a PDO thread lift can provide and learn more about this minimally invasive, non-surgical facelift technique.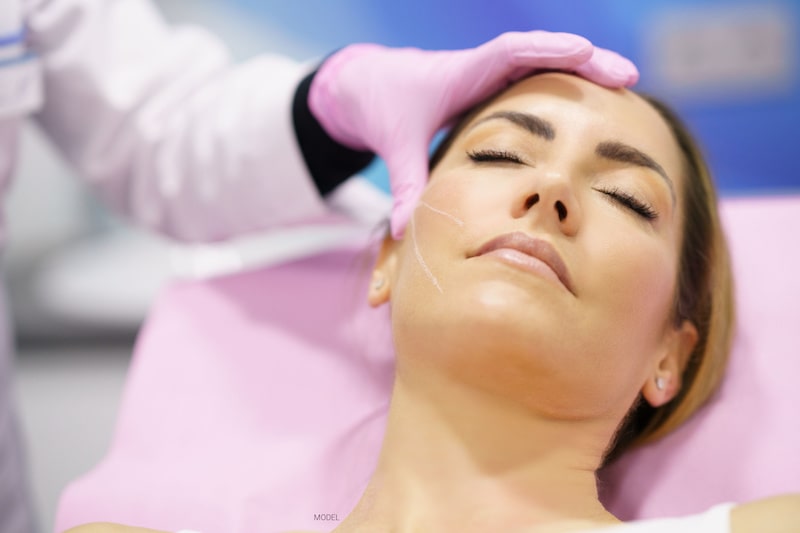 The following 10 frequently asked questions and answers should shed some light on the most important features of PDO thread lifts and their limitations.
1. What is a PDO thread lift? 
PDO therapy, commonly referred to as a PDO thread lift, is an innovative, cosmetic procedure that offers both instant and progressive results to correct common, age-related facial concerns.
Polydioxanone (PDO) threads are designed to lift and tighten areas of the face that have lost elasticity and volume.
2. How does a PDO thread lift work?
Polydioxanone threads work much like dissolvable sutures. After being placed, they are eventually absorbed deep beneath the dermal layers of the skin.
During a PDO thread lift procedure, your trained and qualified medical professional uses a tiny needle to strategically insert the fine PDO thread into the sub-dermal skin layers, then pulls it to lift tissue and tighten skin.
This process is repeated as needed for your desired results, with two or three threads typically used for each treatment area.
However, there is more to a PDO thread lift than these initial subtle lifting and tightening benefits. The placement of these threads also causes intentional micro-injuries in the skin, triggering the rapid and prolific production of collagen and elastin.
3. What makes someone a good candidate for a PDO thread lift? 
The ideal candidates for PDO thread lifts are at a healthy and stable weight, range in age from their early thirties to mid-fifties, and are concerned with mild to moderate skin sagging and wrinkles around the mouth, nose, chin, or jaw.
You may not be the best candidate for a PDO thread lift if you have thin or excessively sagging skin. However, there are other options, including a range of facelift techniques.
4. Are there different PDO options?
There are two primary options when considering a thread lift. Your provider may use cog threads to tighten sagging neck and jaw skin or screw threads to add volume in hollowed areas like the cheeks.
5. What areas of the face benefit most from a PDO thread lift?
A PDO lift can improve eyebrow, cheek, jawline, and neck contours while reducing lines and wrinkles around the nose and mouth.
6. How long does a PDO thread lift take?
Most PDO thread lifts can be completed in under an hour. However, when you include the time it takes for preparation and observation after the procedure, you should allow at least two hours.
7. Is a PDO thread lift painful?
While PDO thread lifts are minimally invasive, the procedure creates tiny skin injuries, so a local anesthetic is administered before treatment to ensure comfort.
8. Are there any side effects associated with a PDO thread lift?
PDO thread lifts are not associated with any serious side effects, though you may experience minor swelling and bruising that should subside within a few days.
9. When will I see my final PDO thread lift results?
A PDO thread lift provides subtle improvements that are noticeable immediately, but most of the benefits are progressive, meaning they improve over time. After the threads are placed, and your natural collagen production increases enough in the treated areas, you will start seeing additional improvement.
Your face should look more firm, plump, smooth, and younger-looking within six months after treatment, with results lasting between two and three years.
10. How much does a PDO thread lift cost?
The cost of your PDO thread lift will depend on the number of treatment areas and threads used. As a customized procedure, your price will be provided during your consultation.
Hochstein MedSpa | Your Miami, FL, PDO Thread Lift Experts
Dr. Leonard Hochstein is an award-winning, board-certified plastic surgeon offering the best non-surgical cosmetic treatment options, including PDO thread lifts, in Miami, Florida.
Call the Hochstein MedSpa at (786) 802-6699 today to schedule your consultation!