It's not only rabbits who multiply…Spay or Neuter Your Pet!
Posted March 05, 2012 in Home, Rescue Dogs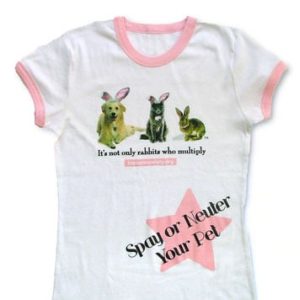 Encourage pet lovers to spay or neuter their pets by wearing this humorous tee with a pooch, kitty, and bunny—all wearing rabbit ears. What a perfect way to heighten awareness that spaying or neutering our pets is the most effective way to reduce the vast numbers of animals who are born only to die prematurely and without a family who loves them.
To purchase one of these T-shirts and Help the Humane Society's cause visit : http://store.humanesociety.org/product/545/cat_tshirts