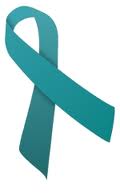 Ovarian Cancer is one of the most deadly of women's cancers. Each year, approximately 21,880 women will be diagnosed with ovarian cancer. In 2010, approximately 13,850 women will die in the United States from ovarian cancer. Many women don't seek help until the disease has begun to spread, but if detected at its earliest stage, the five-year survival rate is more than 93%. Recent research suggests that together the four symptoms of: bloating, pelvic or abdominal pain, difficulty eating or feeling full quickly and urinary urgency or frequency may be associated with ovarian cancer.
Early symptoms for Ovarian Cancer do exist. The symptoms are often vague and can be mistaken for other benign conditions. If you experience some of these symptoms for more than a week or two, see your doctor immediately.
* Pelvic or abdominal pain or discomfort, and/or feeling of fullness
* Swelling in the abdomen
* Unexplained weight gain
* Weight loss
* Appetite loss
* Bloating
* Feeling tired
* Backache
* Cramps
* Vague but persistent gastrointestinal upsets e.g. Gas, Nausea, indigestion
* Bladder or other urinary problems
* Pain during intercourse
* Unusual vaginal bleeding
* Unexplained changes in bowel habits
Ovarian cancer is more likely in women who:
* Are over 45 – the risk of ovarian cancer increases with age
* Have never taken the contraceptive pill
* Have had few or no pregnancies
* Have a history of cancer in the family especially ovarian, breast or some bowel cancers
If you are at increased risk, ensure your doctor knows of the relevant medical or family history. There is some evidence that suggests that women who have not had children may be at higher risk, although taking the contraceptive pill may significantly reduce the overall risk.
Young women in their teens, early twenties, and older women have all been known to be diagnosed with ovarian cancer. Although ovarian cancer is curable if diagnosed early. It remains the most lethal gynecologic cancer because it is so difficult to detect.
Dr. Hochstein strives to keep female patients aware of the importance of early detection.
For more information or to schedule an appointment with a local gynocologist please contact:
Dr. Jacob Tangir M.D.
The Center for Gynecological Oncology
3990 Sheridan Street Suite #214
Hollywood, FL 33021
P: 954-602-9723 F: 954-602-9724
http://www.centergynonc.com/
or
Dr. Daniel Levin, M.D.,F.A.C.O.G.
12550 Biscayne Bvd Suite 604
North Miaim, FL 33181
P: 305-981-0231
F: 305-981-0232
http://www.drlevinobgyn.com/