Having beautiful, smooth skin can help a person feel confident about their appearance. When someone has signs of aging and stress on their body or face, it can negatively impact their overall self-image by making them feel as though they look worn out, old, or unattractive.
Even a healthy person who practices a regular skincare regimen has trouble with preventing the inevitability of aging; some skin flaws are unresponsive to preventative care like creams or at-home treatments.
Fortunately, here at Hochstein Medspa, we provide a variety of treatments, such as the Lutronic® Genius™ Radiofrequency Microneedling, to help you get rid of wrinkles, fine lines, and other signs of aging so you can feel good in your skin again.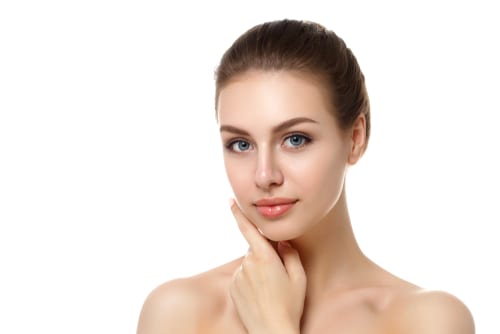 What Is Genius™ Radiofrequency Microneedling?
The Genius™ device by Lutronic® is an FDA-approved, handheld machine that uses radiofrequency transmitted through tiny needles, also known as microneedling RF, to rejuvenate your skin.
This safe and non-surgical treatment can address imperfections like fine lines, acne scars, wrinkles, uneven pigmentation, and sagging skin in multiple areas of the body. Radiofrequency microneedling has also been clinically proven to increase the production of collagen and improve texture for smoother, more beautiful skin.
How Does It Work?
The older we become, the more likely it is that our skin will lose tone, firmness, and volume due to factors such as sun damage or poor skincare routines. Unlike most microneedling treatments, radiofrequency microneedling offers outstanding control and accuracy by delivering the radiofrequency energy directly into your skin through gold-plated microneedles.
This process creates healthy tissue and will smooth out your skin by producing high levels of collagen and elastin, which will tighten your skin and reduce the appearance of acne scars to create a youthful and rested appearance.
What Are the Benefits of Radiofrequency Microneedling?
Radiofrequency microneedling with Genesis™ can work on almost all skin types and improve the overall quality of your skin on the face and body by providing the following benefits:
Increased skin elasticity
Firmer, healthier skin
Reduced visible signs of aging
Correct damaged skin
Little to no downtime
The fractional heating from the device can also protect the surrounding tissue while lifting and tightening the treated area. It is common for patients to need around three treatment sessions before final results become apparent.
To learn more about our radiofrequency microneedling treatment, you can contact us today at (786) 802-6699 or schedule a consultation with us online.