Most women dream of one day achieving their "dream body." That definition changes from woman to woman, but whether you're slim or full-figured, it's natural to want a body with smooth, shapely contours and lush, feminine curves.
Celebrities like Jennifer Lopez and the Kardashians have changed the definition of "dream body" to now include full, round buttocks and a curvy shape. If you are looking for this type of body, a Brazilian Butt Lift can be a great way to achieve it without the need for implants or injectable fillers.
A Brazilian butt lift also helps remove fat from other areas of the body, improving contours for a natural and shapely look.
What Is a Brazilian Butt Lift?
Formally referred to as a "gluteoplasty," a Brazilian Butt Lift (BBL) is a buttock augmentation procedure that uses fat extracted from other areas of the body for enhancement.
Surgeons use a form of liposuction to remove fat that's accumulated in unwanted areas, like the thighs, abdomen, or hips. This fat is purified and then grafted into the buttocks in layers and carefully sculpted to the desired shape and size.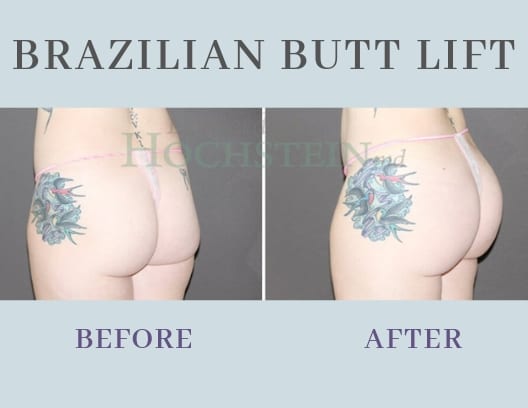 This type of augmentation is considered to be safer than implants or other methods since it uses the patient's own fat and tissue, cutting back the risk of infection.
BBL also helps smooth and enhance other body contours by removing excess fat from other areas. It essentially combines liposuction with buttock augmentation, and patients are typically left with a more sculpted, curvy body shape.
What Can a Brazilian Butt Lift Do for Me?
A BBL procedure is great for any woman who is looking to increase the size and enhance the shape of their buttocks. BBL is also a good option for overall body contouring and sculpting. BBL can be beneficial for candidates who want to:
Increase the size of their buttocks without the use of implants or fillers
Enhance the projection and fullness of their buttocks
Create a curvier profile
Shrink waist size
Smooth body contours along the waistline and hips
Reduce and remove fat from other areas of the body
Good candidates for BBL will be in good physical health, have fairly strong toning around the buttocks and hips, and have enough fat in other areas of the body to extract.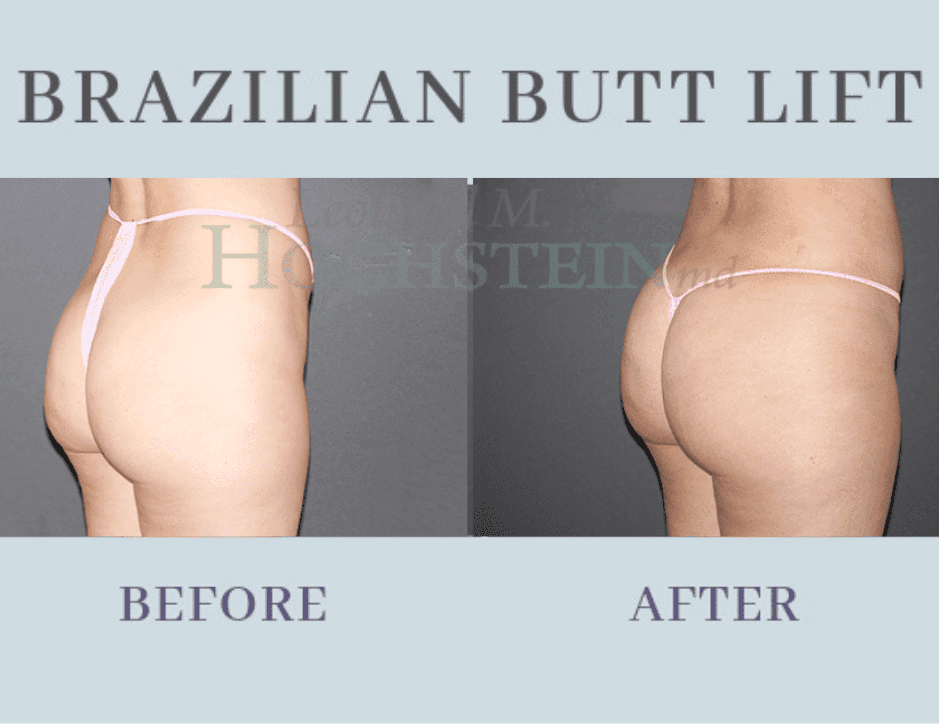 How Should I Prepare for a Brazilian Butt Lift?
You will first begin by scheduling a consultation with a plastic surgeon who has extensive experience performing BBL procedures, such as Dr. Hochstein. You and your surgeon will discuss your body goals and what you expect from BBL during this visit. You will also go over your medical history and any current or previous medications or supplements.
If you smoke, you should try to quit smoking at least two to three weeks before your BBL procedure, as smoking has been shown to increase the risk of bleeding and can hamper healing. You should also refrain from taking medications that thin the blood, such as aspirin, for the same reasons. The more you take care of yourself before your BBL procedure, the quicker your recovery will be.
Make sure to take at least a few weeks off work to allow yourself time to rest and recover. You should also arrange for a friend or family member to stay with you for at least the first few days following your BBL to ensure you are comfortable and have everything you need.
Recovering from Brazilian Butt Lift Surgery
Recovery from BBL can take several weeks. There will be some pain, swelling, and tenderness in the buttocks that should begin to subside within the first week. Compression garments will help minimize pain and swelling, and your surgeon will also prescribe medications to help treat any discomfort. You will not be able to sit or lie directly on your buttocks for at least two weeks following your BBL, so your surgeon will provide instructions to lay on your side or sit in a modified position. You should be able to sit normally within about eight weeks.
Results from BBL are long-lasting. While some fat cells may be lost during the healing process, any fat that remains after six months is permanent. In addition, BBL also helps improve and enhance the lines of the body around the waist, hips, and thighs, resulting in a beautiful, curvy shape and bottom.
Ready for your BBL procedure? Find out more by calling our office at (305) 931-3338 to schedule a consultation soon.