Summer is the time to hit the beach and show off your newest bikini. However, there may be some patients who feel self-conscious about their figure, specifically their legs.
While some people struggle with excessive, unwanted leg hair, others may have developed features like varicose or spider veins. Home treatments can help address these issues to an extent, but they are only temporary solutions.
Fortunately, Hochstein Medspa offers several non-surgical treatments like sclerotherapy and laser hair removal to help you achieve smoother and more youthful legs for the summer season.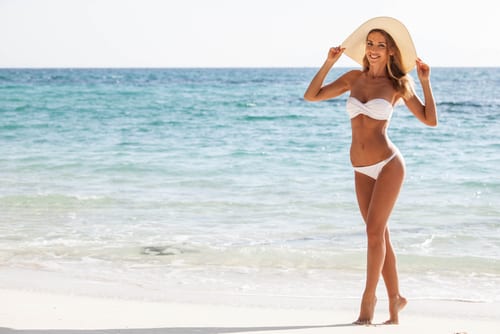 What Are My Non-surgical Treatments Options?
Sclerotherapy
Sclerotherapy is a non-surgical procedure that can minimize the appearance of unsightly spider and varicose veins in the legs. During your treatment, a fine needle containing a salt solution will be injected into the vein at the treatment site. This will cause the blood vessels to swell and stick together, clotting the vein and ultimately turning it into scar tissue that can no longer be seen on the leg.
Sclerotherapy can be performed in as little as 30 minutes and should only be conducted by a professional dermatologist. Depending on the size of your veins, you may need to undergo several injections, but this is typical for most patients.
Laser Hair Removal
Stubborn hair that is hard to manage can leave many people feeling frustrated and embarrassed about their body.
Laser hair removal is a non-surgical treatment that eliminates bothersome hair virtually anywhere on the body. This treatment is especially useful for removing hair from more significant parts of your body, such as the legs, to create a smooth and aesthetically pleasing appearance.
During your procedure, your surgeon will use a dual-mode system and dynamic cooling device (DCD) along the treated area. A cold burst of air is then released from the device as it targets the hair follicles and removes the unwanted hair.
What Are the Benefits of Sclerotherapy and Laser Hair Removal?
There is minimal downtime associated with sclerotherapy and laser hair removal, meaning that patients can reveal their beautiful results at the beach almost immediately. The skin on your legs will also look and feel great, and you no longer have to worry about hiding them underneath pants or leggings.
Although you may require additional touch-ups for both procedures, you can expect long-lasting results that will have you enjoying your summer break.
To learn more about our non-surgical leg treatments, you can contact our office today at (786) 802-6699 or schedule a consultation with us online.