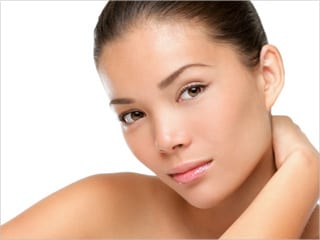 For aging skin, we tend to get a little obsessed with fine lines and wrinkles, and our desire to smooth them away. But we may be missing out on another important element to youthful-looking skin: brightness. Our luminosity can be concealed by dark sun spots that develop when pigmentation clusters together, or it can be hampered by an overall dullness that occurs with too much sun damage. Luckily, you can bring back the brightness with these three tips:
Get a chemical peel: For overall improvement of your skin's coloring, a chemical peel will remove the top layer of skin with acids or fruit enzymes. After the dead skin is removed with the peel, you'll be red, dry and flaky, but new rejuvenated skin will reveal itself after about a week or two, depending on the strength of the peel.
Ask for hydroquinone: This brightening cream ingredient is typically used in tandem with topical retinoids to block the enzyme that activates melanin production. You can find it in low doses over-the-counter, but ask a dermatologist for the best regime for you. Because your body can develop a resistance to hydroquinone, you may need guidance to find alternatives.