2 Minute Read: 
Breast augmentation surgery has held the spot for one of the most popular plastic surgery procedures for several decades now. Women turn to this procedure when they want to improve and increase the contour of their breasts. Unfortunately, breast augmentation does require a recovery period.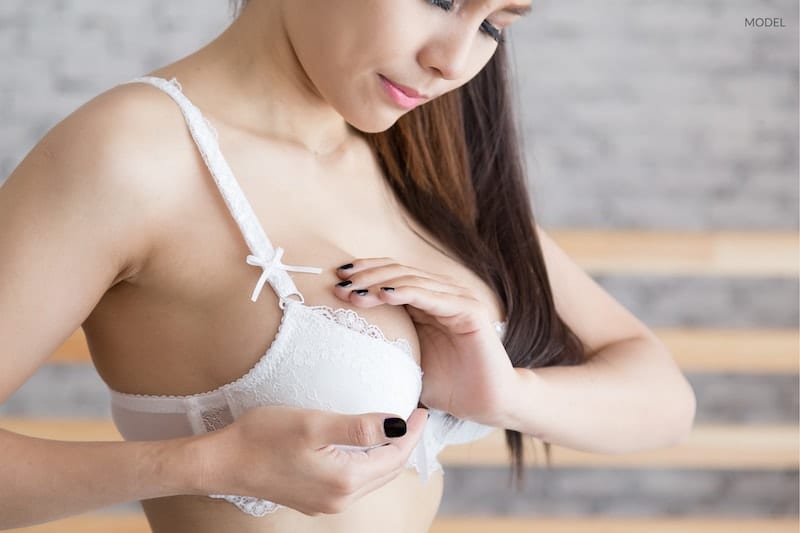 Women may feel up to most activities within a week of their surgery, but it can take up to eight weeks to fully heal. This guide walks you through everything you should know about breast augmentation recovery, so that you can make the process as quick and smooth as possible.
What Can I Expect for My Breast Augmentation Recovery Period?
Breast augmentation recovery has four typical stages.
Day One
You will feel groggy and sore immediately after the procedure and for the next several hours. Arrange for a ride home and someone to stay with you for the first night to monitor you and help you with all necessary activities.
Days Two to Seven
This is the week when you will feel the most discomfort. Your doctor may prescribe you pain medication for the first couple of days, and usually, after day four, you can switch to over-the-counter pain medication. 
If you have a desk job, you should be able to return to work by the end of the first week.
The Next Few Weeks
Patients will slowly ease back into exercise and vigorous activity. If your job is physically strenuous, you should consider staying away from work until six weeks have gone by.
Full Recovery
It can take six to eight weeks for a full recovery. Patients should attend follow-up appointments with their surgeon and follow doctor's orders carefully to ensure a full recovery.
Breast Augmentation Recovery: What to Do
Invest in some recovery bras (sports bras)

Wear a bra at all times during recovery

Have a plan in place for recovery, including a ride home and some assistance at home so you can avoid physical duties like picking up objects

Get plenty of rest, drink fluids, and listen to your doctor's instructions
Breast Augmentation Recovery: What Not to Do
Don't rush recovery and assume you are healing at a fast pace

Avoid sun exposure

Don't expect immediate results; breast implants can take three to six months to "drop"
How Can I Speed Up My Recovery Time?
You can speed up your recovery time by following instructions precisely, wearing supportive garments, and getting as much rest as possible. Avoid strenuous activities that can harm your results and put you on a longer recovery journey.
Interested in Learning More?
If you are considering breast augmentation, the first step is to book a consultation. Dr. Hochstein will take the time to answer your questions about recovery, address any concerns, and give you a clear understanding of what the procedure can achieve for you.To book an appointment today, call 305-931-3338 or contact us online.