Every surgical procedure carries the risk of scarring, but the likelihood and severity of scarring depend on multiple factors, including age, weight, ethnicity, surgical aftercare, and natural healing capacity.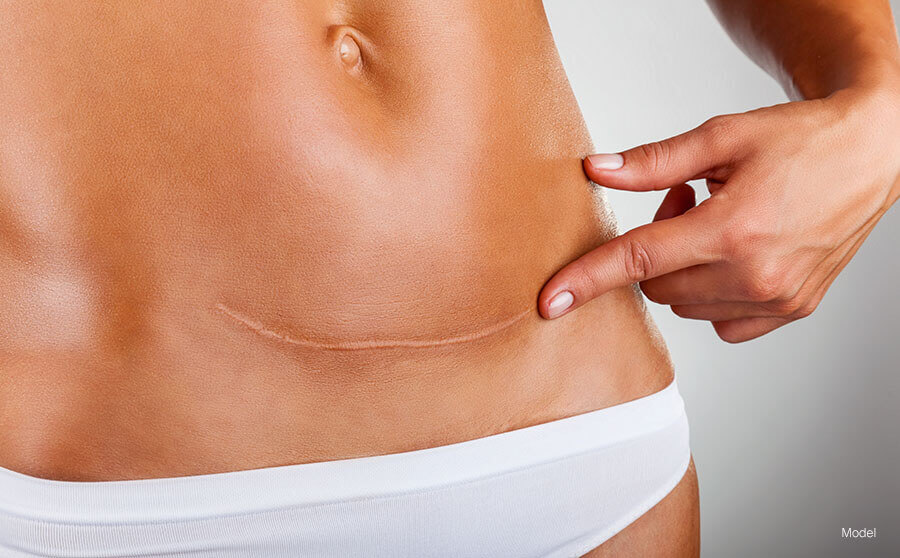 If you have scarring after your cosmetic surgery, Morpheus8™ treatments can promote better healing and scar repair through skin resurfacing and collagen production for smoother, more even skin.
What Causes Surgical Scars?
After cosmetic surgery, there is a lot to enjoy about the aesthetic changes you've made to your body. But scars can detract from your results, causing disappointment and frustration.
Scars are a natural part of the body's healing process. When any wound occurs, tissues break down, and collagen is produced to repair the broken tissue. An excess of collagen is one of the causes of scar tissue, as the body over produces this protein to aid in healing.
Other causes of scarring include:
Excess trauma or tension on the surgical site, which is more common in body contouring procedures such as a tummy tuck, as the abdomen experiences more movement than other areas of the body.
Sun exposure, especially on areas more readily exposed to sunlight (like the face).
Additionally, some people are more susceptible to scarring than others. Those with darker skin tones are more likely to experience hypertrophic or keloid scars, as higher concentrations of melanin tend to produce more collagen.
However, even with an excellent surgeon, proper aftercare, and healthy skin, scarring does happen, which is why Hochstein Medspa in Miami offers scar revision treatments with Morpheus8™ for all surgical and non-surgical patients.
How Does Morpheus8™ Treat Scars?
Morpheus8™ is unlike any other microneedling treatment, as it combines the micro-injury benefits of microneedling with the dermis heating power of bi-polar radiofrequency (RF) technology to stimulate powerful healing and collagen-producing properties.
You may ask, "But collagen created my scars. How will making more help them?"
Morpheus8™ works by heating underlying tissues so that they break down, including scar tissue, creating new, healthy skin cells through the healing process. By breaking down raised, discolored scar tissue, your skin can cycle through a new healing process and minimize the appearance of old scars.
Additionally, Morpheus8™ is a minimally invasive process that is not the same as creating a wound through a surgical incision; therefore, it will not produce scar tissue.
How Soon Can I Use Morpheus8™ for Scar Treatment?
Morpheus8™ can be used for scar treatment as soon as the incision is fully healed or when your plastic surgeon clears you to do so.
The time it takes for surgical sites to heal depends on multiple factors, including the length and depth of the incision. In most cases, it can take from six to eight weeks before you can safely undergo Morpheus8™ treatments.
In addition to surgical scar revision, Morpheus8™ can be used on the face, neck, arms, thighs, and buttocks to improve the following concerns:
Acne scars
Fine lines and wrinkles
Skin laxity
Undefined facial contours
Large pores
Sun and age-related skin damage
Your Morpheus8™ aesthetic specialist at Hochstein Medspa will provide a comprehensive consultation to determine your eligibility for treatment. At this time, they can examine your surgical scar and determine how many treatments of Morpheus8™ will be most effective in smoothing and toning the surgical site.
What Are Other Scar Reduction Treatments?
Other scar reduction remedies include:
Bio Corenum scar gel
Silicone sheets
Steroid injections
Post-surgery massage
Interested in Learning More About Morpheus8™ Scar Treatments in Miami, FL?
If you would like unparalleled non-surgical and aesthetic care, Hochstein Medspa in Miami, Florida, offers an extensive list of services designed to promote wellness and beauty. World-renowned plastic surgeon Dr. Leonard Hochstein oversees our experienced and knowledgeable team to provide you with optimum care.
Call us today at (786) 802-6699 or fill out our online contact form to schedule a consultation to achieve your face and body goals.