3 Minute Read:
These days, we are all thinking about how we—and our physiques—are being presented on social media, at least to some extent. We carefully plan out our selfies, making sure that they catch our best angles and show us being active and lively.
However, maintaining the body contour we want to show on Instagram can be challenging, and many people consider plastic surgery procedures to help achieve those desired contours.
The midsection is a common site for stubborn fat and unsightly hanging skin that won't go away even with intense exercise and a strict diet.
Some of the reasons for this are out of your control; however, this doesn't mean you can't do anything about it.
So what do you do when everything else fails to get rid of your belly flab?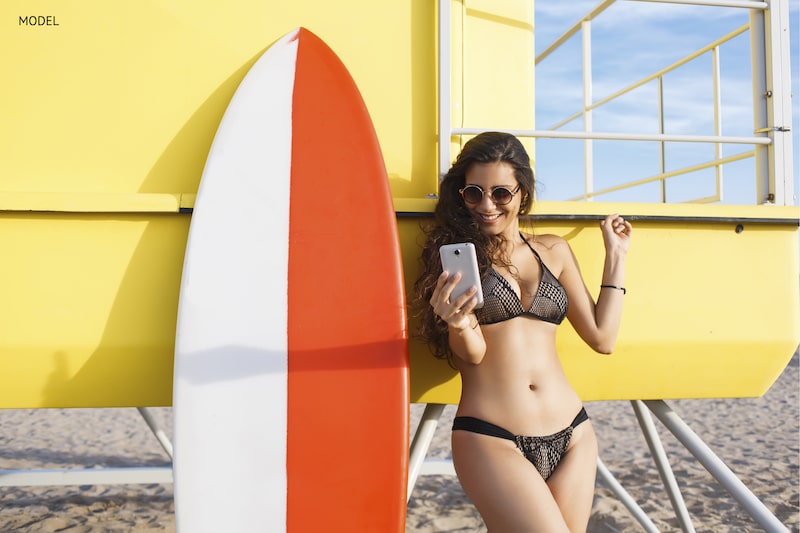 If you are looking to create a flatter and more defined abdominal area that will show on both your Instagram feed and in real life, a tummy tuck can definitely help. The procedure tightens the underlying abdominal muscles and removes excess skin and fat to reveal a more aesthetically pleasing midsection contour.
Depending on the severity of sagging skin and the extent of your concerns, you may be a candidate for a full, mini, or extended tummy tuck.
Here are some reasons why a tummy tuck helps achieve tight abs and a flat stomach.
A Tummy Tuck Addresses Muscular Issues
The muscles that make up the abdomen can become loose due to age, pregnancy, weight gain, or misuse. When your abdominal muscles separate, they may create an unwanted belly pooch or even cause hernias, lower back pain, core weakness, and urinary incontinence.
With a tummy tuck, separated muscles can be pulled together to resolve the above issues.
A Tummy Tuck Is Safely Combined With Liposuction to Get Rid of Excess Fat
You may be exercising but unable to see any progress because your abs are hiding under a stubborn layer of fat.
Combining a liposuction treatment or lipo-360 with a tummy tuck further improves your body contour by eliminating excess fat that stands in the way of your abs. It's the best way to maximize your body contouring results as you get to eliminate excess fat, loose skin, and muscle laxity simultaneously.
A Tummy Tuck Addresses Skin Laxity Issues
Patients with a lot of excess skin around the abdomen may find it challenging to maintain hygiene within the creases, which leads to the build-up of bacteria and results in rashes or infection. Loose skin can also restrict activities and negatively affect your appearance and quality of life.
A tummy tuck trims stretched or loose skin, giving you a tighter-looking midsection that wouldn't be achieved with simple fat removal alone.
A Tummy Tuck Will Increase Your Exercise Tolerance
By strengthening your abdominal muscles and removing excess skin with a tummy tuck, individuals can expect increased exercise tolerance and will be more motivated to stick to an exercise regimen.
With great workout performance, it will be easier to sculpt beautiful abs while maintaining an improved appearance for years to come.
Interested in Learning More?
If you are interested in undergoing a tummy tuck to enjoy any of these benefits, please feel free to contact us at 305-931-3338 or fill our online form to schedule a consultation with Dr. Hochstein.