Contouring has become something of a buzzword in the cosmetics world. As makeup artists know, contours can dramatically alter facial features. These changes to the facial features can be transformative enough that many people turn to more permanent methods of contouring like cosmetic surgery.
But it's a busy world out there, and many of us just don't have the time to set aside for a surgical procedure in the name of strong contouring. Surgery can also come with side effects that may take weeks to recuperate from, with results that aren't completely apparent until healing is done.
Thanks to their convenience and powerful and immediate results, injectable fillers have exploded in popularity in recent years. Millions are now turning to fillers to plump up lips, define cheeks and jawlines, and smooth facial contours.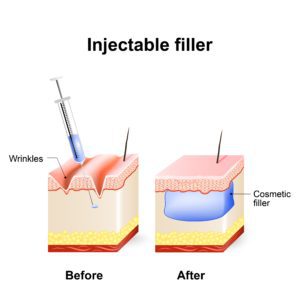 How Fillers Craft a Photo-Worthy Look
Our skin is often the front-line soldier in the battle against time's harsh effects, bearing the brunt of them as we age. Because of this, tissues lose elasticity, causing lines and age spots to appear. Collagen production slows, which causes skin to grow dull and lose its youthful glow.
Aging also leads to a loss of facial volume, especially along the cheeks or eyes. This loss creates a hollow, gaunt look that prematurely ages people or even makes them look unwell.
Fillers work by using naturally derived substances that smooth and fill facial tissues. Fillers can:
Plump thin lips
Enhance contours
Soften creases and wrinkles
Improve recessed scars
Reconstruct facial deformities
Decrease or remove the shadow of the lower lids
Surgeons can use fillers to enhance any area of the face in a safe, non-invasive manner that still produces results. The effects of fillers are usually immediately visible, an advantage surgery—which can take weeks or months to fully heal from—can rarely offer.
Plump Up The Volume: What Fillers Can Offer
There are several fillers available that can all be effective at treating appearance concerns. Dr. Hochstein's Medspa staff offers two different options for patients seeking fillers:
JUVÉDERM VOLUMA® XC: This popular treatment is made with hyaluronic acid, a naturally occurring substance that helps hydrate and replenish skin. It's injected into areas of the face that have lost volume due to aging, such as the cheeks, to instantly add volume and lift.
Applications typically take no more than a few minutes, though several JUVÉDERM VOLUMA® XC injections are often needed for the best outcome. Results are immediately visible and can last up to two years.
KYBELLA®: This filler is made out of a synthetic version of another natural substance produced by the body, deoxycholic acid. This molecule usually helps in the breakdown and absorption of fat in the body.
In KYBELLA® treatments, this powerful ingredient permanently destroys fat cells, reducing stubborn areas of fat under the chin—the dreaded "double chin" look. Treatment sessions last between 15 to 20 minutes. Multiple treatments may be needed to fully reduce fat and restore facial contours.
There's no stopping the hands of time, no matter how hard we try—but fillers can be considered a very effective method to slow them down and can be just as effective as some surgeries in giving patients back a youthful contour and beautiful glow.
Would you like to learn more about fillers? Make an appointment to visit the Medspa soon by calling 786-802-6699.