2 Minute Read:
In our society, we think of the ideal man as having strong arm and leg muscles, chiseled six pack abs, and a strong and defined chest. However, many men (up to 65 percent!) suffer from gynecomastia, commonly referred to as "man boobs," which makes that buff chest impossible to attain. 
If you have gynecomastia, it doesn't matter how good your diet is or how much you can bench, you'll still have a flabby chest that makes many men self-conscious of their appearance. But the good news is that cosmetic surgery can help correct this issue.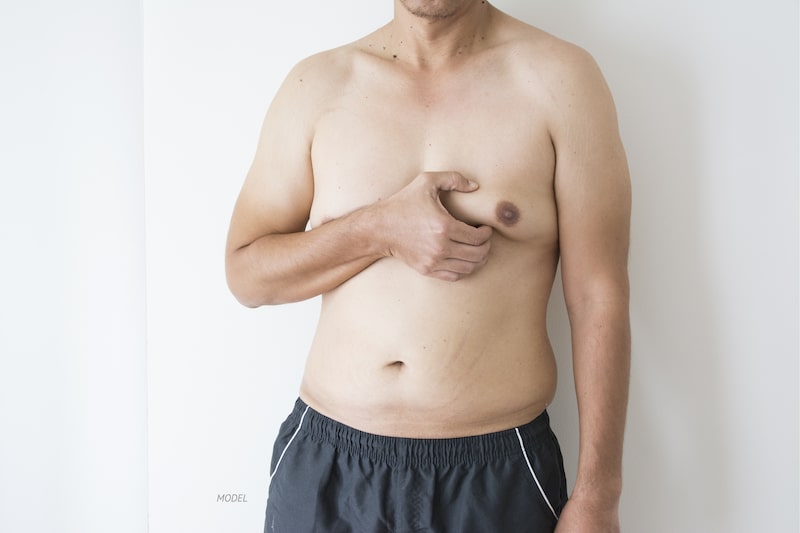 What Is Gynecomastia?
Simply put, gynecomastia is the enlargement of male breasts because of increased breast gland tissue. It is caused by a hormone imbalance between estrogen and testosterone, where men have too much estrogen. This is why gynecomastia is often connected to the use of anabolic steroids and other medications that impact your body's hormone levels.
Many preteen and teenage boys have temporary cases of gynecomastia due to puberty, but sometimes the issue does not go away, and men carry around extra flab on their chest, which keeps them from having a masculine aesthetic.
Am I a Candidate for a Male Breast Reduction?
You are a candidate for a gynecomastia surgery if you are a man and:
Have stubborn fat and tissue in your breasts
Feel self-conscious about the flabby appearance of your chest
Have pain or sensitivity in your breasts and/or nipples
Have puffy nipple-areola complexes
Desire a toned and defined chest aesthetic
What Is Involved With Your Gynecomastia Surgery?
Gynecomastia can involve excess fat, excess glandular tissue, or both. The type of gynecomastia you have will influence your treatment plan.
For a gynecomastia surgery, the incision location and size will depend on the extent of the treatment. Dr. Hochstein will make incisions around your areola and underneath the areola (depending on the case) and then cut away any stubborn breast tissue. This procedure is often accompanied by liposuction to remove any fat in the area.
Combined Procedures
A gynecomastia surgery can be combined with any number of plastic surgery procedures, including:
Benefits of a Gynecomastia Surgery
With a gynecomastia surgery, you will:
Have a more defined and sculpted chest
Have better posture
Have more confidence in yourself and your appearance
Feel more comfortable in tighter fitting shirts
Are You Interested in Learning More About a Gynecomastia Surgery?
If you have any questions about your gynecomastia surgery or any of the other procedures that Dr. Hochstein offers, feel free to contact us at (305) 931-3338 or fill out our online form to schedule your consultation. We look forward to helping you realize the body you've always wanted.
You can also visit our gynecomastia surgery before and after gallery to see how Dr. Hochstein has helped his previous patients.