2 Minute Read: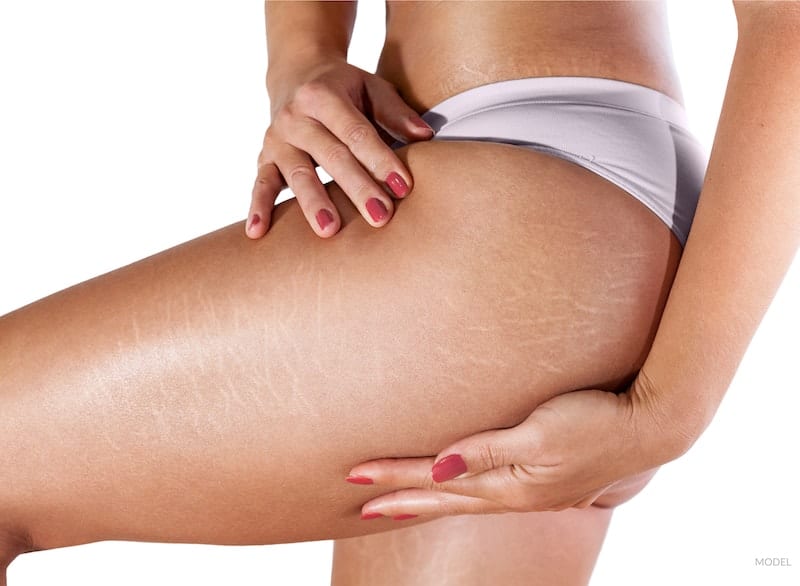 Stretch marks are quite common and mostly affect women. They occur after a substantial weight gain, particularly during puberty or pregnancy. While these marks do not entirely disappear, they tend to fade with time, becoming less noticeable. 
While stretch marks are not physically harmful or even painful, they can tamper with your confidence and take a tremendous toll on your self-esteem. 
Fortunately, there are many ways to reduce these marks, making them nearly unnoticeable with time.
At Hochstein Medspa, we are all about helping you rejuvenate your skin back to elegance. We employ eMatrix and Lutronic® Genius™ Radiofrequency Microneedling treatments to help you revive your skin back to its glory. 
What Is eMatrix?
The eMatrix system is ideal for people aiming to reduce wrinkles, alleviate acne scars, reduce fine lines, and bid adieu to stretch marks. It involves the use of a hand device that channels radiofrequency energy over the treatment area. This facilitates the production of collagen, tightening the skin and improving its texture. 
Significant changes in your skin's tone, texture, and stretch marks will become apparent after several treatments.
What Is Lutronic® Radiofrequency Microneedling?
Lutronic® radiofrequency involves the use of a handpiece device that distributes precise radiofrequency energy over a treatment area. The area might include the face, arm, abdomen, thighs, knees, underarm, and neck. 
Radiofrequency microneedling enhances the body to produce more collagen and elastin, facilitating healthy tissues and more radiant skin.
How Do Chemical Peels Help in Alleviating Stretch Marks?
Chemical peels use trichloroacetic acid (TCA) as a deep peeling agent. It is mostly used in 10 to 35 percent concentrations as a rapid treatment to stretch marks, superficial skin damage, and wrinkles. 
The session typically only lasts for 30 minutes, after which your skin will shed for at least three days. In 10 to 14 days, you will notice a significant improvement in your skin tone and general appearance.
Which Stretch Mark Treatment Is Best for You?
Both Lutronic® and eMatrix employ similar techniques to provide long-lasting solutions to stretch marks. What's more, both treatments are non-surgical and enhance the development of flawless skin without significantly damaging the upper skin layers. Even better, you can embark on your daily activities almost immediately after the sessions. 
You might require several sessions of these treatments to experience significant change. 
Interested in Learning More?
At Hochstein Medspa, we are committed to helping you improve your self-image and remain confident. You can read more about our services on our website or contact us at (786) 802-6699 to speak to our service providers. Trust us to walk with you each step of the way until we achieve that gorgeous natural glow.