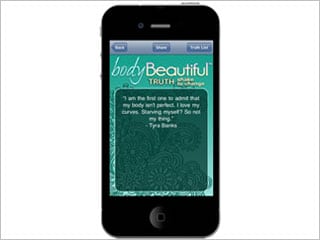 Beauty apps are popping up right and left. They've become so popular even the FTC and FDA have had to get involved. A new iPhone app has just launched that we think is a good addition.
Helping to promote a positive body image in women, Body Beautiful is the first iPhone app designed to help promote a positive sense of self among women. It features inspirational quotes, articles, videos and other tools to help users form a positive self-image. Uplifting celebrity quotes from the likes of Demi Moore are within reach whenever you can use a quick pick-me-up. (Just shake your phone for the next quote.) Even better, the photo-stamp feature allows users to imprint an inspirational quote on a photo of yourself or a friend, which can be shared through Facebook, Twitter and email instantly.
"With other apps on the market that encourage an unhealthy obsession with numbers on the scale, a narrow definition of beauty and quick fixes to deep, emotional issues, Body Beautiful gives women a practical tool to fight our toxic culture and connect with each other through encouraging words and images." says Rebecca Bass-Ching, LMFT, and Eating Disorder Specialist.