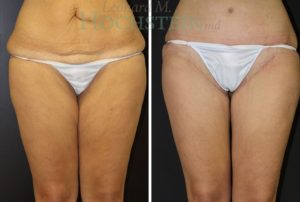 A thigh gap—the space that some people have between their thighs when they stand with their feet together—is a cultural sign of beauty coveted by many women today. The rarity of the thigh gap is due in part to differences in anatomy and fitness levels, but also due to a lack of information about how to achieve it. An inner thigh lift can lift and narrow the thighs to enhance (and sometimes create) a natural-looking thigh gap.
Important Factors
A thigh gap is most likely to be present in healthy, fit individuals. However, not all healthy individuals have this space between their legs. Whether or not a person may have a thigh gap is partially determined by anatomy. Regardless of a person's physical fitness level, a woman's bone structure, body shape, and body type will decide whether a thigh gap is possible. To illustrate, the angle and width of your hips can determine whether your thighs are likely to touch or have a space. These factors can't be changed with exercise and dieting. Athletic individuals may have relatively little thigh fat, but their well-developed thigh muscles fill in any space between their upper legs.
It is important to understand the role that anatomy plays because some women may need to accept that a thigh gap may never be a reality for them based on how their bodies are built. On the other hand, your anatomy can work in your favor. Women of certain body types who do not currently have a thigh gap may be able to achieve one through a healthy lifestyle, a thigh lift (when appropriate), or non-invasive body contouring.
Of course, physical fitness and age also play a role. If you have age-related skin laxity and stubborn fat on your thighs, you may not have a thigh gap even if anatomy is on your side. Healthy dieting and exercise can help you trim down any excess fat and increase your likelihood of developing a natural thigh gap. When recommended, an inner thigh lift can be performed to lift and tighten the thighs so that they appear slender and narrow with an attractive gap between them. Other patients may achieve the thigh gap they desire by opting for non-surgical VelaShape®.
Getting a Thigh Lift
A thigh lift may be recommended for women who have excess skin and fat along their thighs. A thigh lift can create the defined thigh contours you want. Using incisions hidden in the groin area and liposuction where necessary, the surgeon will remove skin and fat and recontour the inner thighs. This procedure slims the legs, reduces excess tissue, and enhances or creates a thigh gap.
VelaShape® Body Contouring
When diet and exercise fail to reduce fat in hard-to-reach areas like the inner thighs, VelaShape® can help. Utilizing a combination of modern body contouring technologies, VelaShape® produces stunning results without the downtime or discomfort associated with invasive procedures. This non-invasive treatment is also conveniently performed upstairs in our medspa. By heating targeted fat cells and connective tissue with infrared light and radiofrequency energy, this treatment can give you the slim, smooth thighs you desire.
To see whether a thigh lift or VelaShape® could be right for you, call (305) 931-3338 to request your consultation with Dr. Hochstein.