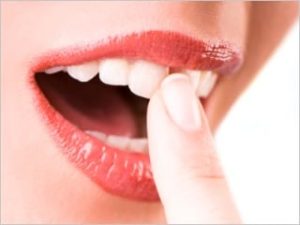 Brushing morning and night may not be enough for people who are more susceptible to cavities. A third cleaning could help, and researchers have found a simple way to fit it into your day—just use your finger and some toothpaste.
If you're too busy to break out the toothbrush mid-day, simply massaging a bit of toothpaste onto your teeth with your fingers can increase your fluoride protection by 400 percent, say researchers from Sahlgrenska Academy at the University of Gothenburg, Sweden. After eating lunch is the optimal time to fit in that third "brushing."
"This 'massage' method proved to be at least as effective as a third brushing in increasing the amount of fluoride in the mouth," said Anna Nordström, from the Institute of Odontology at the Sahlgrenska Academy. "Rubbing the front of your teeth with toothpaste can be an easy way of giving your teeth a third 'shot' of fluoride during the day, after lunch for example. But this should not replace brushing with a fluoride toothpaste morning and evening—it's an extra."
Can you fit in a toothpaste-covered tooth massage after lunch?
Posted Friday, March 30, 2012 by NewBeauty Staff